2nd September 2021
Goalkeeper Louie Moulden was impressed with the maturity showed by the younger members of the Wolves squad as James Collins' under-21s got their Papa John's Trophy campaign off to a great start.
Moulden made a crucial penalty save in the bonus point shootout after a very young Wolves side – made up of several members of Steve Davis' under-18s – held a League One Wigan Athletic side who were unbeaten in their last six matches in all competitions to a goalless draw.
By claiming two points, Wolves sit second in Northern Group B, but the keeper is already looking ahead to Friday's Premier League Cup clash with PL2 Division 1 side West Ham United.
On beginning campaign with a bonus point
"First of all, coming here with a really young squad is tough. There's a lot of boys there who haven't played in these sorts of games before.
"But every young boy here tonight did well. I thought there was a lot of leadership shown by some of the more experienced players, but the younger ones did really well.
"It was a really good start to the campaign, and now it's a really quick turnaround for Friday; recovery tomorrow, training on Thursday and then we go again against West Ham. It's great."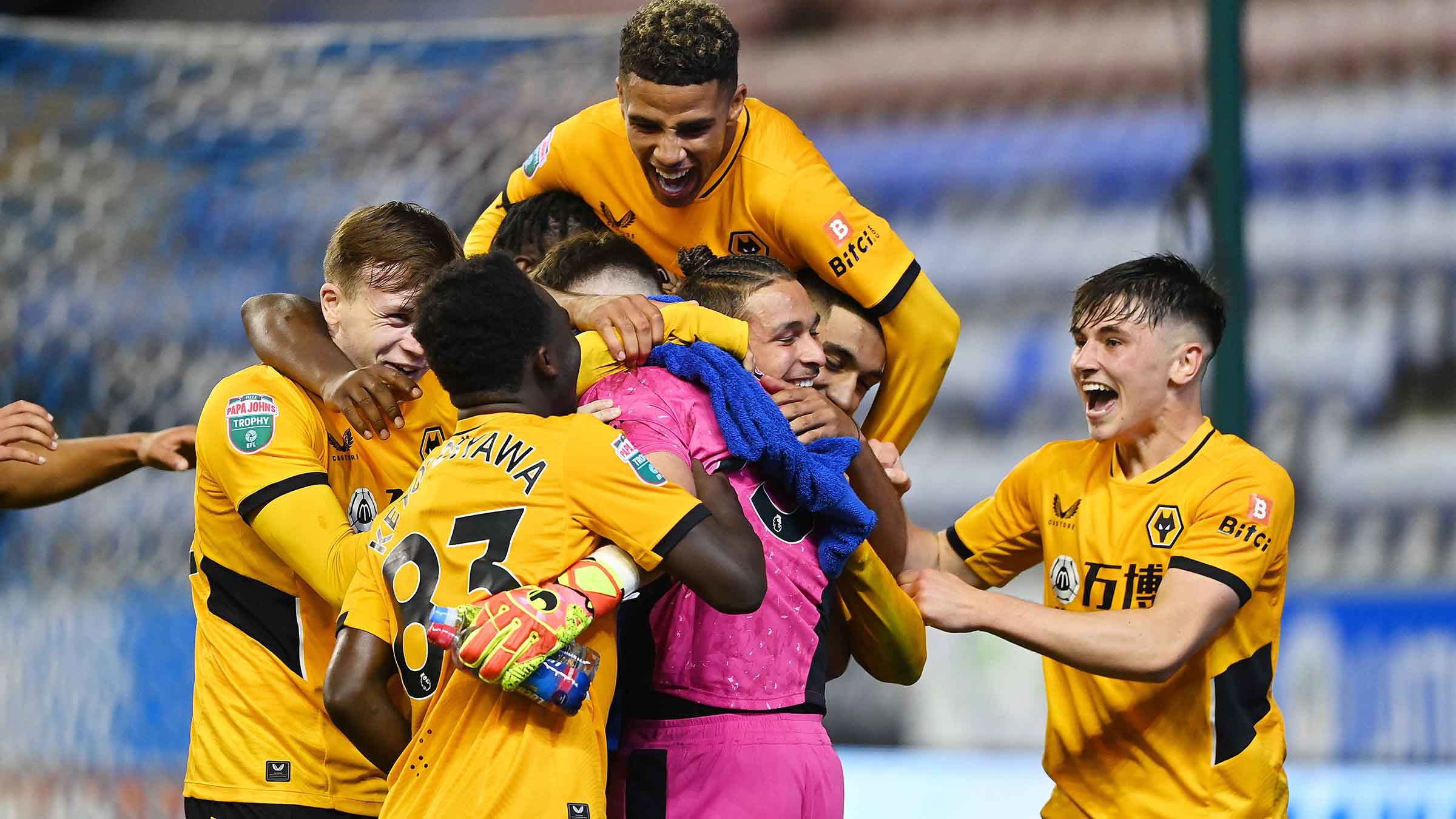 On Collins' pride in the squad
"He was just impressed with the boys. You can't fault the young lads tonight, every one of them gave 100 per cent, as did the more experienced guys.
"The game plan worked really well and that's credit to James and his staff for coming up with that, but everybody did their job tonight and everybody deserves full credit."
On playing a senior EFL team
"It's difficult. They bring different challenges; they're more physical, they're more direct and something we're not used to playing. For the boys to experience that at such a young age is going to be really beneficial for them.
"For me, it wasn't that physical, it was a different sort of game for me tonight, it was more of a case of managing the game, make a few saves first-half and then the penalty shootout – but they are what they are."
Great save by Moulden to deny Edwards! #WIG ✅✅❌❌#WOL ✅✅✅❌

— Wolves Academy (@WolvesAcademy) August 31, 2021
On making a crucial penalty save
"I got some good info off Scott [Fry, goalkeeping coach] and the team and thankfully it came off.
"It wasn't a guess. We don't go into the games with guesses. We plan this stuff and go through it, and it's great when it comes off.
"Although it's not a win, it feels like a win after a penalty shootout."
#WolvesAcademy