1st September 2021
Fielding a young team in the Papa John's Trophy on Tuesday night brought an air of caution for James Collins, but what his side produced left him proud at the DW Stadium.
The head coach named a team mixed with experience and youth, some of whom were promoted from the under-18s, at Wigan Athletic on Tuesday and Wolves took their League One opponents all the way. After drawing 0-0 in normal time, the under-21s showed their quality from the spot, earning a bonus point in the shootout and gaining an advantage going into the next two group games against Shrewsbury Town and Crewe Alexandra.
On the shootout win
"I couldn't be prouder of them. We've had a few loans go out in the last couple of days which is brilliant for the lads to get an opportunity, but it affects the under-23s group.
"The young boys who came in held their end up – I doubted they could produce that, but I'll learn from that because young players surprise you. I thought the senior boys around them, Lewis, Cundle, Moulden, they treated them brilliantly and they got what they deserved."
On getting the tactics right
"We felt if we pressed high, we might not last the game physically because we're so young. We might have had some success early on, but the last 25 minutes we'd have been getting cramp and that's when they'd have had their chances. We decided to set up in a bit of a mid-block, which was hard to get through, and what it does is saves your legs a bit.
"I thought the boys did it to a man outstandingly. Wigan have got some good players and will be right up the top of that league this year – their manager was magnificent with me, they're a great football club, so for our boys to come here, get the point and win the shootout is a great learning experience for them."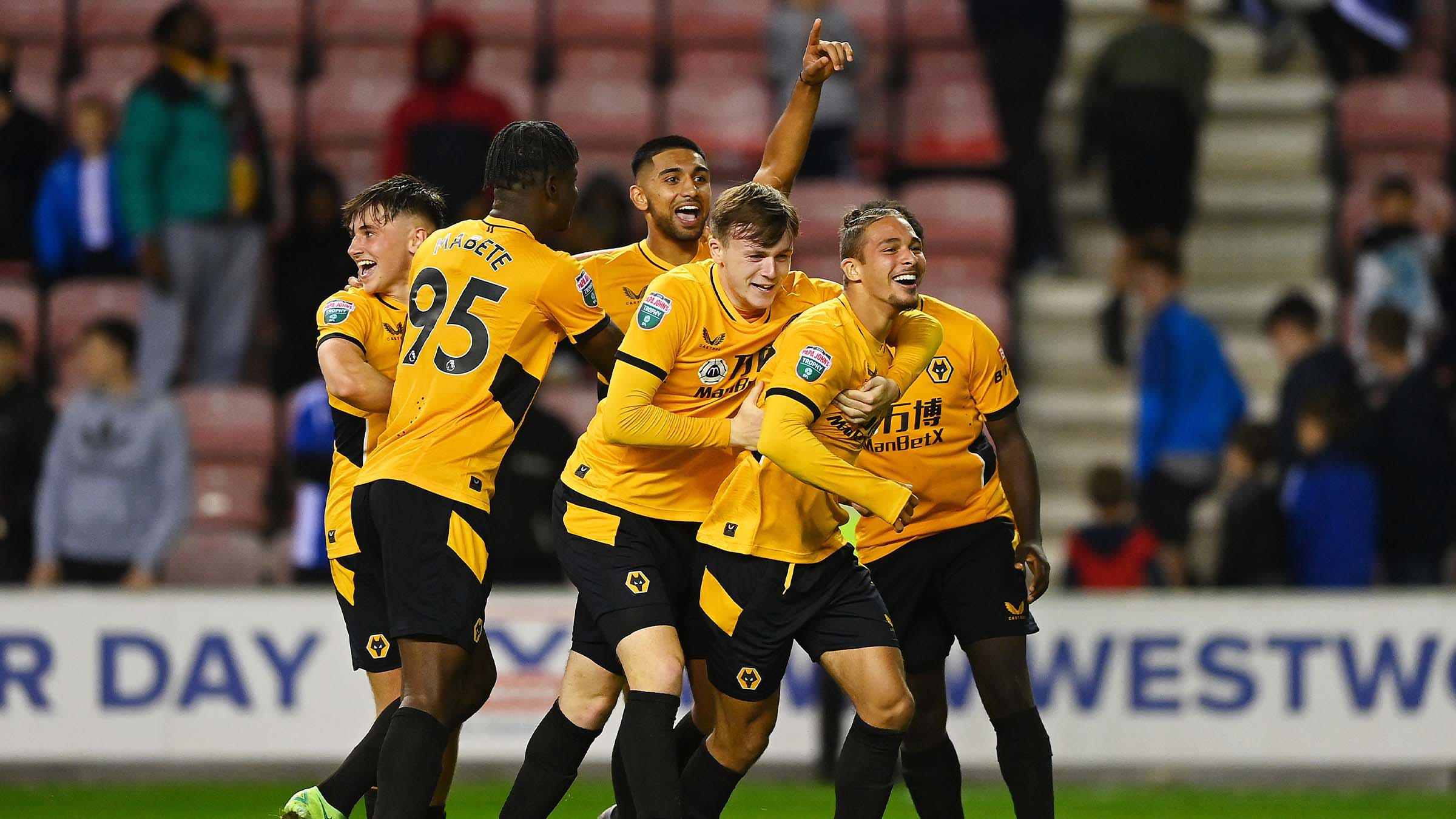 On breeding confidence
"Luke Cundle said to the boys at the end of the 90 that the penalty shootout didn't matter, because he was so proud of our younger players. That really relaxed them for the shootout, only one missed and it was Lewis – he told me he was going to smash it down the middle, but he slipped.
"Louie made a great save and Kam took the last penalty really calmly and we won. To get that extra point, it isn't the be all and end all, but it's lovely to get that little advantage for the hard work they put in."
On the learning experience
"They're a bit too young if I'm honest. Mason came on at the end and is 15, he only came on for a few minutes, but to have him on the pitch, you're proud, but scared that something could happen at such a young age. He got through it and what a learning experience it is, I thought they all did brilliantly well."
On first impression of Griffiths
"What a tough way to come in – he hasn't trained with us yet. My first impressions are what a terrific kid he is, really humble. Even little things like yesterday, I said, 'Come and see me in my office, do you know where it is' and he said, 'I'll find it'.
"He's got something about him, those little things. He's obviously a terrific footballer which we need, people like Cundle respond to having good players around him, getting more of those types will help when they're all fit – we'll play some good football."
On Bugarin's incident
"It was a scary incident for him. He wasn't concussed I don't think, but he knocked his neck back and that was the worry. They've taken him to hospital as a precaution. I haven't got the facts, but at the moment it looks precautionary."
On a quick turnaround
"We've got West Ham on Friday in the Premier League Cup and then we'll get a fully deserved few days off. It'll be equally as tough and it'll be these boys again, so it'll be a challenge to get themselves going and can they do it again? Tonight, I came here unsure of what I was going to see, and I'm delighted for them and the club."