27th January 2021
Striker Austin Samuels is back at Wolves after a loan spell at League Two side Bradford City and feels better for the experience.
The striker made 12 appearances for the Bantams and scored his first senior goal in the FA Cup against Tonbridge Angels back in November. On the back of his first taste of the EFL, the 20-year-old is keen to gain more experience and is hungry for further opportunities.
On his time at Bradford
"It was good to be fair. It was a bit of a slow start; I wasn't in the team straight away, but I did come off the bench a couple of times to start.
"I had a chance in the first game, and I think that maybe if I scored that half-chance then and there, things might have been a different run for me.
"I scored a goal in the FA Cup which was good and the team had a few injuries, so I was able to get quite a few minutes under my belt. When our new manager came in, the team was playing a lot better.
"When the new manager was appointed it felt like we were more creative, we were playing more fluidly and creating more chances for the strikers. I played as a winger, so I was out of position, but I did do my best and I think it went quite well."
On getting more minutes under his belt 
"It's definitely important. I think it helps your performance, keeps you match fit and aids in your confidence as well.
"When you're only playing ten minutes in every other game, you can't expect much. Your confidence is only going to grow when you are getting more game time. I think you need more time on the pitch to gain confidence."
Tough times never last ✊🏿 pic.twitter.com/7V4xho36r4

— Austin Samuels (@austsamuels9) November 22, 2020
On his goal in the FA Cup
"It was a bit of a relief. It was a chance that I'm normally used to scoring but haven't really had much of lately. I'm used to chances like that in training so when it happened in the game it was a big relief, and I was really happy after I scored that.
"The celebration was a joke between me and someone on the media team. I asked him to do something for me and he said he would do it if I scored and put an 'L' up so I thought I would do it for him, when the ball went in that was the first thing that came on to my mind."
On what he learned out on loan
"It was a good experience playing against men every week. I feel like you need that. When you play for a club like Bradford, there are high expectations from the fans and the club itself. I think I had some decent performances this season and I tried my best under the circumstances.
"The team itself was not doing too well, the strikers were not getting much of the ball. I wanted to be on the ball quite a lot more and be more effective – that is one of the main things I wanted to focus on in my game.
"It was a good experience overall being there and challenging with the men. They want to win games and it's a good feeling. Playing with experienced players will teach you about different situations and give you great advice for your career."
On his next steps
"I think men's football is definitely where I need to be – where I want to be at this stage of my career. I've been playing under-23 football since I was 16 and I believe that I've evolved now, and I think that men's football is what I need to excel and go forward in my career.
"It's certainly something I need and want to do; another potential loan move will definitely be on the table for me."
On his focus on the training ground
"For me, the most important thing is to focus on being sharp and scoring goals. If you're going out and scoring in training during the week then you've got a really good feeling going into the games on the weekend. It gives you a good confidence boost.
"I try to make sure that I'm making the most of this in training and definitely trying to be sharper so that it comes off during the games."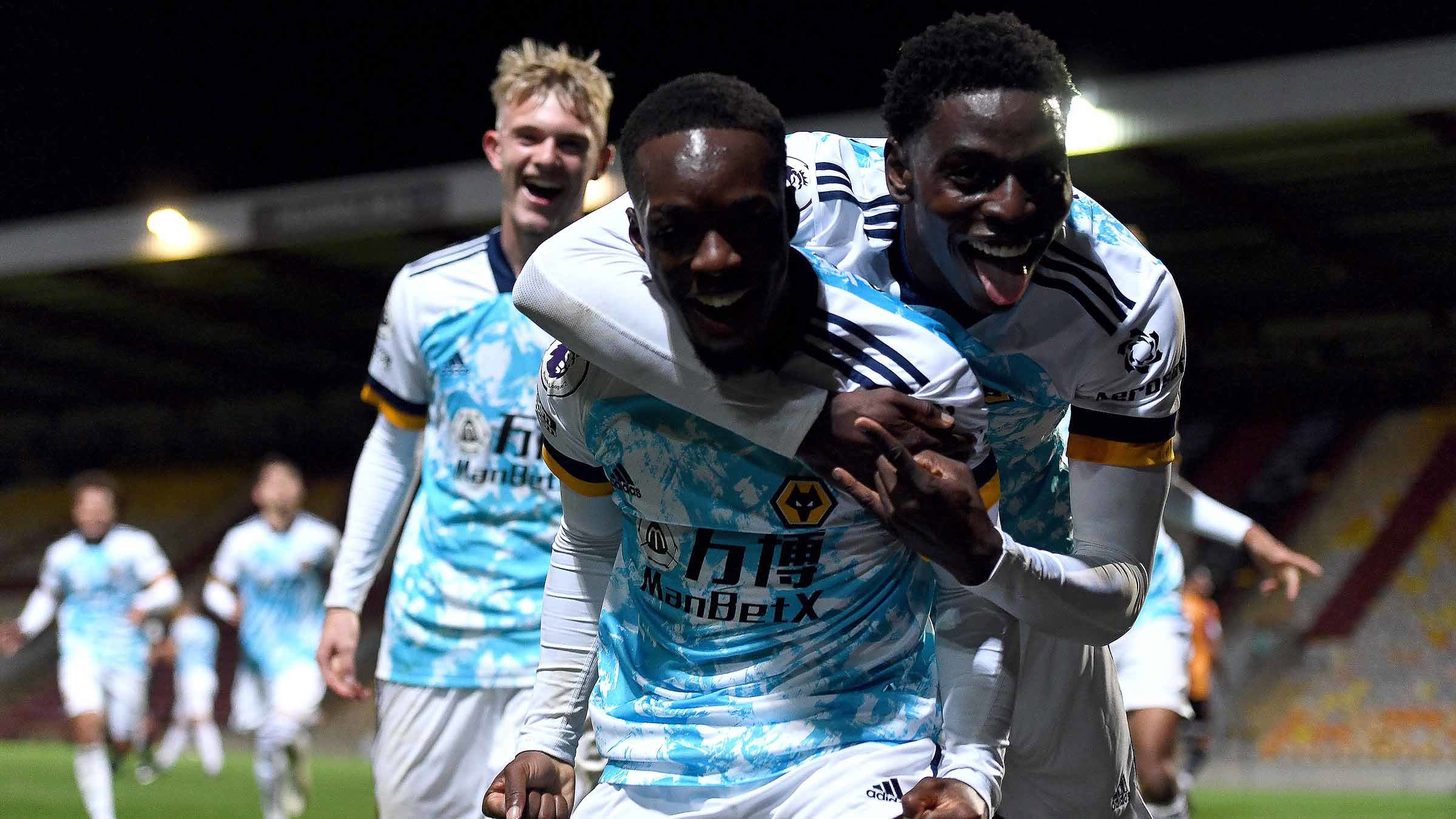 On being ready for a fresh challenge
"There are a lot of players in the Premier League now that have had non-league loans, loans to League One, and loans to League Two. It's all part of a process.
"Everyone's journey is different. Some people's journeys will be straight into the first-team and then other players' journeys are to go here, there, and everywhere for their development, and then they end up in the Championship or the Premier League.
"I think it is important that I do go out and play men's football for the next six months. It wouldn't be the end of the world if I don't, but I feel like that is definitely what I want to do and what I need to be doing.
"I'm familiar with the types of defenders I would be playing against and if I do go out on loan again, I now have a better idea of what I'm coming up against and how I can use that to my advantage."
On the Wolves loan system
"Wolves have got a good system going. They've got good links with good teams as well and when it comes down to making a decision for you to go to a team, it's not something that is rushed.
"They look into how well you could fit into those teams. In football, you have to adapt and at Wolves, they look at how the experience could be beneficial for you to go into and how you could play a part in that team. It's very helpful for me."
Elsewhere on loan
Ryan Giles marked his 21st birthday by joining Rotherham United on loan for the remainder of the season. The midfielder was recalled from his loan spell at Coventry City before making the switch.
In League One, Matija Sarkic started for Shrewsbury in their 1-0 defeat to Sunderland.
In Switzerland, Toti Gomes, Oskar Buur and Connor Ronan all started for Grasshopper Club Zurich.
By Nikita Gomes Henschl