17th December 2020
A rip-roaring start to the season for under-23s midfielder Taylor Perry has built excitement around Wolves' talented youngster, who is solely focused on improving.
Perry's seven goals is a team high for the under-23s this term and his latest, against League Two opposition in Port Vale, suggested the 19-year-old is ready for men's football now. James Collins told wolves.co.uk recently that the youngster would benefit from a loan move to the EFL in January, but for Perry, scoring goals, playing well and impressing when training with the first-team are the only things on his mind right now.
On adding goals to his game
"I feel like I've come a lot way since last season. Scoring goals has been what I've wanted to do this year and that's what I've been doing, so I'm going to continue to focus on that and my performances.
"It was one of my targets to improve. Last season I only scored two, but now I have seven goals before Christmas, so I want to keep pushing on and scoring more goals."
On improving his physical presence
"I've been working on my physicality anyway, all last season and this, and I feel fit and strong. Whenever you play against senior footballers, you've got to take it up to the next level.
"You see it in the Papa John's, but we're facing that every day in training – there's physical players in the first-team."
Highlights from this week's trip to Port Vale, including Taylor Perry's seventh goal of the season.

🎥 @wlv_uni pic.twitter.com/8tKYSdSdRL

— Wolves Academy (@WolvesAcademy) December 11, 2020
On embracing the Papa John's Trophy challenge
"I hadn't scored in the competition yet [until Port Vale], so it was another good feeling to get on the scoresheet. It's always nice to score a goal, whether it's in the league or cup.
"It's been a different in terms of the physicality. We've had to try to figure out how to get around it. Unfortunately, we didn't get the win at Port Vale, so need to try and get that winning mentality and find different ways to win games."
On working with the first-team
"They're a great team – a top Premier League club, a great manager, so training with them week in, week out is making me a better player. I'm just trying to keep improving.
"I'm trying to keep learning, taking ideas from the way the manager wants. I want to play for the Wolves first-team, so I'm going to keep pushing and prove I'm good enough for that level."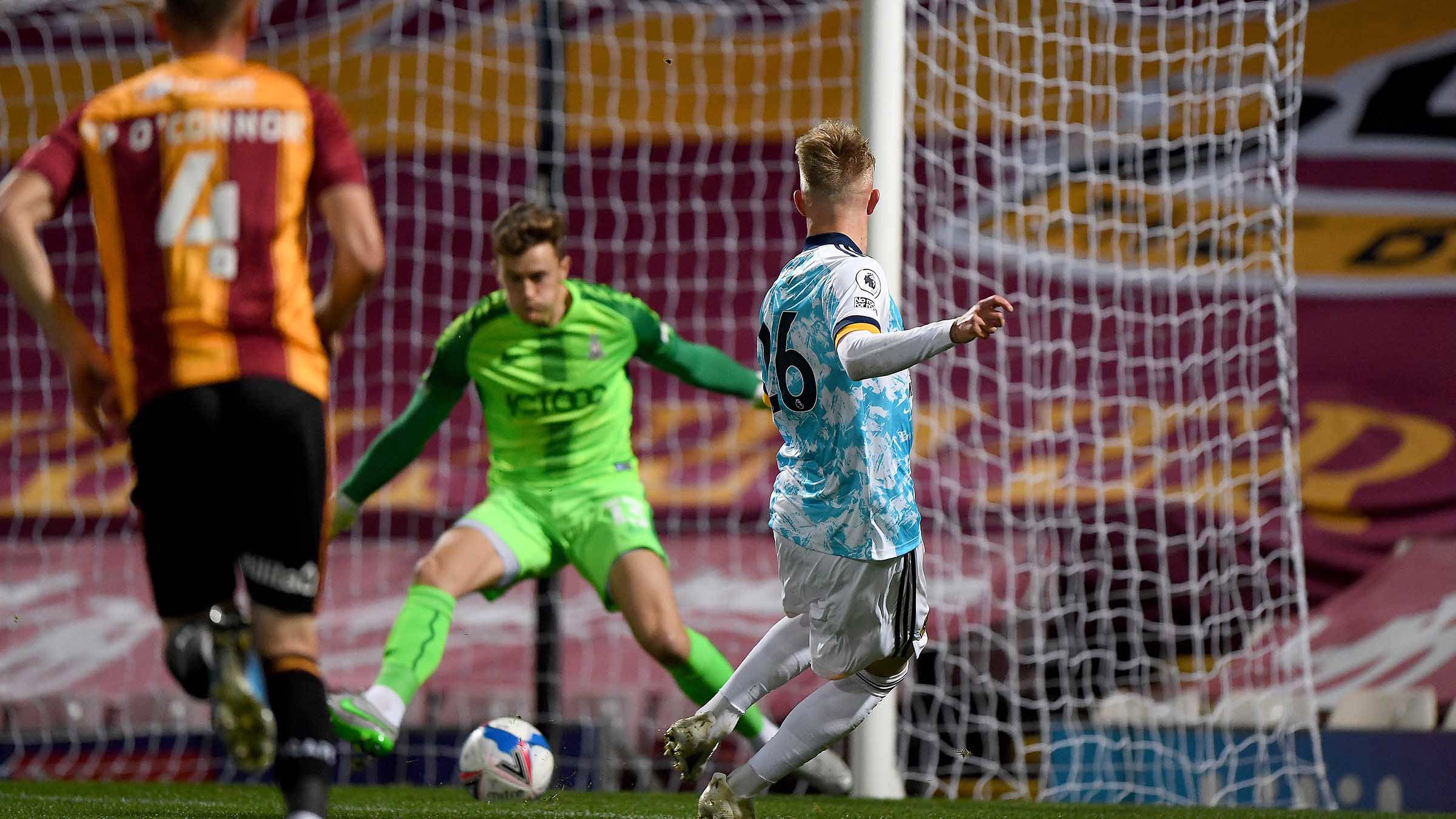 On an exciting time ahead
"I don't know what's going to happen yet, but all I'm focused on is the under-23s. I'm just focused on my performance levels. A loan would be good for my development, to take me to the next level, but I don't know what's happening.
"I'm focused on continuing to improve when I'm training with the first-team – it's making me a better player and I'm taking it into the under-23 games. I'm going to keep scoring goals because that's what is getting me noticed."