23rd September 2023
Gary O'Neil was left frustrated by his side's start and controversial penalty decision at Luton Town but credited his players for responding and battling to a point on the road.
The head coach didn't recognise his team in the opening 25 minutes, when the Hatters dominated, and saw Jean-Ricner Bellegarde dismissed before he was able to speak to the group at the break. However, he was pleased with a lot of what he saw after the interval, until a dubious handball call on Joao Gomes, which ensured Wolves had to settle for just one point at Kenilworth Road.
On his game reflections
"My first concern is obviously my group of players and the performance we put in. I was really disappointed with the first 20, 25 minutes. I didn't see that start coming for us, because they've given everything so far. It's not that they weren't trying, but we weren't ready for what Luton were about to throw at us and we knew what was coming.
"I took the first 25 minutes badly because that's not what I expect to see from the team. Then we get a foothold and sort of find our way back into the game, it settles down, and we have a crazy moment from Jean and from that moment we're backs against the wall, and we have to fight with ten men.
"To be fair to them, from that moment, and I asked them big questions at half time, they managed to deliver so fair play to them, and they deserved to win the game in the second half."
Thank you for your superb support at Kenilworth Road today.

💛👏 pic.twitter.com/zdr4CBZkTP

— Wolves (@Wolves) September 23, 2023
On Luton's dominant start
"They went man for man, and we managed to lose a load of duals. Any time it went into our strikers, it didn't stick, when it went into theirs it did. When the ball dropped in midfield, it felt like they were there before we were. We made some changes, and that did eventually give us a foothold.
"I couldn't watch the first 20 minutes play out for any longer, so we had to make some changes. They we got the crazy moment, the sending off, but from then, once we got into our ten and kept two up the pitch, we were still a bit of a threat, and with Pedro on the pitch you know you have a chance."
On the red card
"The word around is he kicked out a bit after a tussle. Jean's apologised, he's absolutely devastated he's let the squad, me, the staff and fans down today, because it's not like him. He's new over here and it's a step up tempo wise and he was probably frustrated with the start like I was. That needs to fix, but we will, Jean will be fine. The second half with ten I thought we were very good."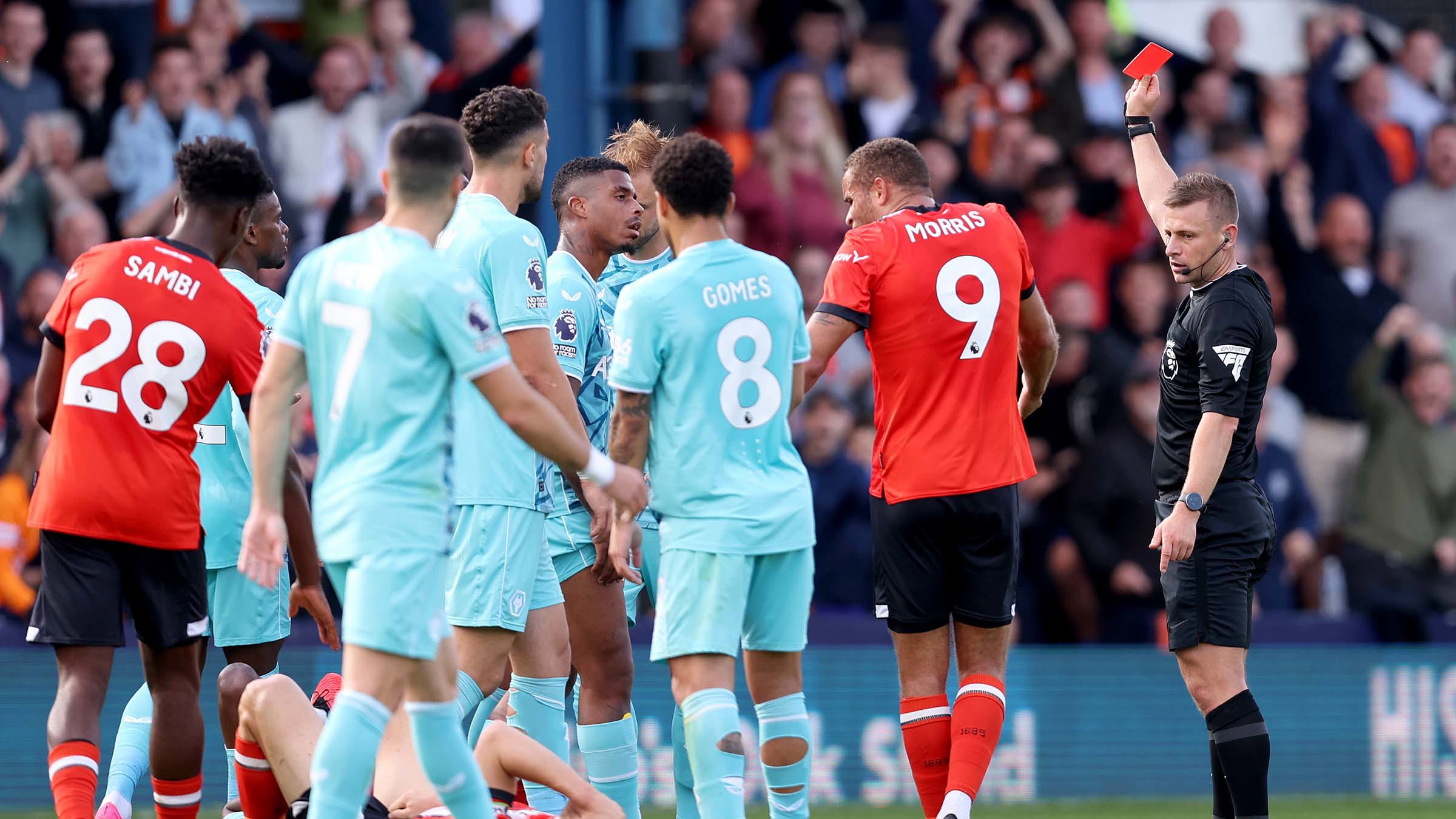 On the penalty incident
"It's never, ever, ever a penalty. If that's a penalty, there's something badly wrong with the rules. I've read them as well, mitigating circumstances are if it hits another body part and there's a clear change of trajectory to the ball, it's not a penalty. That's done, from that moment the excuse they're using of his hand being unnaturally high, if the ball hits directly I get it, but the fact it's hit his leg and possibly his chest and hand means there's nothing else to discuss.
"It's hit his leg so there's no way he can be in control of what happens from that moment. I honestly don't understand it, I think it's a terrible decision, I think the fact he wasn't even sent to the screen is terrible, but I'm getting used to it.
"This season we've suffered some tough ones so I'm disappointed with the official, but it's not my job and hopefully somebody else can fix it. I stand there and try to be polite to the officials and have a sensible conversation, and while the check is going on, you hope they reach a sensible conclusion. It goes against everything you think and everything you've been sent rules wise. From that point, it's hard to stay calm, but let's focus on the lads because it could be a big point for us, ten men for that long."
#LUTWOL