31st March 2022
Romain Saiss is 'proud' to have become the latest Wolves player to reach 200 appearances in gold and black following six seasons at Molineux.
The Moroccan defender, who is currently on international duty and aiming to captain his country to the 2022 Qatar World Cup finals, has had many ups and downs during his time in the West Midlands, and although admitting he had doubts about joining Wolves when he first put pen to paper back in the summer of 2016, he insists being part of the pack was the 'best thing' to happen to him.
On reaching 200 Wolves appearances
"I'm very proud. It's been now almost six years in this club and I honestly didn't know if I was expecting to reach this number, but I'm really proud of me and especially what we've done in the last six years and where we are bringing the club at the moment.
"At first, I wasn't ready to come. Now it's a bit different, but before, coming from a top division like France was to arrive in the Championship, it was not looking like a great move, but now it's happening a lot because the Championship is a very good league in the world. I was thinking a lot about whether I should come or not, but I had a lot of discussions with my family and the old national team coach as well to take the best decision.
"In a couple of days, I decided to sign and to work to be involved in this project. I signed because I believed in this project of the new owner and what they wanted to do for the club. I don't think I would've come if I didn't believe in the project."
On living the dream at Molineux
"The target of the club and my dream was to play in the Premier League. Since I was a kid I was always watching Premier League games on TV and I knew that if one day I could be a professional footballer, I would like to play in the Premier League.
"It was a really good and hard objective to reach, because the Championship is really tough, I think it's one of the toughest leagues in the world, so I'm really happy and proud that we did it in two years and now we've established the club in the Premier League and looking to move forwards."
On the infamous Middlesbrough photo
"I have always been like this. Life is a fight and it doesn't matter what you want to do, if you want something, you have to fight to get it and just give everything. That's my mentality and that's why I think I am still here today and we are talking about 200 games for Wolves, because I never give up.
"I give everything on the pitch, because for me, it's important to realise I'm playing football and my job is to do my best, so I cannot go on training and on the pitch for the games without giving everything, first of all for me to respect myself and after for all the fans who are coming, and for my teammates.
"For me, it's just normal. You have to give everything. You can miss some passes, some shots or everything, but you cannot fail with your mentality. You have to just keep going and keep fighting. Some days you don't play well or the team doesn't play well, but because we fight until the end, we won some games. Talent is important but in football, mentality is important as well."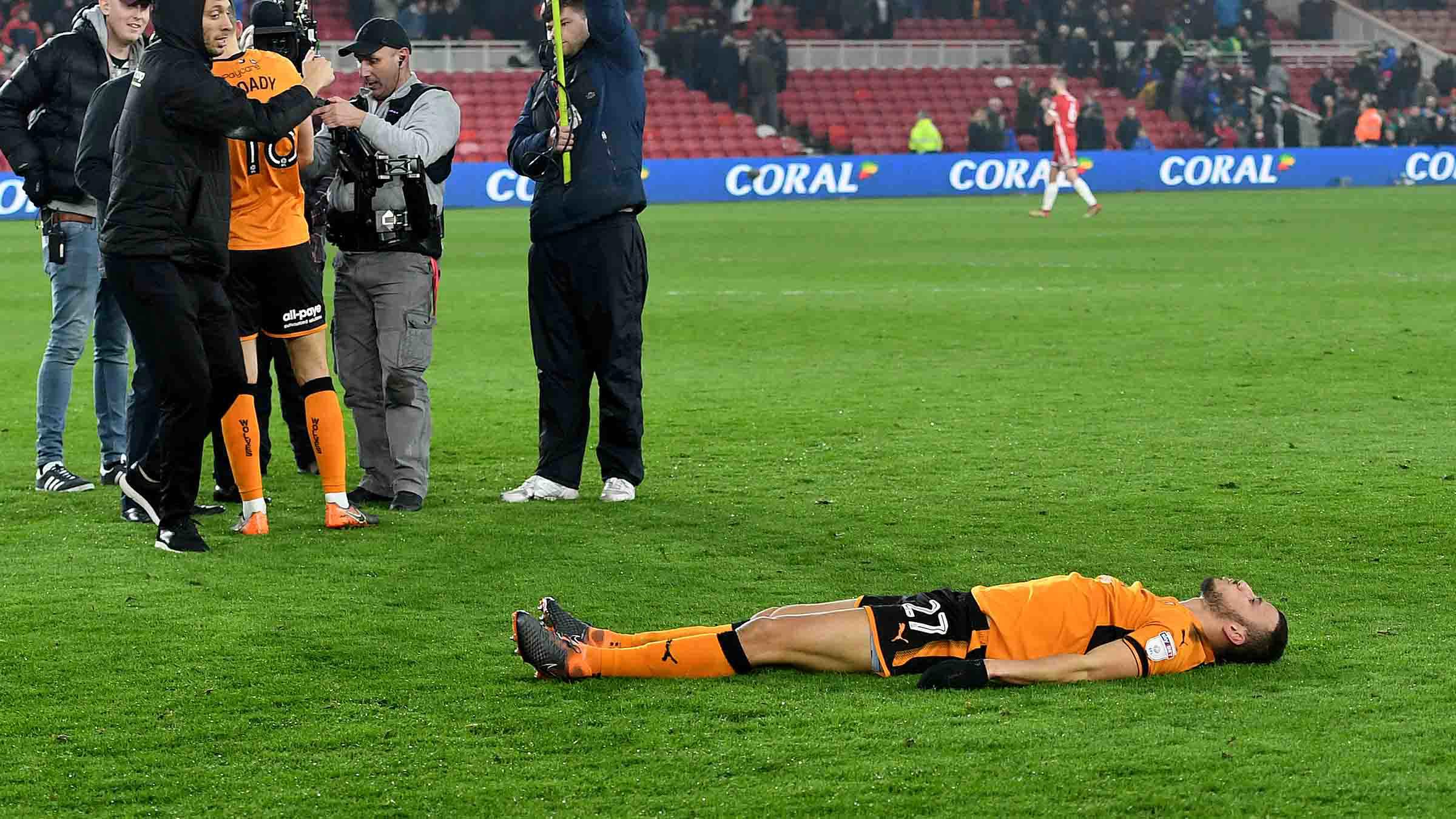 On being a senior player in the squad
"I'm the longest serving player after Coady, so I have to show the example because this club means a lot for me and for everyone in this dressing room. Coads has been here now for seven years, he's the captain of the club and he's showing a good example to everyone by the way he's playing and also his leadership, and Ruben is the same as vice-captain. Since the first day he came to the club, we were in Austria for pre-season and we saw the quality he has. It was unbelievable for a club in the Championship to bring in a player like him.
"They both have a lot of character, and I think I have a lot of character as well, so it's important, especially for this season because we have a lot of kids on the team, to have players with more experience and more experience at the club and try to help everyone when we can.
"We feel it's important for us to help the young players and show to them how important this club is for everyone, for the fans, for all the people in the city and for the people working in the club. It's not to give pressure to them, but it's just so they understand the responsibility they have because they are playing for a huge club in the Premier League."
On the bond in the Wolves dressing
"We're lucky to have a fantastic dressing room. In six years, I have never seen any problems between players and it's important to keep that mentality and keep the dressing room without problems, because when you feel good with your teammates outside of football, it naturally makes it much easier on the pitch.
"We are all together as one and there is no separation between the older players and the younger players. I can spend time with Joao [Moutinho] who is 35 and the following day I can spend time with Rayan [Ait-Nouri] who is 20, and it's no different. It's a pleasure to be part of this dressing room and to come in every day to training and spend time with the lads."
On his Wolves career so far
"I'm going to be proud. I'm happy with what I have done until now, especially with Wolves, and I just want to keep pushing until my limit. If I keep doing that, I will have no regrets after football because I know I will give everything, and after that you don't know what will happen. I just want to be able to say after that I did everything I could to be the best player I can be. If I can do that, I will be happy.
"This club means a lot for me and for my family as well. My kids only know me playing for Wolves, so they really enjoy coming here every week and watching the game. The feeling between the people here and us, what they give to me and my family is amazing. That's why we feel good here in Wolverhampton and we are enjoying our six years now.
"It was the best thing that could happen to me because I also gave the opportunity to my family to learn a new language, especially for the kids, because they are now speaking much better English than me, in a good English accent! I just want to say thank you to them, my wife and my kids, for supporting me every day, even if sometimes it's not easy, especially after we've lost, because they help me and keep me smiling every day and just think about football.
"I'm maybe not the best player in this club or the best player in the club's history, but I would like to be remembered as a player who gives his all for this club, for our fans, for the city and enjoys every day – just trying to achieve great things for this club, with a smile and sometimes funny."