24th March 2022
Conor Coady admits it would mean everything to be part of the England World Cup squad at this winter's tournament in Qatar.
The Wolves captain is back with the Three Lions this week as they face a pair of friendly fixtures against Switzerland and the Ivory Coast, but with the World Cup in November quickly approaching, and the draw set to take place next Friday, excitement is already building for the next edition of the global competition.
On morale in the England camp
"It's been really good. We've only been here a couple of days, but it's been brilliant to see some new faces and get cracking with training.
"It's fantastic, brilliant. It's always good when you see new faces coming into the camp and you get to know them. You obviously know a lot of them anyway because we play against them every week and you know how well they're doing for their clubs. But to see them settled in training and how brilliant they've done in training, it's been really good for us.
"When you first come into the squad, I can speak from experience, it's the most nerve-wracking thing in the world because you don't want to let the players or staff down, so it's up to us the rest of us to make them feel as comfortable as we can."
On possibly being part of England's World Cup squad
"It would mean everything. I won't be the only player who sits here and says that because we all think the same thing – it would mean everything.
"Having the experience of going to the Euros last summer was something I never dreamed of in my whole life. The five or six weeks we were away were some of the best weeks of my life.
"It was an incredible moment for me to be there, but more importantly to be part of this group of players and part of the country that got to where we went to and have a tournament that was, more or less, in our own country and playing at Wembley.
"It would be incredible, but it would also be a moment that will be massive for my family and massive for my wife and children, my mum and my dad, but it's something we need to keep working towards. It's important we all keep on trying to improve to put us in the best possible position for our country to do well in the World Cup."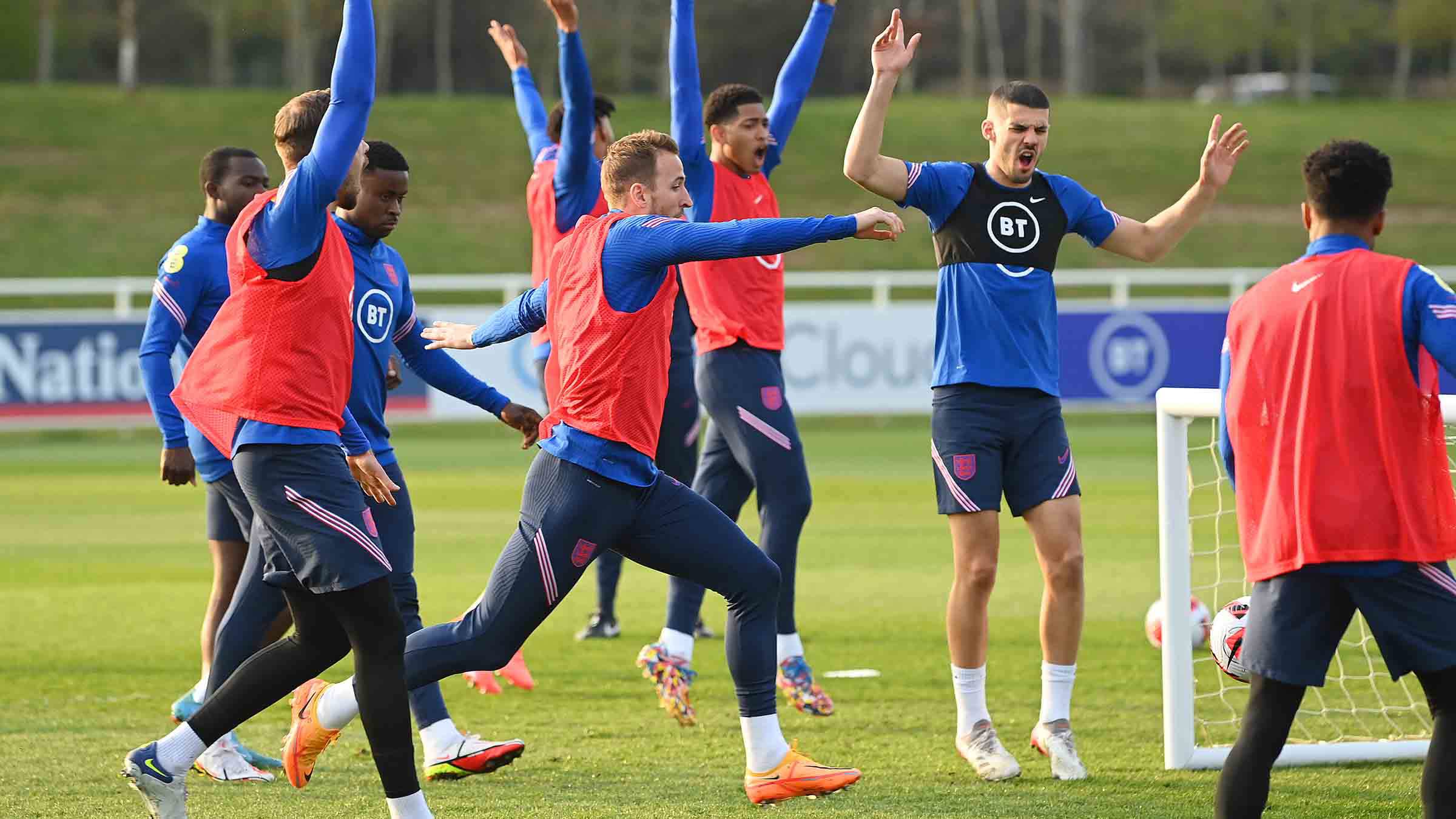 On competition for places
"A lot of people say that about major competitions, and everybody wants to play, but we also understand that we have one goal with England, and that's to make sure we're ready for the World Cup – and we'll be ready for that.
"As players, if you look too far ahead, about competition and 'will he go, will I go' it gets into your head a little bit too much.
"We are where we are the minute, the players who are here are here at the minute, and we've got two games to prepare for that we want to go and enjoy as much as we possibly can."
On playing in Qatar
"We all want to be excited about playing in it, and we will be, because World Cups don't come around that often and it's an incredible moment for our country and an incredible moment for the world, to have a World Cup on the horizon.
"It's incredible and something we want to be excited about. But at the same time, the World Cup being there highlights some of the issues that are going on and what has gone on out there in the past, and we've learned a lot about it.
"But it's important we keep on doing what we can to prepare ourselves, both on the pitch and off the pitch at the same time."
🙌 "It would mean everything."

🤩 "Having the Euros, it was something I never dreamed of. It was some of the best weeks of my whole life."

Conor Coady is excited at the prospect of playing at the 2022 World Cup

Watch the full interview on YouTube ➡️ https://t.co/VkZMRBK5kK pic.twitter.com/4Xz4a0aEuU

— talkSPORT (@talkSPORT) March 23, 2022
On the World Cup draw approaching
"It's incredible. It's exciting for everybody, not just football players and not just staff who are here at the minute, but for the whole country to see what's coming and what we can all get excited for come the end of the year."
On UK and Ireland's bid for Euro 2028
"For people of this country, I think it will be amazing. We've seen what the summer could do in having the games at Wembley and how amazing that was, so I think it will be absolutely incredible. – whether I'm playing there or not.
"It's a long way down the line and I'll always be supporting the team, no matter where I am – I don't know what I'll be doing by then.
"But I'll still be supporting the lads and I don't know how old I'll be then, but it'll be incredible, absolutely incredible, for the country."
#WolvesInternationals