19th March 2022
A frustrated Conor Coady says Wolves will look at themselves after defeat to Leeds United but was also left disappointing with decisions which went against his side.
The old gold were two goals to the good and looking comfortable before Raul Jimenez was harshly dismissed for a collision with Illan Meslier, when the game changed. Leeds struck three times in the final half an hour to complete the turnaround, and Coady spoke post-match of his frustration with a number of factors.
On the game turning
"It's a game we should win. At half-time, we're massively on top, we're controlling the game and doing everything we set out to do. They're a tough team to play against, a really good team, a fantastic club and they come with the way they play, they press, they run, but we competed and controlled the game. The game completely changed."
On the red card incident
"We'll look at ourselves after it because we should still stay in the game. I felt we were creating chances on the counter attack, but it's not a red card. I can go mad and kick off, but for me it's a red card, it's a fair challenge, he's gone where he's supposed to go, he's not invisible.
"I don't know where he's meant to go and what he's meant to do, it's happened for different teams where these sorts of decisions are happening and killing teams, and that's what it's done for us. We look at ourselves, we can defend better, create the odd chance on the counter, but the red card plays a massive part.
"I thought from the first minute he threw yellows out early and lost control of the game from my point of view. I speak to referees all the time and I'm massively disappointed from a Wolves angle because we don't feel like we've been fairly treated."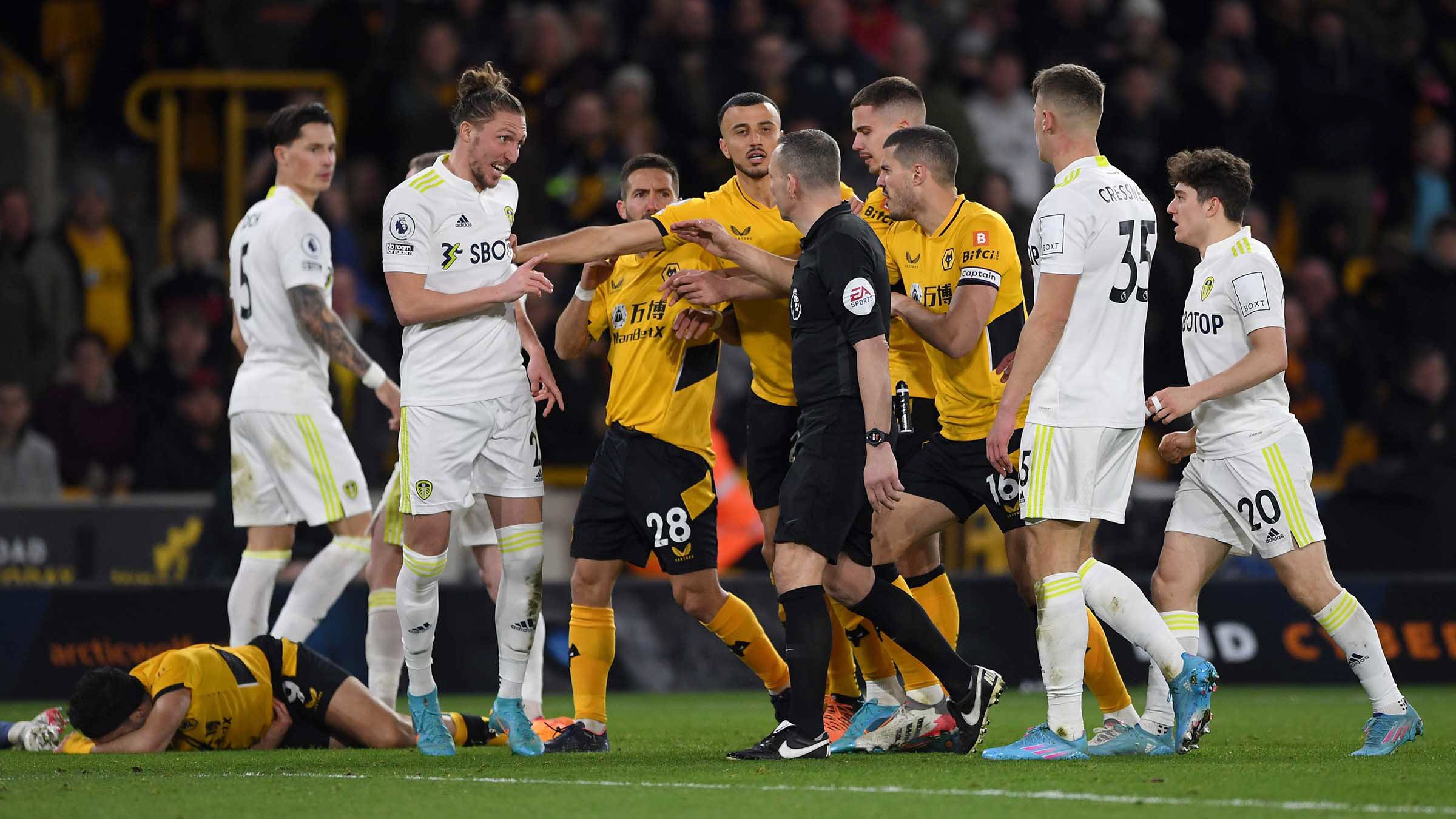 On what went wrong
"We need to eradicate it, but you don't play with ten men every week, so it's hard, so when it comes it's a shock to the system. We look at ourselves first and foremost, we can defend better, even with ten men.
"We look at ourselves, but at the same time, other people need to look at themselves. It's too much of a factor coming here to talk about referees. It's a Premier League game of football, it felt so quick to play in and it was a fantastic game of football, but from our point of view we're talking about referee issues, and it should never be the case."
On the battle
"We want to win games and play against top teams, and they're a top team. The game was fantastic, it was end to end, two good teams going at it and that was what it was and what it should have been for the rest of the game.
"I don't understand, but my angle and what the lads were feeling, we don't feel it's a red and it's a massive factor in what's happened. The first thing we'll do is look at ourselves as a team and individuals, and look at where we've got wrong, but other people will."
#WOLLEE