9th March 2022
On the day Pedro Neto turned 22 and committed his long-term future to the club, wolves.co.uk reflects on the thrilling journey the Portuguese has been on in old gold.
After signing for the club in the summer of 2019, the winger didn't look back, scoring spectacular goals, being the life and soul of the dressing room and showing personality aplenty to return from injury – all of which is covered in the ten talking points of his Wolves career to date.
#1 The journey begins | 2nd August 2019
Wolves had just returned from Belfast, where the Europa League adventure of 2019/20 began, and waiting for Nuno Espirito Santo and his team was a pair of Portuguese talents, ready to help them on that journey. 50 per cent of that partnership with Pedro Neto, who signed alongside Bruno Jordao, with the pair moving from Braga, via a loan spell at Lazio.
The 19-year-old had progressed through the Braga system, having scored his first senior goal at 17, just minutes into his Primeira Liga debut to become Braga's youngest ever scorer in the competition. A five-year contract was signed and straight into Nuno's squad he went, with qualification ties for the Europa League coming thick and fast.
Neto said…
"I'm very happy to be here because it's a big club, demonstrated last season with the year they did. I want to show my value and demonstrate that I can be one of the best here. I want to be the best that I can and help the team to conquer objectives. I want to say to the fans that I can be the best I can and will give everything for this club that has believed in me."
#2 Remember the name | 15th August 2019
Winning back-to-back European ties for the first time since 1971/72 was some achievement for Wolves, and playing his part was debutant Neto. Leading 4-0 from the first leg against FC Pyunik, Nuno rang the changes and one saw Neto make his first start, in a front two alongside Patrick Cutrone up front.
After a goalless 54 minutes, Wolves clicked into gear, particularly that front two, who combined for the old gold's first of the night. Cutrone squared for Neto to slide in his first goal for the club and he was up and running for his new club. Neto later assisted Morgan Gibbs-White, as Wolves ran out 4-0 winners, 8-0 on aggregate, booking a date with Torino in the next qualifying round.
Neto said…
"The feeling was amazing to play in front of these amazing fans. To score and make an assist in my first game was incredible, especially in front of these incredible fans. I enjoyed playing with the team in my first game because we played a good game. The second-half for me was better and now we are focused already on the game of Monday."
#3 The best in the world | 13th September 2019
In one of Neto's first interviews as a Wolves player, he raised eyebrows with an ambitious statement, which underlined his ambitions. Speaking in September 2019, he claimed he will work every day to be the best player in the world, which outsiders may have thought was unrealistic, but maybe it wasn't – the progress of the winger since has been in the right direction, so who knows?
Neto said…
"I want to be the best like always, I work every day to be the best in the world. If I think I can be the best in the world, I'll work more. At the moment, for me, it's Ronaldo, but all my days will be working to be the best."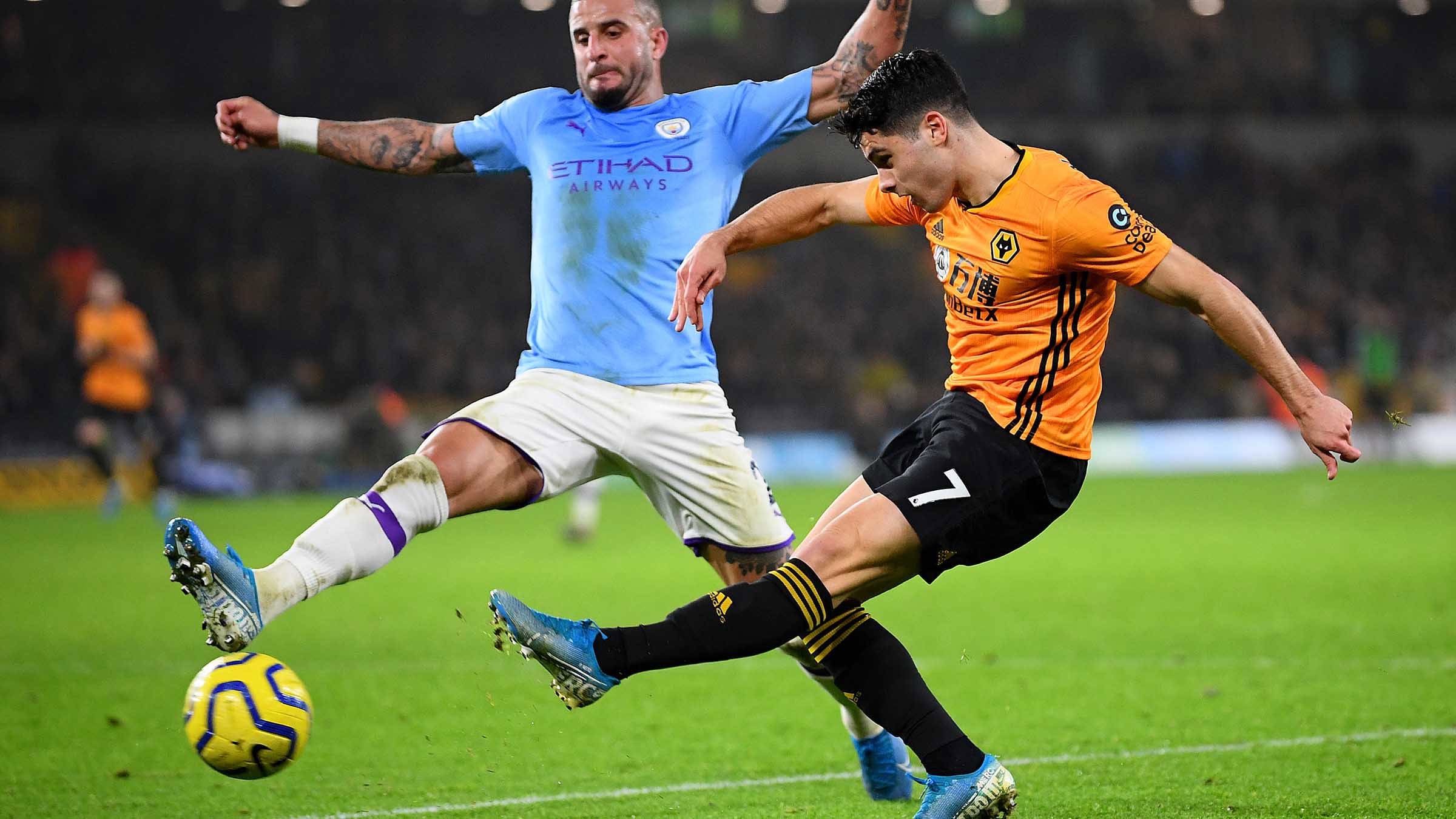 #4 Crucial away goal | 12th March 2020
With the world on the cusp of lockdown, Wolves, somewhat begrudgingly, headed to Athens for the first leg of their Europa League last 16 tie with Olympiacos. Behind closed doors, Wolves weren't at their vintage best and trailed 1-0 with 23 minutes left, but with the hosts down to ten men, it would have been an opportunity missed.
Up stepped Neto for one his most important goals in Wolves colours. His and Joao Moutinho's training ground routine allowed the youngster to drill a deflected effort home to earn Wolves that crucial away goal. The old gold had to wait five months for the second leg, but that Neto strike proved invaluable, as Wolves progressed with a 2-1 advantage.
Neto said…
"I'm happy for the goal, but not the result. We scored one goal away from home, but with one more man we wanted to win. It was not possible, but we are already focused on the next one. The free-kick was improvised – we try to get the best strategy to get the goal and it was a good shot and we got the goal. The goal was important because it was away from home."
#5 Hammered it home | 20th June 2020
Neto signed off for the lockdown in style and marked the return even more impressively. After three months without football, the Premier League got back underway in June 2020 and Wolves were tasked with a trip to East London. Raul Jimenez had the old gold in front, but there was work to do to see out the victory over West Ham United.
So, when Matt Doherty hung up a teasing crossed, Neto's eyes lit up. The Portuguese hit a venomous volley which flew past Lukasz Fabianski and into the roof of the net to seal victory in stunning fashion. Football was back, and so was Neto.
Neto said…
"When we are on the bench, we are focused on the game, so when we get in, we help the team. The coach asked for me and Adama to look deep and he said to arrive in the area because we can help the team. I enjoyed the goal with my family – the team, so it was good."
#6 The global stage | 11th November 2020
As Neto's 2020/21 season got off to a flying start, Portugal were soon on the phone and the Wolves man was a senior international. The then 20-year-old was handed his debut off the bench against Andorra, in an international friendly.
A move which involved Nelson Semedo down the right eventually found Neto lurking, and his volley flew home via the underside of the bar and the winger was a senior international goal scorer. That night he became the first player born in the 2000s to be called up, represent and score for Portugal – records that will never be taken away.
Neto said…
"Very happy for my debut and for the result."
A moment he'll never forget...

🎯 @pedrolneto7 pic.twitter.com/EzufshTTen

— Wolves (@Wolves) November 11, 2020
#7 The best until last | 15th December 2020
In the depths of December, Wolves and Chelsea were locked together at 1-1 going into the fifth minute of injury time. A draw wouldn't have been a disaster for the hosts, but after back-to-back defeats, what would transpire from that moment was much more welcome.
Chelsea had committed bodies forward, so when Vitinha picked up the ball and laid off for Neto, he was left one against one with Kurt Zouma, and with a shift to his left he had the required space and angled a drilled effort across goal and into the corner. An incredible moment, robbed of the South Bank celebration, but a hug of the groundsman was the next best thing.
Neto said…
"It was very important. We came from two losses, but we are very happy with the game that we have done. I'm happy for the team. The work that the team did, it was amazing. We were down for one goal, but the mentality of this team is to continue and to get the three points and we are very happy. We've worked hard since the day one, we've worked hard since the last loss, and we got what was deserved from this game."
#8 Solo goal sinks Saints | 12th February 2021
A poor run of form going into February 2021 had Wolves glancing ever so slightly over their shoulders, and while four points from Arsenal and Leicester City at Molineux helped, following it up with another good result at Southampton was imperative.
After falling behind, Ruben Neves' penalty had pulled Wolves back level, but Neto was about to light up an uneventful afternoon. Sizing up Jannik Vestergaard, the Portuguese dropped his shoulder and jinxed past, before squeezing past Alex McCarthy from an impossible angle to earn three big points on the south coast.
Neto said…
"Ruben passed me the ball and I remember that Ruben was asking for the ball back, because he always does, so I did the first touch behind and saw that I didn't have space to pass to Ruben, so I took on the guy and did a good goal, and I am very happy. We did a very good job as a team, winning duels and having quality in the game."
#9 Double award swoop | 20th May 2021
In a mid-table season behind closed doors, Neto was Wolves' shining light during the 2020/21 campaign, and his efforts didn't go unnoticed as he scooped two of the major honours at the End of Season Awards. Attending via Zoom due to the pandemic, Neto was named Player of the Season by both fans and his fellow players.
The winger scored five and provided six assists across the campaign, marking his best season to date, and showed a sign of what's to come in the future from Wolves' number seven.
Neto said…
"It's an unbelievable feeling. Since the first day that I arrived here, it's all been a dream for me. I'm not as happy as I would like to be because I would like to be present with you in that room full of people who love this club, like me. I want to thank my teammates, my family, the fans and to all the club, because they've made it amazing for me. The words that I hear from my friends in the team are the most important, because without them it would not be possible."
#10 The wait is over | 20th February 2022
The 2021/22 season has been a different story for Neto – one of hard, resilience and determination to return from a knee injury picked up last April. Between Wolverhampton and Portugal, the youngster dedicated himself to returning the best he can possible be, refusing to let any setbacks or delays affect him.
So, when the substitute board was elevated with nine minutes left of Wolves' clash with Leicester City last month, it was all worthwhile. The winger was back doing what he loved and felt goosebumps hearing Molineux sing his name once more. A new contract has followed, and he'll hope a strong finish to the campaign is next in line.  
Neto said…
"It was unbelievable. It gave me goosebumps. 10 months after some difficult times I am finally back. The best scenario it was at home and an even better scenario would have been with a goal, but I am very happy to be back and to hear the stadium singing my name was unbelievable. I felt very good. I felt confident and all the work I have done since my injury has been amazing, but I will continue to work. My mentality was always there, I will never change. I will learn a lot, but with the mentality I have, when I come on the pitch, I have to come with full confidence to do what I do normally."
He makes it look so easy 😍

Who's missed this?

🙋‍♂️ pic.twitter.com/yXKA3tfRUi

— Wolves (@Wolves) February 20, 2022