4th March 2022
Rayan Ait-Nouri has refused to get too downbeat by Wolves' recent defeats and insists they "belong to the past" as he looks ahead to Crystal Palace on Saturday.
Wolves' trips to Arsenal and West Ham United were both tight, but ended in defeats by a solitary goal, yet rather than dwell on the disappointment, young wing-back Ait-Nouri is showing his resilience and hunger for the fight. The Frenchman is up to 19 appearances for the season in old gold, and now feels fully adapted to his surroundings, and as Wolves prepare to host the Eagles at Molineux, he's is looking to bounce back in style.
On the recent London losses
"I think they were good games; however, we perhaps lost a little bit of focus in the last 15 minutes. The games are very quick, very hard, and the result can change very quickly, and Arsenal got their two goals towards the end.
"It was a disappointment [West Ham], because it was an important game, but there are still many games to be played. It's a long season, we still have to remain focused and hope that we can get the best performances and results.
"These two games we lost belong to the past, we've lost other games before, but also won many. We've got to give the best of ourselves to be in a good place and show what we can do. This isn't the end, we can still prove ourselves and the game against Crystal Palace we hope to have a good performance."
On being settled at Wolves
"This is my second season here, and I'm very well adapted, especially because I'm surrounded by a good group. It was hard at first because I had to get used to a new country, new food, new weather, but I'm getting used to it. The league is very hard, with very ambitious objectives, however I think I'm trying my best every week and I have the feeling of the right track."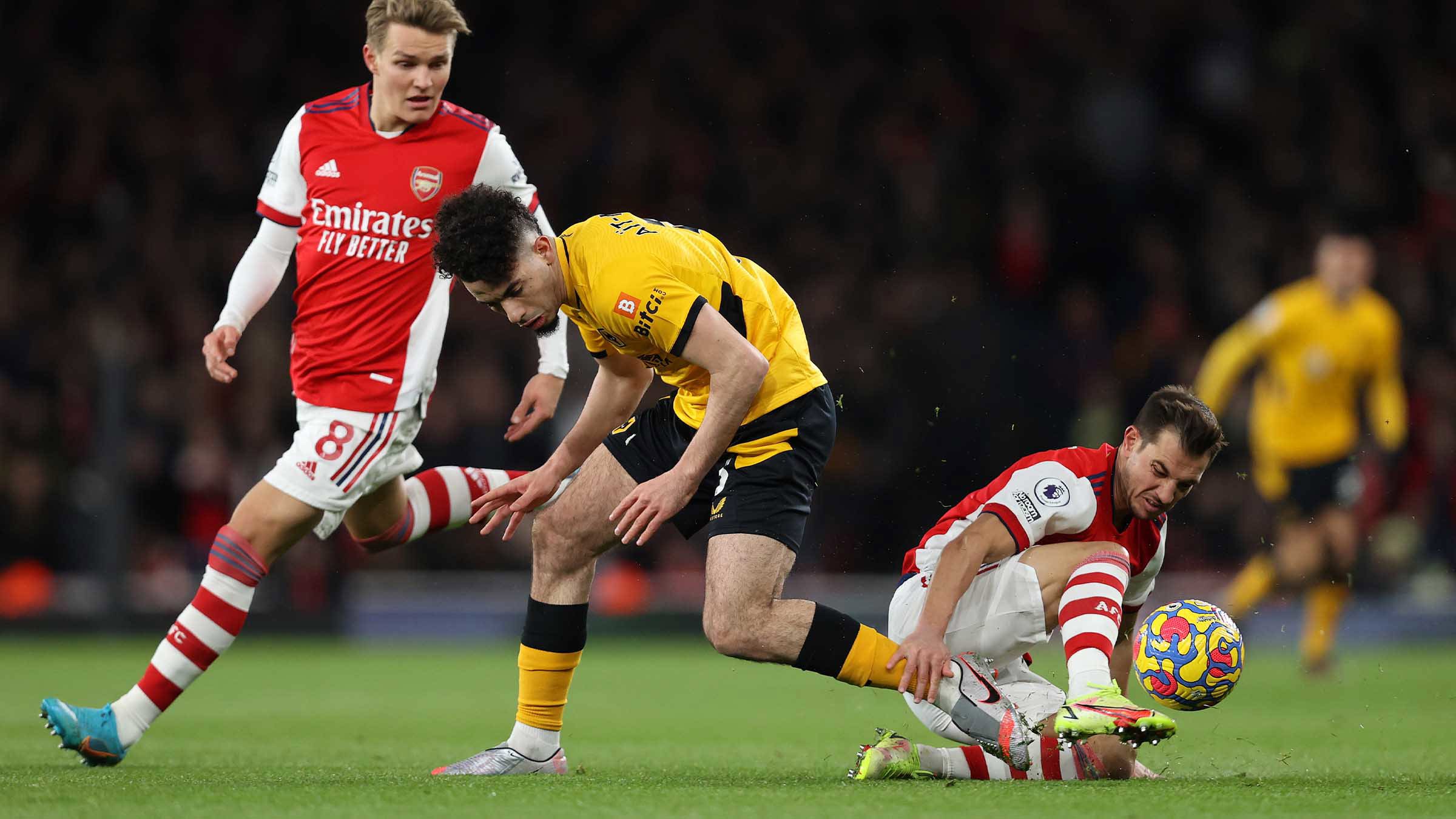 On adapting to the language
"I do understand a lot, however I have to progress with more lessons. I hope by the end of the year to be pretty fluent.
"I have to admit that the accent of Wolverhampton is not always easy to understand, and when Coady speaks I don't always understand what he says. Things are different from France, but I'm getting used to it and I hope I can continue. Football is like a religion, and everything is in place to be able to perform and get the best possible results."
On working under Nuno then Bruno
"They are different. I feel I've got a lot out of both of them. Nuno last year, I was happy to learn with him. Nuno is more reserved, Lage is very close to his players, but they're both very good coaches and I feel I've improved a lot in terms of tactics and a physical point of view. I'm very happy to have been able to work with both and will continue to do my best and earn Bruno's trust."
Palace prep in progress.

💪⏳ pic.twitter.com/C6fLvm0gsn

— Wolves (@Wolves) March 3, 2022
On playing in the Premier League
"It was always a dream of mine when I was growing up, that is why I tried my best every weekend when I played because I wanted to meet these objectives, and playing in major competition is fulfilling my dream, and I want to give my all to do my best."
#WOLCRY