14th February 2022
Wolves won for the fourth time in a row away from home on Sunday, as Tottenham Hotspur became their last victims, and Matchday Live Extra covered every kick.
Mikey Burrows covered all the action alongside a pair of Wolves legends in Andy Thompson and Claire Hakeman, and the trio were full of praise for the old gold, who won courtesy of first-half Raul Jimenez and Leander Dendoncker goals.
Post-match, the trio discussed bouncing back, another solid defensive display, an eye-catching full debut for Luke Cundle and what is next for his exciting group, all on Matchday Live Extra, which is available in audio and written formats below.
On the win at Tottenham
Thompson said: "It was a good performance. Getting the two early goals helped and we all know about the quality of defenders we've got in the team, and it showed again. Two good goals – Jimenez's was a fantastic finish, I bet he's relieved, but it was an overall performance.
"The first-half was especially good, up to 30 minutes, Wolves were in total control. I know Tottenham made that change of formation, putting more emphasis on the midfield area, but Wolves dealt with it. Kilman was again outstanding, Saiss and Coady too – overall a great performance by the lads."
Hakeman: "It's a fantastic result. I think the fact we could overtake them was big, with more big games coming to test us each week. We came away with a clean sheet which is brilliant. We dominated the first period across the pitch, second-half they were inevitably going to come at us and we handled it pretty well.
"The boys were having to graft, you could see tired legs towards the end, but defensively we were really solid again. Sa had a little wobble at the end but made some great saves, his tip over the bar towards the end was brilliant, and he made some great saves across the match with his legs."
On Cundle's full senior debut
Hakeman said: "It was a brilliant debut for Cundle, he didn't look out of place at all, he looked after the ball really well, broke up the play, and slotted in nicely with Neves. It released Dendoncker to play his game and that's the best I've seen him for quite a long time. Really pleasing display, on to Leicester, and a chance to push on."
On bouncing back after Arsenal
Thompson said: "There probably was some harsh words said after the last two games, the results would have hurt them, going out of the cup and losing to Arsenal, so it's all about bouncing back and the way Wolves have done it this year has been brilliant. We fancied ourselves against Norwich and Arsenal, and we didn't get the results, but it's great we bounced back with a great start.
"Another goal for Jimenez, credit to him, he works so hard and Dendoncker had a great game, he covered every area of the pitch, defending and getting up there, and a force getting the goal. This will be a very satisfying result for the manager and players. You saw what it meant to the fans."
"Playing out there was a feeling I've never had before."

Luke Cundle reflects on his first start after notching up a 9️⃣6️⃣% passing accuracy at the Tottenham Hotspur Stadium.

👏🗣 pic.twitter.com/ypcXIdbY40

— Wolves (@Wolves) February 14, 2022
On getting the tactics right
Hakeman said: "The midfield were solid, breaking up the play, and the combination seemed to work with Dendoncker pushing on to the front two. It was worlds apart from Norwich, when you couldn't pull out many positives, but on Sunday at half-time we could have talked for a long time about how well we'd played. The second goal was won by the press, Cundle with some great play down the line, we lost possession, but forced the keeper into an awful pass out, and from there it escalated and Dendoncker ends up involved in both goals.
"So many positives. Against Arsenal, although we weren't awful, we didn't threaten much, so it feels like we're back on it. Big games to come. Adding Cundle in the mix, he's another player that can start and I'm not so worried that Moutinho's injured, because we've got Cundle. For him to be involved in a win like that on his full debut is pretty awesome."
On Kilman impressing yet again
Thompson said: "He looked so calm on the ball, coming out of the defence with ease, he doesn't seem to get flustered by anything, always seems to be there getting his foot in with a block or taking the ball, and he's been outstanding. No matter what teams throw at him, he doesn't get fazed, keeps a calm head and you see time and time again could out of defence, past players, and it shows the confidence he has in his play."
Hakeman added: "His stats on ball retention must be unreal because you so rarely see him win possession and give it away, it doesn't happen. If he's not blocking or tackling, he's carrying the ball out, and doing it very convincingly. He doesn't look like a defender uncomfortably going forward, he's brilliant with the ball at his feet, very composed, and he uses his body well to protect the ball."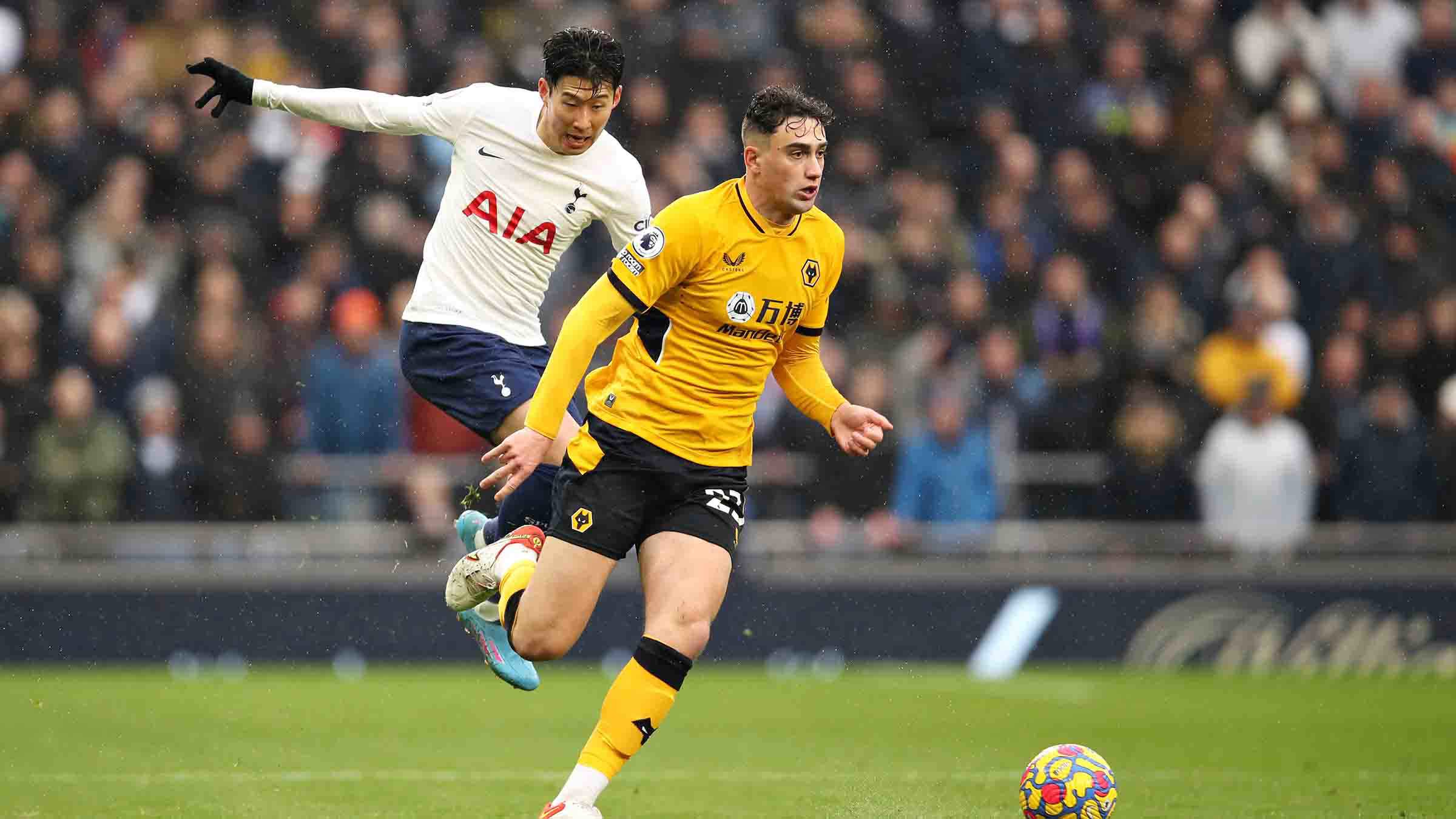 On the defence overall
Hakeman said: "Kilman is playing alongside two defenders who are playing at their peak, and it makes a solid base, and it's one of the highlights of the season for Wolves so far. Saiss went off to AFCON and came back and slotted back in – on Sunday they were back on top form. Saiss' stats are unreal, aerial battles, clearances, interceptions, he's top rated and comes out on top. It's no wonder Bruno put him back in and they're so solid as a three - it's the base. Semedo and Ait-Nouri got involved going forward, but also did their defensive graft, so I think we defend so well as a team, but that back three has been unreal season.
Thompson said: "They took the chances in the first-half, but by defending well as a team, we got it right. You've got Dendoncker scoring the second goal by having a gamble, hoping the ball is going to drop. That was the difference in the first-half, the way we tried to anticipate things. Jimenez for his goal, pulled away from the goalkeeper and volleyed it into the net. We can be over critical and say would could have scored more, but you take that at Tottenham."
On what's next for this group
Thompson said: "We've got good players. We've got players who know the league. We've had good managers, good leaders, on and off the pitch, and there's no reason why we can't be challenging and pushing other teams. You used to remember the top six being out of touch, but it's not that anymore, apart from probably the top two, everybody is reachable."
Hakeman added: "We don't want people talking about us. I think we are underestimated, but people are starting to turn around and say Wolves are looking half-decent. Since the start of January, the Man United win was the trigger point and I think from thereon, we had a blip against Norwich and Arsenal, but we look convincing in what we're doing and not conceding goals, and that's been going on for months now. We're defensively sold.
"We've still got Pedro Neto to come back, and he was a game changer in the Covid year. He scored big goals when we were having a wobble and is like a new signing. We've got Jonny to come back too – we've got strength in depth, so I think we can push on and I'm happy for us to be under the radar, but we deserve credit for the way we've operated."
#TOTWOL