19th January 2022
Bruno Jordao insists he is feeling better as a player now than he did before his long-term injury which has left him out of action for more than a year.
The Wolves midfielder, who made his first appearance of the season as he came off the bench in the FA Cup third round victory over Sheffield United, has been regaining fitness with the under-23s since returning to the grass in November, and marked his first 90 minutes in 12 months by scoring the equalising goal in the development side's draw with Burnley on Monday evening.
A Portugal under-21 international, Jordao has been working hard in getting back to full fitness and acknowledges the support he has had from fellow midfielders Joao Moutinho and Ruben Neves in training as he attempts to impress Bruno Lage and cement a regular place in the Wolves side.
On the under-23's draw with Burnley
"I think we did a good second-half, the first one not so good, because they were better than us and I felt we were taking a lot of time with the ball, thinking too slow, and I was without space to play.
"We were playing apart from each other a lot, and we needed to be closer, be tougher, run more and be quicker with and without the ball. But we had a good response in the second-half and got our goal.
"We were playing quicker, faster, so I had more space to go and switch the game and create more opportunities for us. We could have come away with the win, but this happens in football."
69' | #WOL 1-1 #BUR

Bruno Jordao drives through and finishes past the keepe!#WOLBUR #PL2

📺 https://t.co/9jTj9McrpT pic.twitter.com/FCeeLbpgmj

— Wolves Academy (@WolvesAcademy) January 17, 2022
On scoring his first goal since returning
"I feel good. It was my first 90 minutes for over a year, so I felt really good and it was good to get a goal, but we didn't win, so it wasn't the best weekend, but for me individually, I think it was a good game.
"Of course, when you score a goal it's always good. I was expecting this for a long time because I've been out for more than a year, so getting a goal always gives more confidence for yourself.
"It also makes you want to play more and more and want the ball more, so it's always better to have a goal."
On recovering from injury
"The first two or three months were really hard because I was with a brace and I would go to the training ground every day and would see my teammates playing out there and training, and I was stuck inside, just lying on the bed and doing some little exercises because I couldn't do more.
"Those first three or four months were really tough, but then my mind was good, I took some days off to recharge the batteries and then I started training with the first-team in November, and from then, I went to get fit and get some minutes in the under-23s.
"Playing for the under-23s is very good as it's completely different in games than it is just in the training sessions, and then I was on the bench for some of the games with the first-team.
"At this moment, I feel better than before and now I come with everything and I feel really good. But I feel I needed to keep going, so I came here to keep building my fitness for when the opportunity comes in the first-team."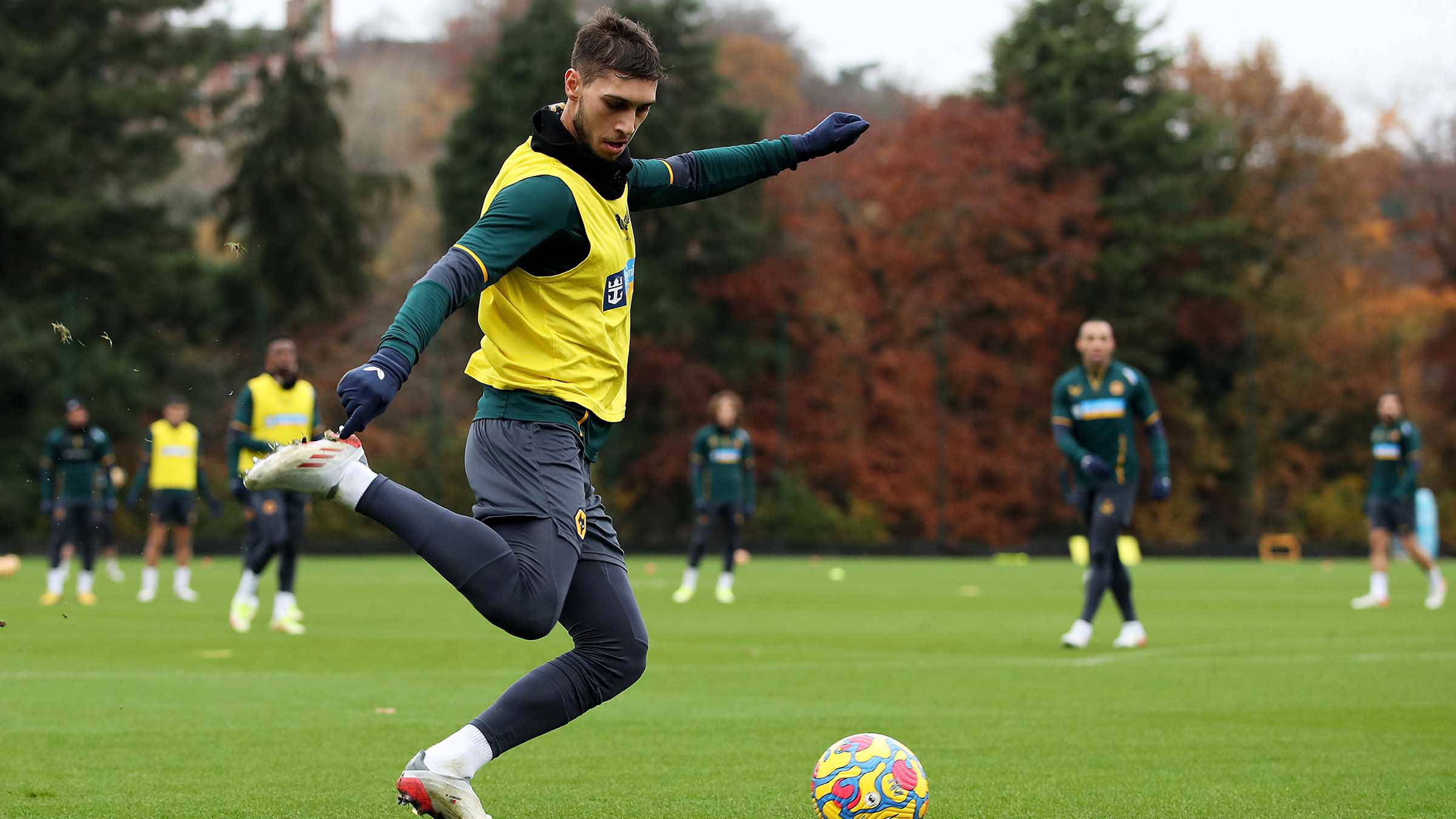 On taking his chance with the first-team
"I feel he likes me and I'm doing everything he is asking of me in the training sessions and I'm working hard every day. I think I'm ready, so when he thinks it is the right time, I'll be ready to play.
"I've been out for more than a year, so I need to play, I need minutes and games, so obviously I want to play for Wolves in the Premier League, but if it's not the best thing for me now, then I'm ready to play wherever they need me."
On leaning from Moutinho and Neves
"Every day you can learn from both of them. They are really good players, very experienced, and every day I'm learning even more from them.
"I listen and take advice from both of them, so it's really cool training with the first-team because you get better every day."