11th December 2021
Bruno Lage believes Wolves need to be patient against Manchester City on Saturday if they are to go one better than their last-minute defeat to Liverpool last time out.
Having confirmed Willy Boly and Marcal will be part of his travelling squad which will head to the Etihad for tomorrow lunchtime's clash after missing games this season due to injury and Covid, the head coach insists he will be going into the match with confidence in his players to have the courage to carry out their game plan – as the Covid restrictions placed upon Premier League clubs are increased.
On Covid restrictions increasing
"I'm worried because it's not just about us, but about the other teams. Last week, Burnley didn't play against Tottenham, so they come more fresh for the game than us, and now it's Brighton. In that way, we are a bit unlucky, but more worrying than that, is public health.
"We need to take the best action in this situation. For us, all my players, all my staff and all the people in the building are vaccinated, and we continue with some rules because we have a small squad and we need to protect ourselves.
"We continue to have the meetings with the players, but everyone has their own masks, we try to follow the rules when we go for meals every time, and we try to do our best.
"But when you go to the national teams and after when you come back, the relationships outside, our families, also, everyone needs to be aware of the problems and we cannot bring covid here for us.
"Three weeks ago, we had Daniel [Podence] two weeks ago we had Marcal, but this week we didn't have anyone [test positive], which is good."
Focus on #MCIWOL 🧠 pic.twitter.com/WQA65VFnOh

— Wolves (@Wolves) December 10, 2021
On a challenging winter schedule
"It's what I said at the beginning of the month; this is a real test. In the Premier League, every game is a challenge for us, but every time you go to play against these teams it is an opportunity for us to show our work.
"As you know, we played the last game against Liverpool. We were there, we tried to play our game, and I think we did well. We suffered a goal late in the game, but the players did everything I asked.
"Now, one game at a time, we're just focused on Man City and what we can do. I am sure of two things; they will have more time with the ball than us, and I'm confident when we have the ball, we will play our game – like we did against Liverpool."
On taking responsibility for late Liverpool disappointment
"I was disappointed after that, and disappointed more because it was very hard for me to take the decision to put Ki [Hoever] into that situation. It wasn't his mistake, and I said to him, 'You don't need to apologise on social media and Instagram, and also you don't need to apologise here between us.'
"That is because when we win, we win together, and when we lose, we lose together. It was my decision to put him there. For wingers, they don't feel much difference to play on the right or the left, but for the right-backs and left-backs, it's harder.
"It happened with Leeds and it happened with Liverpool when Rayan [Ait-Nouri] asked to come out. That's my frustration, but when I went to the dressing room and I looked at their faces, they were more frustrated than me.  
"But this is football. We don't have time to celebrate, and we don't have time to put our heads down. We need to move on. I gave the boys two days off and when they came back, they were ready to move on to the game against Man City."
⏱ 24 hours until #MCIWOL...

🔥 @AdamaTrd37 🔥

🎥⏪ pic.twitter.com/u5ynGhb0z6

— Wolves (@Wolves) December 10, 2021
On the challenge of Man City
"I will go into the game with confidence and we know we're going to play against one of the best managers in the world, a fantastic team, and they know how to do a lot of things well.
"The way they start from the goalkeeper, the way they find spaces to find goals, even without a striker as a reference, they know how to play and they know how to create a lot of chances, and we are ready, we're prepared.
"The big difference between the Liverpool game and this game is that Man City have more patience with the ball, they try to manage the ball and will try to bring us side to side and find spaces inside and outside, find spaces to cross inside the box and outside the box.
"We need to have the same patience, to find the right moment to press and create our chances. But we've prepared well for the game, and when we have the ball, I have big confidence in my players that we will have the courage to play our game in their stadium."
On the work of his impressive defence
"We try to push the players to work hard every time, and in the end, what we want is to take the best of them. That's why I'm more hard on the defenders than the strikers, because they need to start our way to play and in the end, they need to defend our goal.
"The big reference when you're defending, is that you need to control the spaces in front of them and the space at their back.
"I'm very happy with them. Everyone now talks about Max [Kilman], and he now has more minutes that he did in the last season. But he's growing up, and Coady is growing up also, in the way we are playing. Trying to control more of the line and when we are defending, to come and approach the space in front of him and not running too soon for our goal.
"We are dominating the game with the ball because of them. We are playing long, we're playing short, and they give us good support when we have the ball."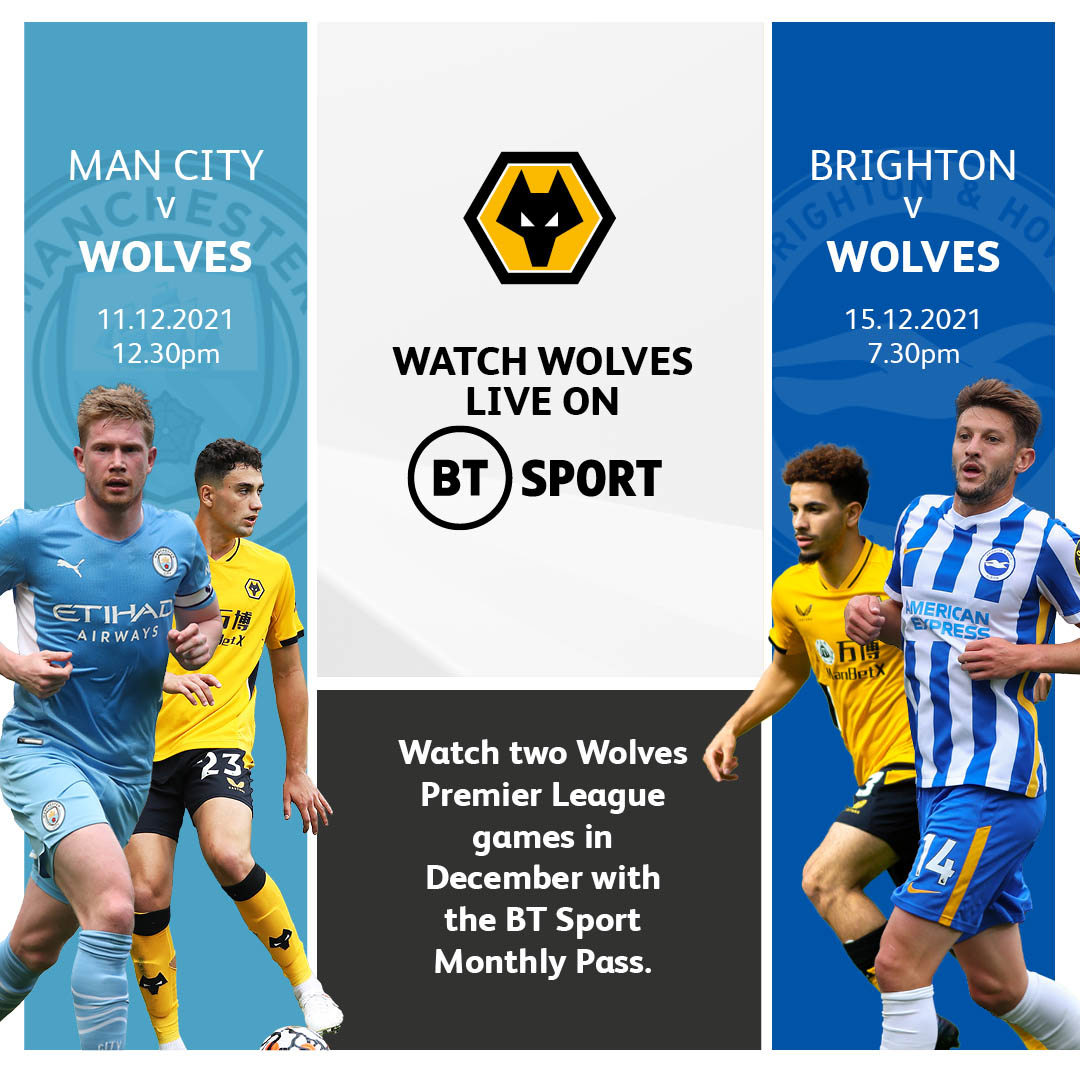 #MCIWOL