18th September 2021
Bruno Lage was left frustrated with his side's lack of finishing touch and 'silly' mistakes in defence at Molineux on Saturday lunchtime as Wolves were left ruing missed chances in a defeat to newly-promoted Brentford.
Wolves fell behind from the penalty spot when Marcal brought down Ivan Toney in the 18-yard-box, but Lage felt his side were also deserving of their own spot-kick when the game was still at 1-0 as he believed Francisco Trincao was pulled inside the box as he tried to react to Adama Traore's shot which cannoned back of the crossbar. Although he made several attacking changes in the second period, his team were unable to hit the target which means they are still looking for their first win at home this campaign.
On coming away empty handed
"It was a strange day. When you're working for what we did, and the way we started the game, when you come to the end result, it's not good for us. We started in a good way, tried to control everything, creating chances, but then it was the moment that changed the game because it was a silly penalty for us. We cannot do that mistake.
"We know that Brentford are a strong team, the way they play, the way they come to press, it's difficult to start the game like that and get nothing. After 20 minutes the opponent did nothing, and we give them a chance to score. But there were too many mistakes from our side which is why we suffered the second goal, and we lost our position in the game.
"When you look back, we got punished with this result, but for our decisions, and the way we play and the way we create chances, we have to score goals and you cannot offer goals for the opponent like that."
On Wolves' penalty appeal
"We see a lot of these situations in all of the boxes, but on that one [Marcal foul] we were unlucky, the referee saw it and it was a penalty for them. That gave Brentford the chance to start winning the game.
"We tried to react and after two or three minutes we had a good chance for Adama, when he hit the crossbar, and if you saw, the same thing happened which happened in our box, the defender grabbed Trincao and nothing happened.
"I'm not a man to complain, but we need to see these kinds of things. That is why VAR exists, to help referees to make these decisions and when the one thing happens in our box and the same behaviour is in their box, it should be a penalty for us."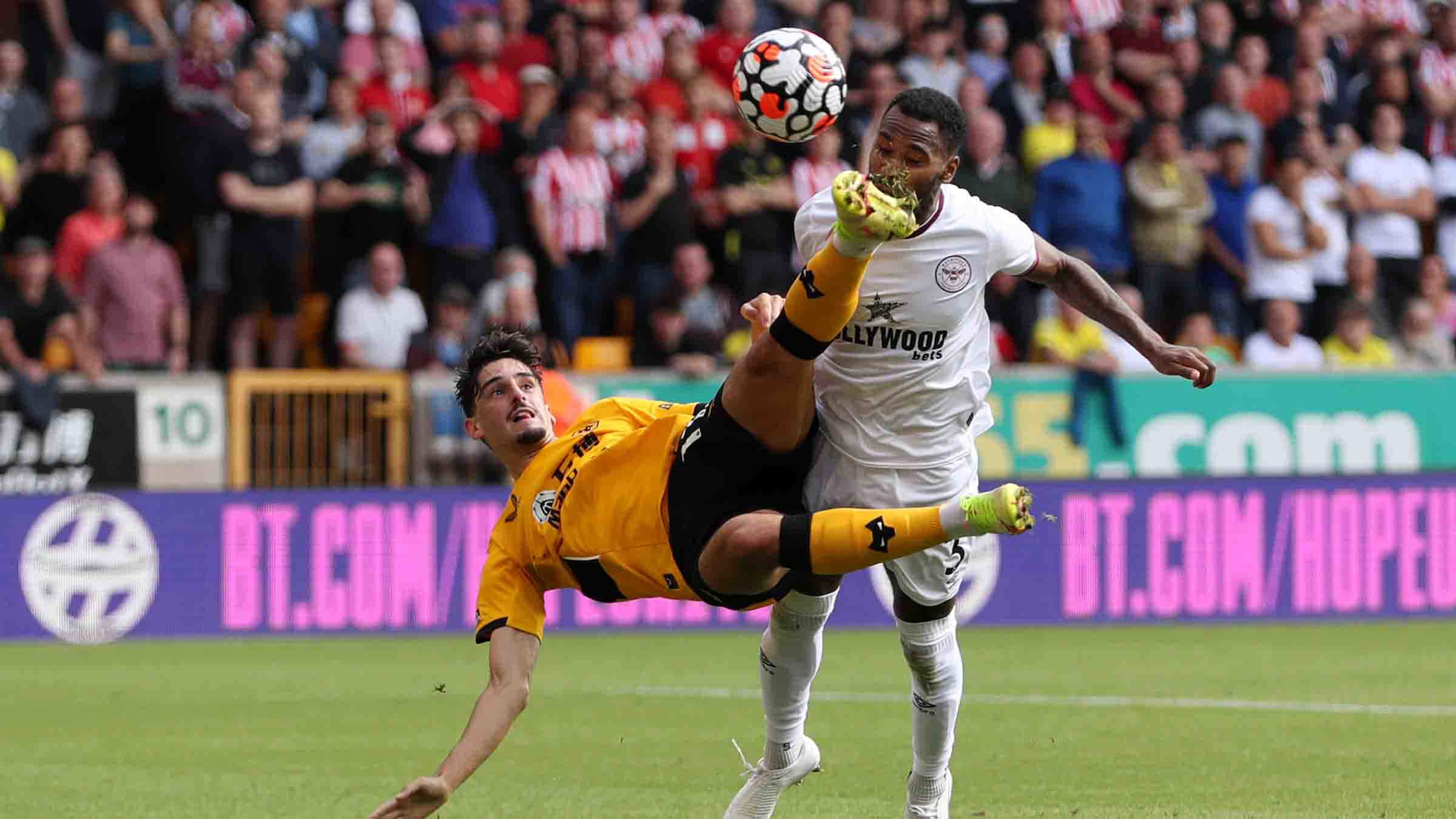 On second-half changes
"At half-time, I did my changes to try to be more offensive, changed Trincao to the left, Adama to the right, put Hwang in between the lines, and we tried to link the game to create chances.
"We tried to do everything. We took three defenders off to put on strikers and wingers to open up the game and try to create more chances. I think the game was ours [to win]. We took a risk and had everything in our hands to try to change the game, and although we still created chances, we didn't score goals.
"It was a very hard defeat to take because of the way we started the game, and the way we offered these two goals for the opponent, so this is why it was a frustrating game. But this is football."
On the lack of goals
"It's a concern, but not just from this year, from the past the team didn't score too many goals. They have maybe one or two per game, so the average of the goals is not big, so we're trying to play a different way, trying to create more chances to raise that average.
"But in the end, when you look back and see we created a lot of chances, to only have three points and two goals is a little bit frustrating for us."
Trying to make things happen...

🇰🇷🐺 pic.twitter.com/oTPbLgscuY

— Wolves (@Wolves) September 18, 2021
On chances for Traore and Jimenez
"I remember one good cross [from Traore] into the far post and there was no-one there. Adama works hard every day to improve, and now we are playing in a different way and when the other team are compact and solid in the box, he can improve the way he plays and do different things.
"But he comes every day with that will to improve. We need to continue to work with him.
"It was a good chance for us and he [Jimenez] didn't score, but Raul is doing good after what he did. That suffering in the last 10 months and the way he came back, he's doing everything he can to help us."
On maintaining the belief
"I believe in them. The way we started today and after the way we give the two goals for the opponent, it's frustration.
"I want to see happy football, offensive football and we can manage the games in the different way. But our process is to continue to attack and we continue to work in that way, to improve and win games."
#WOLBRE