14th August 2021
While acknowledging his side showed plenty of positives on the opening day, Bruno Lage insists Wolves "cannot be happy" with their afternoon's work.
The old gold pushed Leicester City all the way at the King Power Stadium but didn't make the most of a series of presentable opportunities which came their way and suffered a narrow defeat. Adama Traore was involved in everything Wolves did going forward but was amongst the Wolves men unable to force a point, but Lage insists in time his vision for this group will become a reality.
On having chances to get a result
"It was my feeling [an equaliser would come]. I think we had a good moment. We started well, we controlled the game, controlled everything except the chance they had. Two or three minutes before we had a good chance for Adama, we didn't score and after two or three minutes they scored.
"That's the period, you could feel it, the game, it could come to us, that's what I said to my players at the break. If you play more inside of them, we'll find the spaces, we'll create more chances and in the last 45 minutes we created a lot of chances.
"We put a strong team, who just won another trophy, playing at home, to play three centre backs, so it was good for us. I'm not happy because I think we deserved more than we got, but confident with the process and the work we are doing."
On not being satisfied
"I just said to the players, we cannot be happy. If you want to change the mentality, we cannot be happy with the game. Understand the process, understand the way we want to play, more aggressive in our defending, press high, manage the ball. They did well, and created a lot of chances, but in the end what counts is the score."
Not the result we wanted but there are positives to build on.

Safe trip home to all of you who travelled to Leicester this afternoon.

🐺 pic.twitter.com/77md9t312o

— Wolves (@Wolves) August 14, 2021
On Traore's opportunities
"That's our area to work, to work as a team, as a collective, but also to improve the skills they have, not just technique, but tactical things. They must improve. Adama has abilities, he has to improve two or three things, for sure the shooting. The way we work, I can feel, Adama is a top player, a top man, he wants to improve. I think we'll work together to improve that.
"Adama had three or four chances, but you cannot blame him. At the same time as missing chances, he created the chances, so now it's the process. We have three weeks together with all the squad and I think with work and time, the players are there to work hard, we're going to be the team that I can imagine – a strong team to play against."
On substitutes making an impact
"We started well the second-half and reacted because we saw they put three centre backs and tried to put more players between the lines. That's why we put first Leander [Dendoncker], because Leander runs between the lines, we put Morgan [Gibbs-White] because he can also play very well between the lines and also Fabio [Silva].
"In the last minute we pushed the line more, Adama and Fabio tried play with Raul [Jimenez], to have more space and create one more chance to score, and but we didn't score."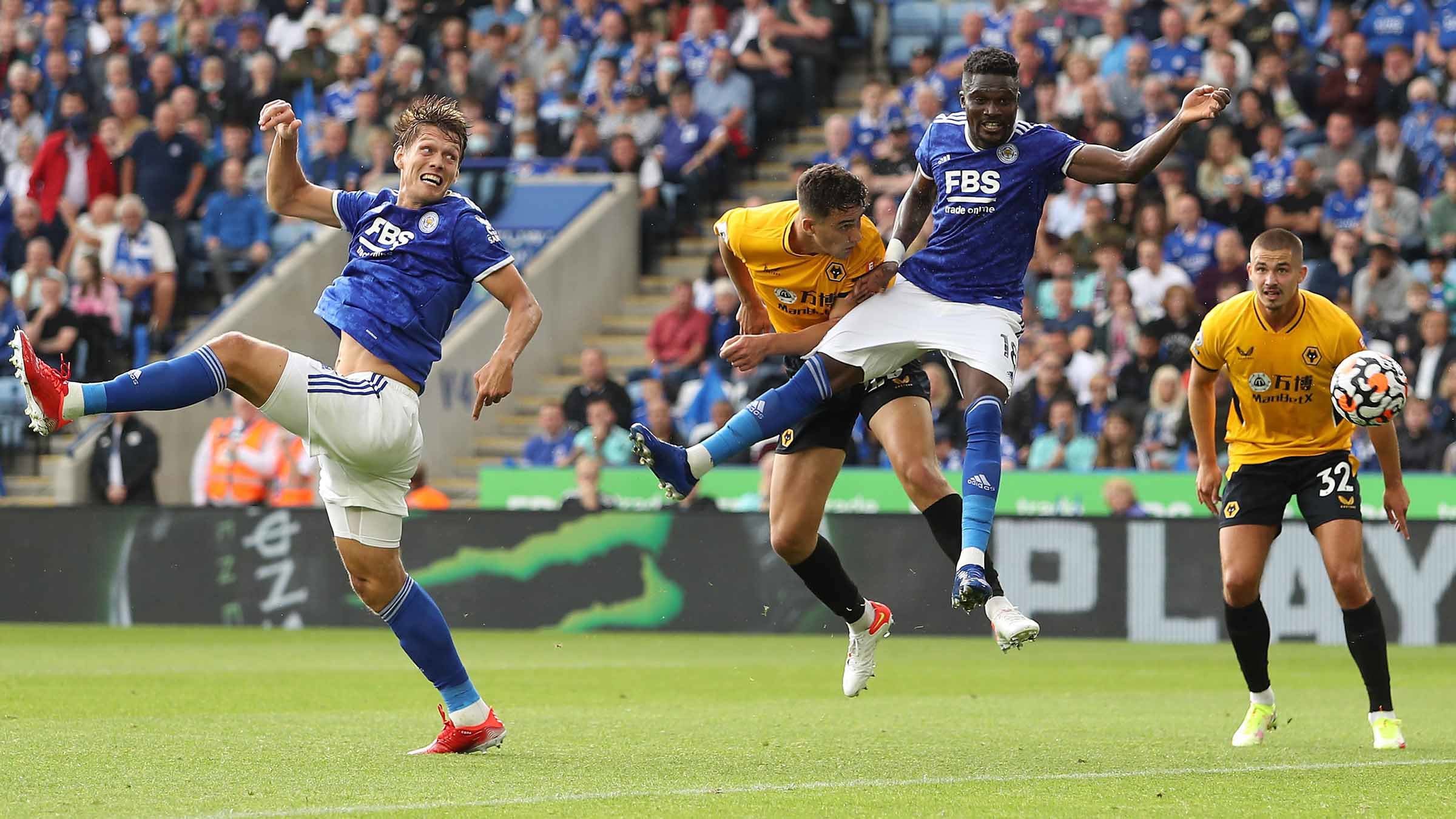 On looking ahead to working with the squad
"In the last week we lost Nelson Semedo for 10 days because of Covid. We need to be creative, to try to work and to prepare because we want to improve first our game and also every strategy for each game. All the players and managers in this period want time to work and that's what I need, time to work and all the players with me to continue to work.
"It's very important [having Jimenez back], Raul is a top player. What he did here for Wolves was amazing, after what happened, the team missed him. He's training well, he played well, so we are happy for Raul."
On a noisy away end
"I missed that. I was here in the Championship and Premier League. I was at Benfica with fans and support. Today the most important thing was the support our fans gave to our team, and I think they go back to Wolverhampton with a smile because they can trust in us and the work we are doing."
#LEIWOL