2nd August 2021
Christian Marques enjoyed his first experience of playing in front of the travelling Wolves support, after putting in his first 90 minutes in a senior gold and black shirt during Sunday's pre-season victory over Coventry City.
Having captained the under-23s for the past two seasons, the centre-back has made the step-up to senior football this summer, earning minutes in several of Wolves' friendly fixtures under new head coach Bruno Lage.
But at the weekend, the 18-year-old was one of just four Wolves players to last the whole 90 minutes at the Coventry Building Society Arena, playing in all three positions across the centre of defence during the course of the match, and the Switzerland youth skipper hopes his versatility and work ethic will earn him a permanent place in the senior squad when the Premier League season begins.
On facing Coventry in pre-season
"It was nice. It was good to get the first 90 minutes of my pre-season and it felt good. Pre-season has been tough, it's not been easy.
"We've had double sessions nearly every day and when we were in Spain for 10 days, where we were doing double sessions again, but in heat, so it wasn't easy.
"We also had two games when we were out there as well, so it was a nice experience and, of course, a lot of hard work as well."
On versatility across the defence
"It's just the experience because it's just a good thing to have. I've been playing in the middle quite a long time, and then I went to the right for a bit and then to the left, and it's a bit different playing in each position as well. You just have to adapt to it and take it as it comes."
On playing in front of a crowd
"I've never had that before. I've not experienced that yet, and I think it was just the nerves because the crowd was there as well, and if you make a mistake they're going to go 'boo' or something.
"But if you do something well, they motivate you even more to do better and better, so there's two parts to it.
"I try not to not let the crowd affect me too much, but I also try to use it as motivation when I need it, because if they say, 'well done' and things like that, you can hear everything they say, and it gives you that motivation and you try to do it better and better.
"But if you do a mistake and they boo you, you just have to focus on the game – you can't let it get you nervous."
Another big thank you to those who travelled to support us today.

We can't wait to see you at Molineux 🙌 pic.twitter.com/ONM1ngbN4l

— Wolves (@Wolves) August 1, 2021
On taking confidence from pre-season
"My confidence has always been here, because if you are a player, you know what your strengths and your weaknesses are.
"If you come to a first-team, for example, you're going to be more nervous. But you can't let the nerves affect you so much that you can't do what you can do.
"You just have to be the same player. Even the players in the changing room, they come to you and they tell you to play how you can, and they motivate you as well."
On learning from Conor Coady
"When Coady came to me today, he said just to play the same as I've been playing all the time, he said, 'do this and this', for example, put the ball over the top for Adama to get in behind, so I just do these little things he told me.
"I just listened to him because he's got more experience than me, he's doing that every week after week, so I just have to listen and take it as a note to improve my own game."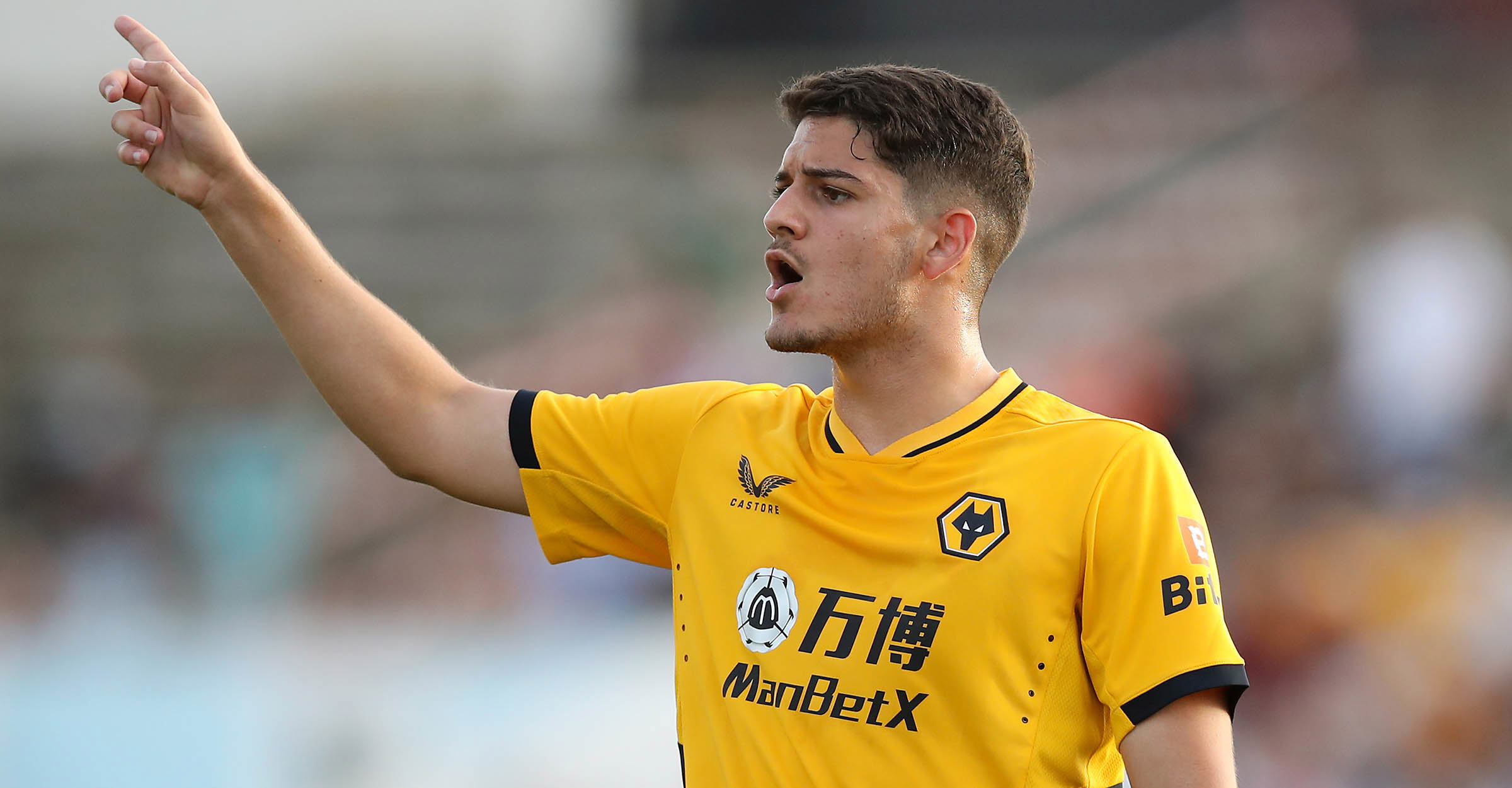 On Lage's experience of developing young players
"It's good motivation for me this season because you can see what he did at Benfica with the younger players. What he did with the striker, [Joao] Felix. So, you never know if he can change things for you as quickly as he did for Felix.
"He's been good. He's already said he wants more players in each position, so that gives me an opportunity to show him what I can do."
On plans for this season
"My main priority now is not whether I go on loan or go into the first-team squad. My main focus in pre-season is just show the manager what I can do, and then, in one week or in two weeks, the club will decide what happens."