18th May 2021
Nuno Espirito Santo has provided injury updates on several of his experienced senior players ahead of Wednesday evening's visit to Everton – Wolves' first game in front of supporters since the turn of the year.
The head coach revealed Raul Jimenez has been meeting with a specialist on Tuesday afternoon as he continues his journey to recovery following the horrific fractured skull he suffered in November last year, while Nuno also set a return date for Daniel Podence following his successful surgery on Monday, as well as indicating good news for Willy Boly.
On Jimenez coming close to a return
"As we speak, he's in with the specialist and also with our own doctor. Hopefully we will have positive news during this afternoon, and from there we will decide and see what the best decision is to make, and how Raul is going to be involved.
"He's well, he's training well, and even today he had a training session that he was involved with. His fitness is good, but we have to be patient.
"We have a lot of boxes to tick, there's a lot of things that we have to look and decide after today. He has to do an MRI, he has to do a scan, he has to do psychological tests, he has to first start impacting the ball with the head.
"There's still a lot of things we have to consider before we decide on Raul. But when we have all the information we will sit down and we will carefully look at what to do and how to do it."
On Raul's recovery
"It makes me very happy. Honestly. After all that we've been through, especially Raul and his family, to see him so much closer to playing again, it's really good news.
"I imagine [he's keen to play] a lot because that's the way he works. He's involved in the training session, but what is more important is to see Raul the way we see him – totally fit, no problems at all, happy, enjoying the training sessions and patient, waiting for all the things to go well.
"I believe that he wants to play, but he has to be patient, like all of us."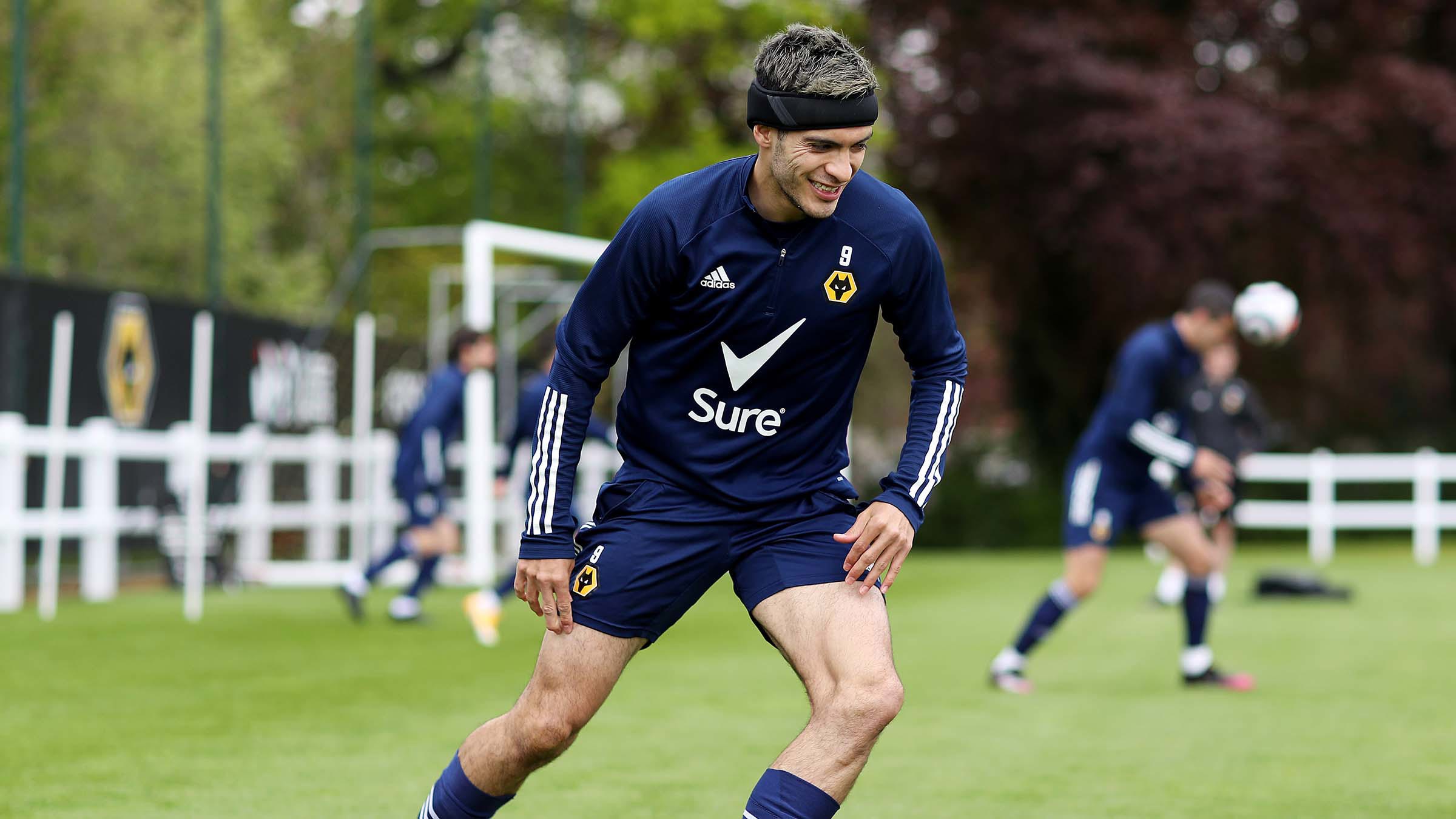 On Podence, Marcal and Boly's injury recovery
"Daniel's surgery was yesterday. It went well and now it's about him recovering. We hope he will be fit for the beginning of August.
"Marcal is returning from a long moment of time he was out. We have to be careful with Marcal because of what happened before, so we have to manage.
"Boly is much better, so let's see. There's always issues and some things that we have to attend. Three games in such a short period of time, intense games that we have, we don't have all the players available.
"But we'll assess all the players and we'll decide who starts tomorrow. It gives a good chance to find the best approach for these two games in particular. Probably all the players will have minutes."
On developing young players
"Our only priority since we arrived was always to improve our players. Since we arrived in the Championship, we've always looked at how we can develop players, how can we improve them, because this will allow us to improve as a team and improve as a club.
"No matter what age he has, no matter the background of him, we just have to look at him and realise what are the aspects that you can improve.
"We have a lot of young players and we always have, over all the seasons were based on a mix of experienced and youth players and we have, of course with the circumstances that has occurred, these young players are having minutes, and it's the best way to improve.
"The best way is to compete and play against tough opponents, from Brighton to Tottenham and now to Everton and then Man U, all this growing process in terms of competition is what makes the player better."
Congratulations on your @premierleague debut, Theo.

Hopefully the first appearance of many.

👏🇨🇦 pic.twitter.com/aj0l0HPtGA

— Wolves (@Wolves) May 16, 2021
On being patient with young talent
"With a young player, you have to really be careful on the analysis and be fair. Take Theo [Corbeanu], for example. Theo is a big talent. You can see in the training sessions and when he plays with the under-23s, but the level of the opponents are different.
"Theo came out against Tottenham with all the joy that he has, with all the will and desire that he has to do things, and he found himself involved in a high level of opponent, and we can see that the lack of things that are still missing there.
"That's why I'm very patient and very careful when I know what a player can become, but I'm also aware of which steps we have to take with these young players.
"It's basic for their development that we keep insisting and keep giving confidence to these young players. Not only Theo, I'm talking about Fabio [Silva], Ki [Hoever], Rayan [Ait-Nouri], Owen [Otasowie], Morgan [Gibbs-White] – we have a lot of young players who have now experienced over and over again what it is like to play game after game and face on your own mistakes.
"But Fabio is not the same player as he joined us, Vitinha is not the same player, Pedro Neto is not the same player. Pedro was having a huge season – he was doing amazing. Yet he made mistakes last season, but trying to find that detail is what we are obsessed over in young players and always in a positive way, feeling that we are side-by-side with them."
#WOLEVE