11th May 2021
Morgan Gibbs-White deserved his moment on Sunday, according to to the team of guests on the latest episode of Matchday Live Extra, which included two fellow Wolves Academy graduates.
Joining Mikey Burrows as always was co-commentator Andy Thompson, but also Carl Ikeme and Lee Naylor, both of whom followed a similar path to Gibbs-White into the old gold first-team during their playing days.
The midfielder struck an injury time winner against Brighton & Hove Albion and was one of many bright sparks in another young Wolves side, which impressed the panel of guests covering the Molineux victory.
On Gibbs-White's influence on Sunday
Naylor said: "To go miss the chance, and then get another one later on and score, it's massive for his confidence because if he doesn't go on and do that, the question is over his head again. The manager will be asking, 'When he's got a chance, is he taking it?' He missed that first one, but he gave him confidence by leaving him on the pitch and look what happened."
Ikeme added: "He did try to make things happen all game, even when we weren't playing well, he was trying to make it happen. It's his energy he brings to this Wolves side which I'm really impressed by. I can see him as a number eight, box to box, he can do both, he can influence a game high up the pitch and give us a bit more dynamic running which we miss.
"It's the runs he makes off the ball which are really important. Sometimes it's selfless running, and I could see he was knackered at times, but he was running, trying to make space for other people. He knew he possibly wasn't going to get it, but he kept on doing it."
What it means.

🐺 @Morgangibbs27 pic.twitter.com/95J2Qf3qV8

— Wolves (@Wolves) May 10, 2021
On Gibbs-White maturing as a player
Ikeme said: "He didn't play that many games [at Swansea], but it's the physicality, he's maturing, maybe it's about maturing as a person as well. He's very young and there's a lot of change between your teenage years and early 20s.
"I hope he plays for the rest of the season now because we want Morgan here, doing well here, and we haven't seen enough of it at times, but he's starting to produce that form which me and other people have seen around the club from a young age."
Naylor added: "It's always hard when you've had success at such a young age. You've got a realisation that you've done well with the 17s and England, but you've got to come back to your parent club where you've got to do well, you've got to try and get in that first-team and stay there.
"He's had that in and out all of his Wolves career, but on Sunday he was outstanding, my Man of the Match. He was trying to make things happen, getting into pockets, moving the ball quickly. He's not afraid to take the ball under pressure and it's a massive thing to have, especially when you're at a higher level."
On Gibbs-White kicking on from here
Thompson said: "He's got to reproduce that now, he's got to make sure he continues that until the end of the season, then after pre-season and goes again. We know he's got the ability, but it's being able to produce it and show it on a regular basis, and that's what you've got to do."
Ikeme continued: "There's been pressure on Morgan from a young age, it's difficult. When you're a young player and have a lot of talent, but also local, and you've got a lot of pressure on your shoulders, everyone expects you to do more than everyone else for some reason and Morgan is young and is starting to mature into this team.
"Because he's done so well with England, and he's been highly talked about, we expect to see it straight away, but sometimes players don't get time, but he has got time and will start prove what he can do now. They took Neves off and left him on, and it shows they've got confidence in him. He'll grow himself from that goal and he will believe what he's doing it right, it's been difficult this season, but other players can see he can make an influence on the game."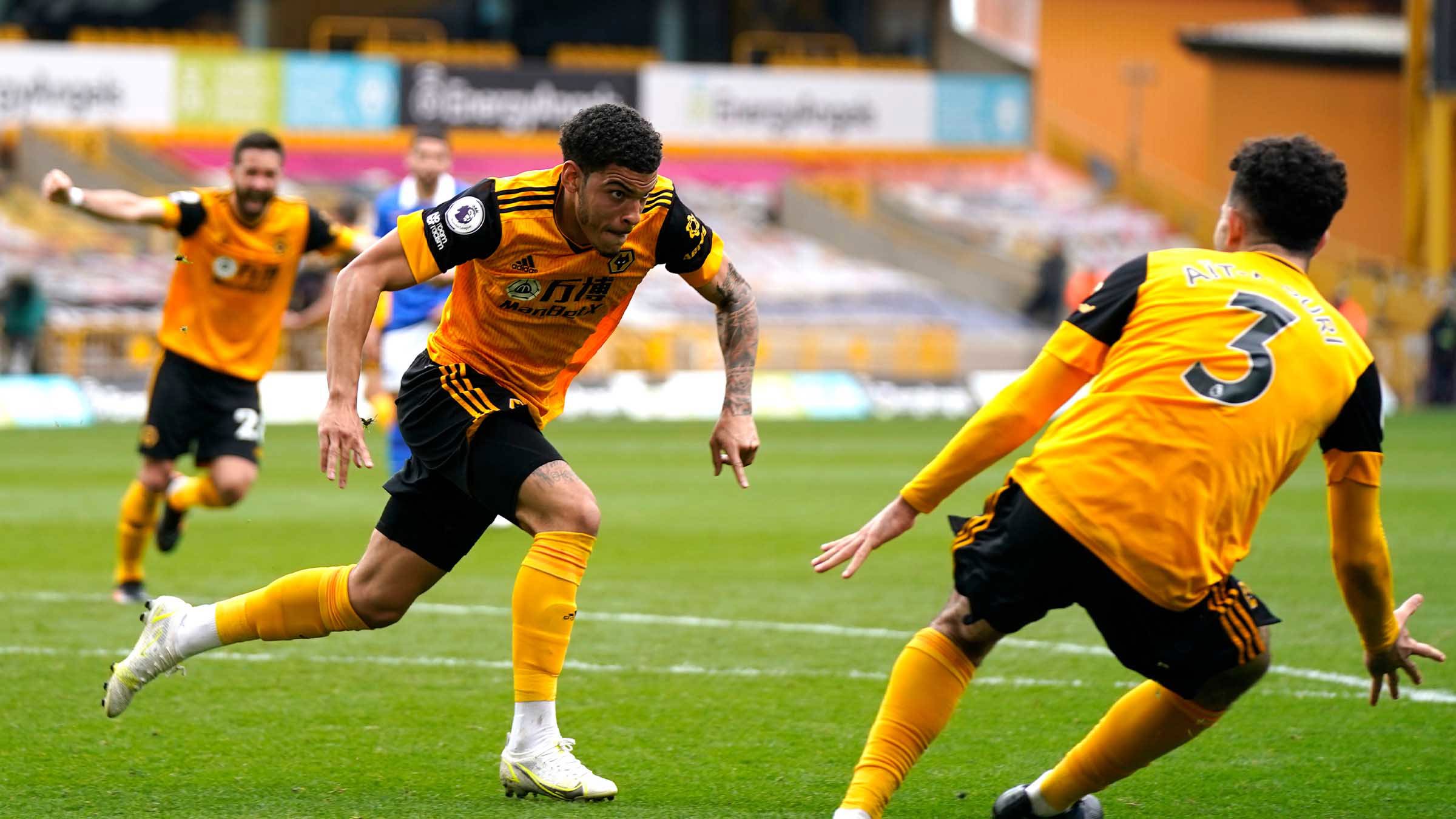 On Silva catching the eye again
Thompson said: "He's improving as we go along, he's starting to understand the game a little bit more. He's learning from the more senior strikers and has brought that into his game. He looks a lot stronger and he's starting to come to terms with the physicality of playing in this league, holding the ball up, getting there in front of the player to bring other people into play."
Ikeme added: "We were talking about runs in behind when we're in the final third, we saw it in the second-half and it started to stretch the game more. The likes of Hoever, Fabio, Morgan making selfless runs sometimes, they weren't getting the ball, but it starts to create space to be able to play. Fabio is really looking good, I'm really excited to see how he's going to progress."
Sunday was the first time 5️⃣ players born in the 2000s started for a @premierleague team!

🐺👊 pic.twitter.com/YwQay9Wwlk

— Wolves (@Wolves) May 11, 2021
On Hoever taking his chance
Naylor said: "I think Hoever is an outstanding talent, he can possibly go on and be very good for Wolves. I saw him when he first came over in the youth team and he blew me away, I thought, 'This kid is going to be special'. He's got the attributes to be very good and I thought he was excellent."
Ikeme added: "He made a massive statement at right-back because he was brilliant. He was involved in a lot of what we were doing going forward. I know Traore made a massive impact on the game, not taking it away from him, but Hoever was making those runs all day and it's another threat for us. We've not got Raul and a whole heap of goal threats, but he's a threat going forward."
On Kilman doing himself no harm
Ikeme said: "I thought he did pretty well. He did what was asked of him at all times. The first-half wasn't down to any dodgy defending. I don't think we've defended well all season as a four, it's something which needs to be worked on and I don't necessarily think it's individually, it's as a team, but that's more to do with who is tracking back, I don't think we've got to grips with that, but Max did well . I really like Max, I think he's another good player."
𝐃𝐞𝐬𝐢𝐫𝐞.

👊 @maxkilman pic.twitter.com/K7kFq1vroA

— Wolves (@Wolves) May 10, 2021
On tactics and teams for the final three
Thompson said: "Are we ready to play Tottenham and Everton away with the team we played? We might get caught out with the pace they've got, with Son especially, so he may go back to a three, but that's the beauty, if you've got a squad that you can rotate formations as well as players, you know you're in a healthy place. Game by game, you've got to look at what you're going to play. I think he might go back to a three against Tottenham."
Ikeme added: "I think it depends on his thought process. If he's trying to work on this for next season, I think Sunday's game almost gives us a free shot at this kind of game. Why not try and work on this formation? Maybe there'll be a change of personnel, I think Traore will almost definitely start, I think Morgan will start and Vitinha may drop out if anything and give it a go.
"I think if you had Traore, Vitinha and Podence, they are going to stay up, but I think Morgan will work back with you as well and that will bring a different balance. I think keep it the same if this is what you want to continue for next season because you want to see what players are like in the positions in this shape. They're not meaningless games, there's a lot on them for next season."
Naylor continued: "If you want to get a gauge on your players playing a certain system, then go and have a look at them. When they've won, go and have a look at them against a different team. Are they going to compete as good? Better than last week, worse than last week? You've got to give people a chance in different formations to see how they'll get on. I think he wants to play a back four, so if you keep the team the same, you'll give people a chance and see how it goes."  
#WOLBHA