5th May 2021
Nuno Espirito Santo turned to youth for Monday's Black Country derby with West Bromwich and was vindicated, according to the team of guests on the latest episode of Matchday Live Extra.
Joining Mikey Burrows was co-commentator and former-Wolves full-back Andy Thompson, as well as former Wolves skipper Sam Ricketts and Wolves Women legend Claire Hakeman, who analysed the 1-1 draw at the Hawthorns.
Owen Otasowie, Vitinha and Fabio Silva were all recalled to the starting line-up and involved in Wolves' goal, fortuitously put away by the striker, and the panel of guests were full of praise for all three on Monday evening.
On Vitinha standing out at the Hawthorns
Thompson said: "I thought he probably was the best player on the park. He was lively straight from the off, wanted the ball all the time in tight areas, great feet, involved in the goal with a clever little flick. You watch him out there and he looks like he's enjoying it, he wants possession of that ball, he causes major problems for teams because he gets in some great little pockets when he receives the ball.
"The games that I've seen him, he's been outstanding, the Chorley game with that great goal as well. We talk about sparks, he's definitely one of those who tires to up the tempo, tries to up the play with the quality he's got. He was disappointed when he came off, I could tell, and that's how you want your players to be – you want to be disappointed to come off.
"He's in that position where he can receive the ball and is on the half turn, and it causes problems because you don't know who is going to pick him up, a midfielder or one of the lads at the back who are going to step in. He looked very sharp, comfortable on the ball and in tight areas he wants to ball because he's got great feet. There was a couple of times when there were three or four West Brom players around him and he still received the ball. He's happy to do that and it's what you want to see, that confidence."
Hakeman added: "He was integral in everything we created, everything seemed to go through him. I thought towards the end he could have gone down as he went into the penalty area and drove through – he too honest and stayed on his feet. But he was all action, he was buzzing for it, and it's what the Wolves fans want to see, they want to see a drive and determination that we didn't see anything of last week. Now we're picking out positives of a player who hopefully gets a start again against Brighton and we get to see a little bit more."
Looking forward to our future...

🤩👊 pic.twitter.com/SziXayZCHZ

— Wolves (@Wolves) May 4, 2021
On Vitinha's flick for the goal
Ricketts said: "The touch for the goal was first class, but firstly having someone there, we'd normally be lacking a player in that position, and the Cruyff flick was excellent. He brings creativity in attacking areas, which is something we've lacked. We've relied on breakaway goals from whoever the front three are and he brings that in between player as a ten, receiving it in the lines and the forward players will hopefully aid from that.
"He can do a little bit of everything. He can drop deeper in midfield and get on the ball if necessary. Receiving on the half turn, his little flick for the goal, he's willing to drive at players and have a shot – he had a nice shot first-half from distance which took some saving."
On Otasowie taking his chance
Hakeman said: "I think he had a really positive display and showed us enough to show he's a really important player in the squad. He carries the ball so well, he's so strong, and he must be really tricky to defend against because he's so athletic. He put the work rate and got into some great positions. Naturally, to me, he looks like he maybe wants to be a bit more central than out there on the right, but either way he was a handful for them. He showed some nice touches, a little bit naïve at points, but given where we came from last week, it's another positive display from him."
Ricketts added: "I was pleased with him, he showed some nice touches, a bit sloppy sometimes in possession, but he plays the game at his tempo – what he doesn't realise is his tempo can be whatever he wants it to be. Sometimes it's a bit slow and too relaxed, but when you've got the length of his legs, his stride, his power, when he really wants to, he'll take some stopping when he gets going."
Thompson said: "He's done himself no harm at all. He wanted the ball and he was strong running with the ball. Probably first-half he was a little bit better, but again involved in the goal. Second-half he struggled to get in it, I don't know if he was a little tired, he's not played a massive amount of games, but for what I saw of him, I'm sure Nuno will be pleased with what he saw."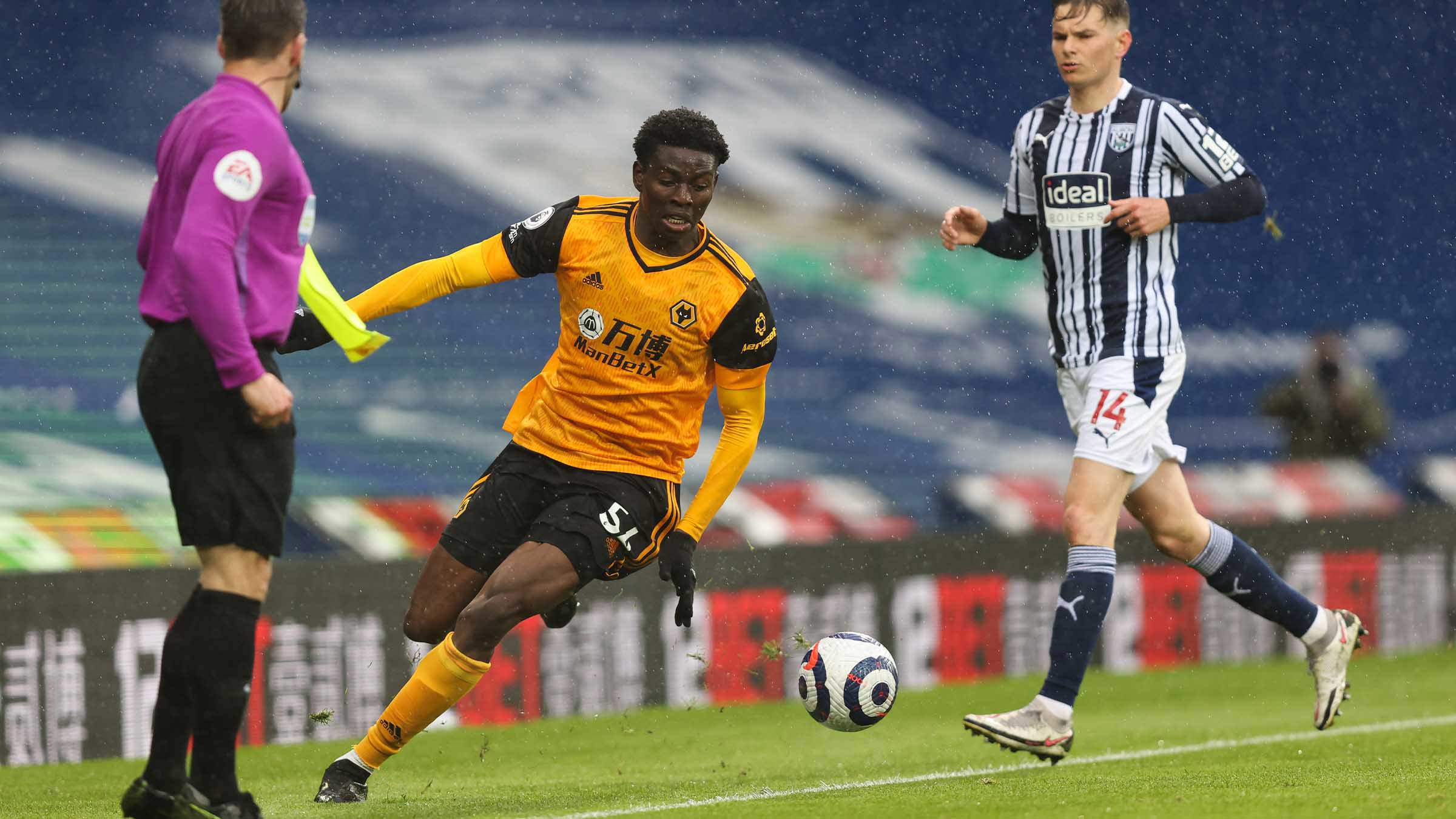 On Silva getting his goal
Ricketts said: "I'm really pleased for Fabio Silva. He worked really hard, making an impact from the bench, which meant he got his start, and he got his goal. Fortune, yes, but I think he's earnt it, if I'm honest, not just on Monday, but in weeks and months gone past."
Thompson added: "I wouldn't care how you get the goal. He's starting to grow in stature, he's starting to look stronger with the ball coming up to him, he's getting into good positions. For the goal, just being in there to cause a problem, and you make your own luck sometimes. He's improving all the time. You can see he's starting to think about the game and he's realised he's going to have to build himself up, which I think he has done. He gets his body into good positions to hold the ball up and link up. We know he's not the finished article, he's still a young boy, but he's starting to improve, starting to create opportunities for other people and given the manager something to think about for the striker position."
On Silva learning from Jimenez and Jose
Thompson said: "If he doesn't learn from players with the experience they have, then he's never going to learn. He's a young lad learning the trade, and the only way you're going to improve is by looking at experienced players."
Hakeman added: "I think Jose being there has taken the pressure off him, so he's been able to relax, enjoy his football, and he scored a goal to get a result of some kind. He scored three before and we'd lost all three, so he can enjoy the moment of his involvement leading to a point. I think he's coming along nicely, he's a young kid with so much potential."
#WBAWOL