9th March 2021
Wolves goalkeeper Matija Sarkic has made a big impact during his loan spell at Shrewsbury Town.  
Sarkic, who joined Wolves from Aston Villa last summer, linked up with the League One side on a season-long loan in September, in a bid to gain further experience. The Montenegrin international has made 23 appearances, keeping nine clean sheets so far, and is working on improving all aspects of his game in the hope of a return to his parent club in the future.
On his time at Shrewsbury
"It's been really good apart from the injury at the beginning of the season. I've enjoyed it and I've learned a lot; I learn every day. I've enjoyed having a consistent spell of games.
"It's a great group of lads, it's just a shame the manager isn't here – he's in the hospital struggling with Covid. I'm looking forward to getting him back and I've just enjoyed it all so far."
On keeping clean sheets
"I'm a confident person as it is. As a goalkeeper, when you keep a clean sheet, it boosts your confidence. When you don't keep a clean sheet it's an opportunity to go and see why you haven't and then go and learn about how to prevent those situations from happening. You've got to see the positive side of things.
"Whenever I do concede, there are situations where I should've done better, we should've done better – you have to look back at it and try and rectify those mistakes and improve. I keep an open mind to be able to learn."
On his performances so far this season
"I think I've had a positive season. I've made a good impact on the team. We've had a good run of results since I've been back as well, so I think that's a positive.
"I'd like to improve on my overall game – my technicality, mentality and physicality. I work as hard as I can in the gym, and I try to analyse myself so that I can improve. Failing to learn is learning to fail so I'm always trying to learn and improve."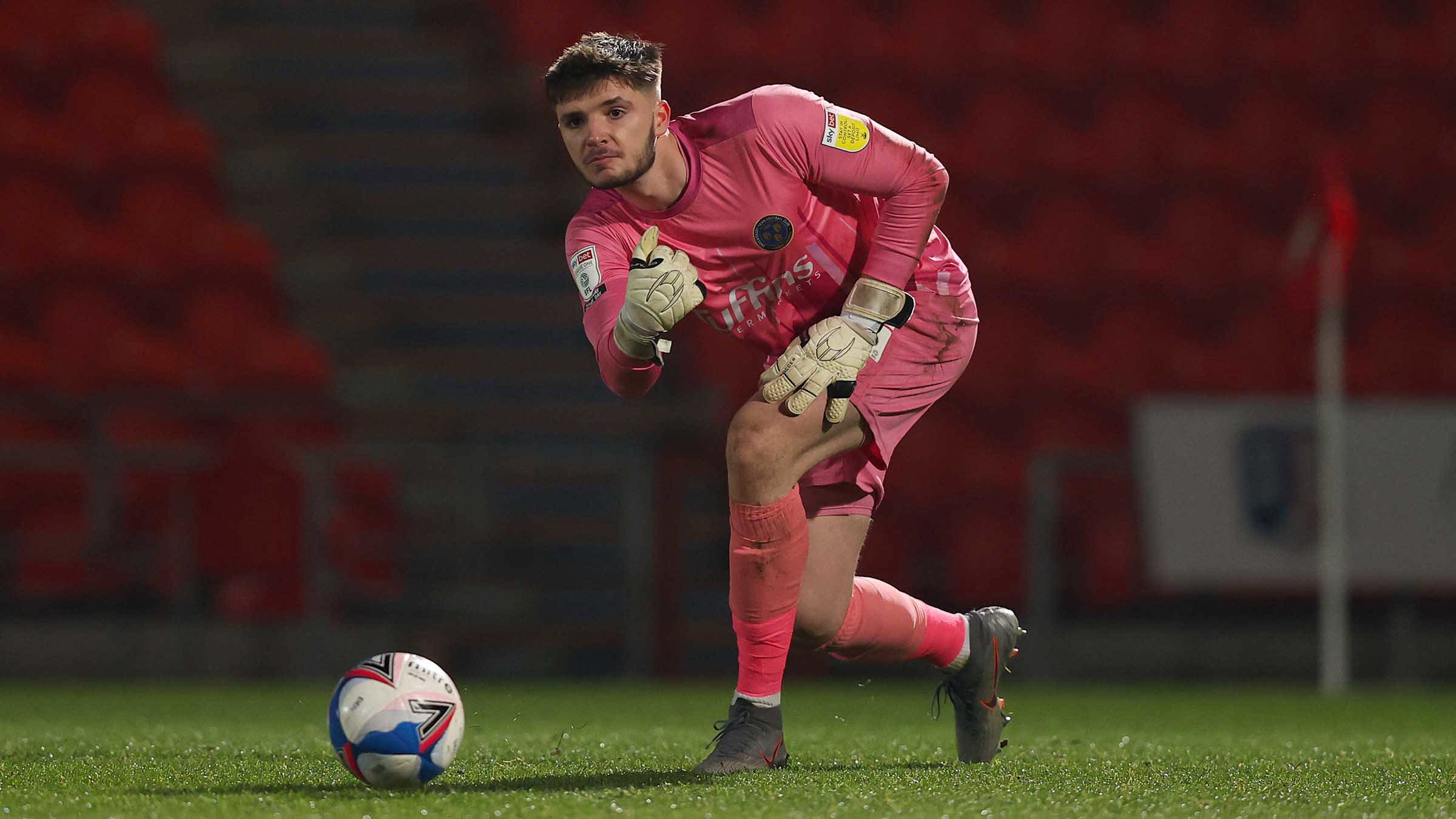 On bouncing back from mistakes
"Every goalkeeper makes mistakes – there isn't one that hasn't – and I don't think there will be one that won't make an error at some point. It's part of our job, but what's most important is to not go into your shell and be afraid to come out of your comfort zone.
"When do you make a mistake that leads to a goal, it's important to go back and look at what you've done wrong so that you can rectify it next time, keep your head high, stay focused on the game, and don't let it affect your game. You've got to just keep doing what you know you need to do, and you'll be alright."
On his style of play
"I think a lot of people would say that I'm quite a vocal goalkeeper, I have a lot of communication. I communicate a lot to my players and I'm always present on the pitch. I like to come out for crosses, I would say that's one of the biggest aspects of my game.
"Nowadays communication lacks a bit in football. With the crowds not being there, it's a negative for everyone but a positive that can be taken from it is that it also helps me talk to the players better and helps focus our communication."
On his best save of the season so far
"I would probably say that my best save of the season was after making a mistake against Northampton. I made a reflex save from a volley with my left hand – I think that was probably the best save in terms of importance.
"My favourite was against Doncaster. We were a goal up and there was a header, I was moving one way and the ball was going the other way and I tipped it over the bar. It was a lot of pressure towards the end to get the win but making that save stood out a lot to me."
On the difference of playing in League One
"I played in the SPFL and I was in League One before when I was on loan at Wigan, so it's not anything really new to me. It's a good level and it's a very competitive level as well. It's intense and there's a lot of games.
"I don't think people realise how tough it is on your body to be playing three games a week. You don't have time to get much training in. It's just game, recover, game, recover and I think that the toughest aspect of it – getting your body right for games and learning how to recover as efficiently and quickly as possible so you're ready for the next game.
"I think that's definitely the biggest difference with other leagues, especially with Covid, as we have a lot of games in hand. All the games are crammed in pretty quickly, so I think that's something that most people don't really see, but the level is very good and it's a very competitive league."
On his aims for the Shrews
"It's a cliché, but I think it's important to take it game by game and focus on what's in front of you. People tend to focus on other things, but you need to focus on your next opponent and make sure you do that right. I'm not looking too far ahead; I'm just focused on getting positive results and doing well and then we will see where we end up."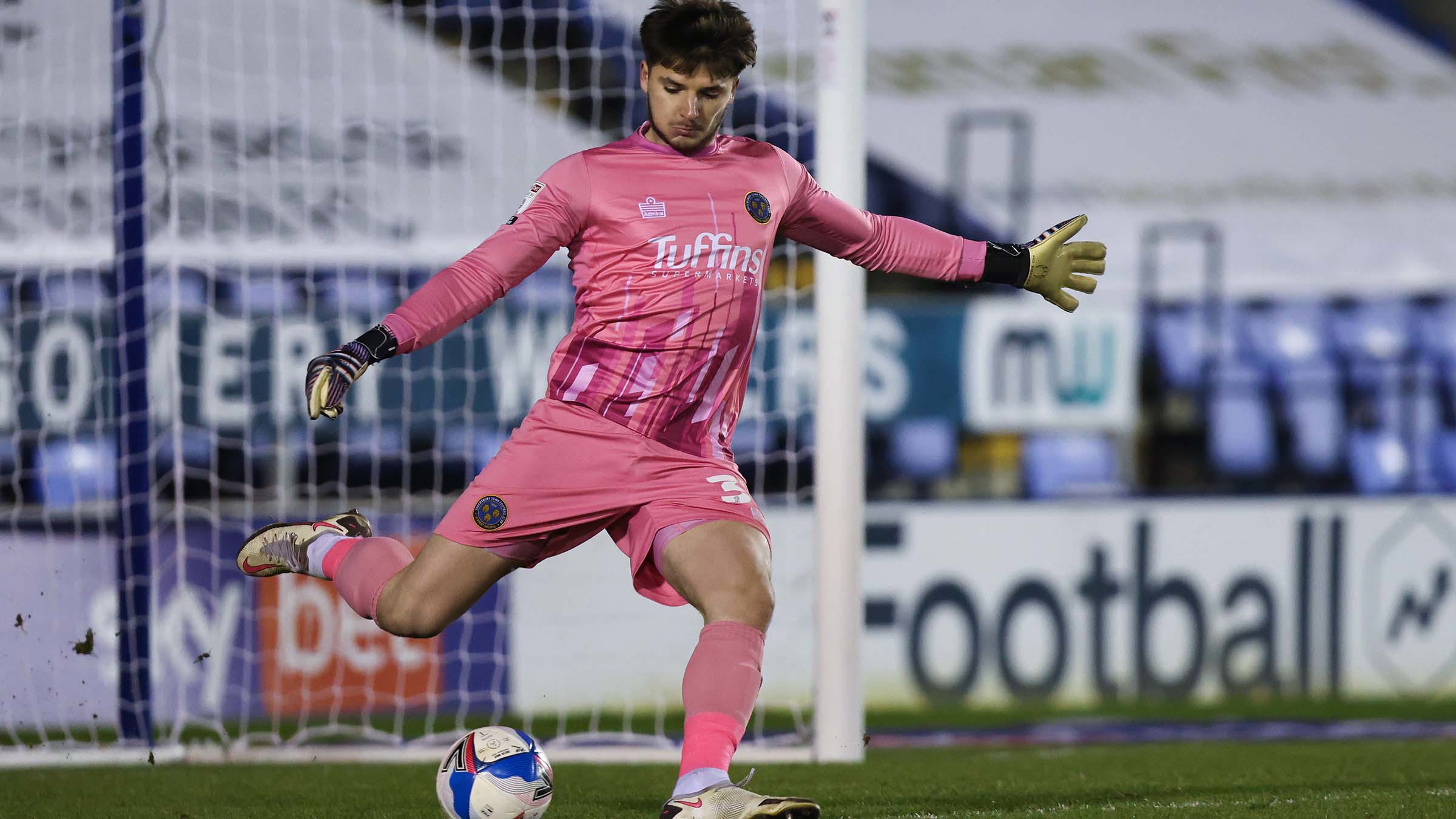 On his future with Wolves
"I see myself playing in the first team, of course. I definitely see myself being Wolves' number one someday, I wouldn't have signed otherwise, so that's where I see myself in the long-term."
On the importance of gaining experience
"I think every experience is different and you can learn from every single one. I've been on quite a few loans and I've learned a lot in every aspect of the game, but also away from the game as well.
"I've learned how to deal with disappointment, how to deal with not playing, how to get yourself back in the team and maintain your fitness and keep your body right.
"There's a lot of things I've learned from being on loan and I'm grateful for it. I'm grateful for the steps that I've taken. Every experience is an opportunity to learn.
"Every single time I'm faced with adversity, I try to take the positives from it and learn as much as I can from it. They're all tools in my toolbox to get me playing at the highest level possible."
Elsewhere on loan
Dion Sanderson scored his first senior goal at the weekend, as he headed Sunderland on their way to a 2-0 victory over Rochdale.
Meritan Shabani played the full 90 minutes for VVV-Venlo as they were knocked out of the Dutch Cup semi-final.
Ryan Giles, Christian Herc, Toti Gomes, Oskar Buur and Leo Bonatini all made starts for their respective sides, with Bonatini netting his sixth goal of the season in all competitions on loan at Grasshoppers.
By Nikita Gomes Henschl