6th March 2021
Nuno Espirito Santo has reaffirmed his commitment to achieving racial equality by continuing to take a knee ahead of kick-off for Wolves' Premier League matches, insisting: "We cannot give up."
Some players and clubs across the professional game in England have began to phase out the gesture which has been carried out in support of the Black Lives Matter movement since last summer. But Nuno, the only black manager in the Premier League, has reiterated his intent to carry on kneeling before matches, even if it means he becomes the last person in the league doing it.
On taking the knee
"I will continue to do it. If people don't believe that it can make a difference, then it's an individual opinion. But I will continue to do it.
"It's a way to show what is my position and my idea on it, and maybe one day I will do it by myself. If they give me the chance, I will do it. You cannot give up.
"The results will not come immediately. It's a long, long battle that we have to do, so we cannot give up. Even if the impact is not immediate, through a long time, we will reach it."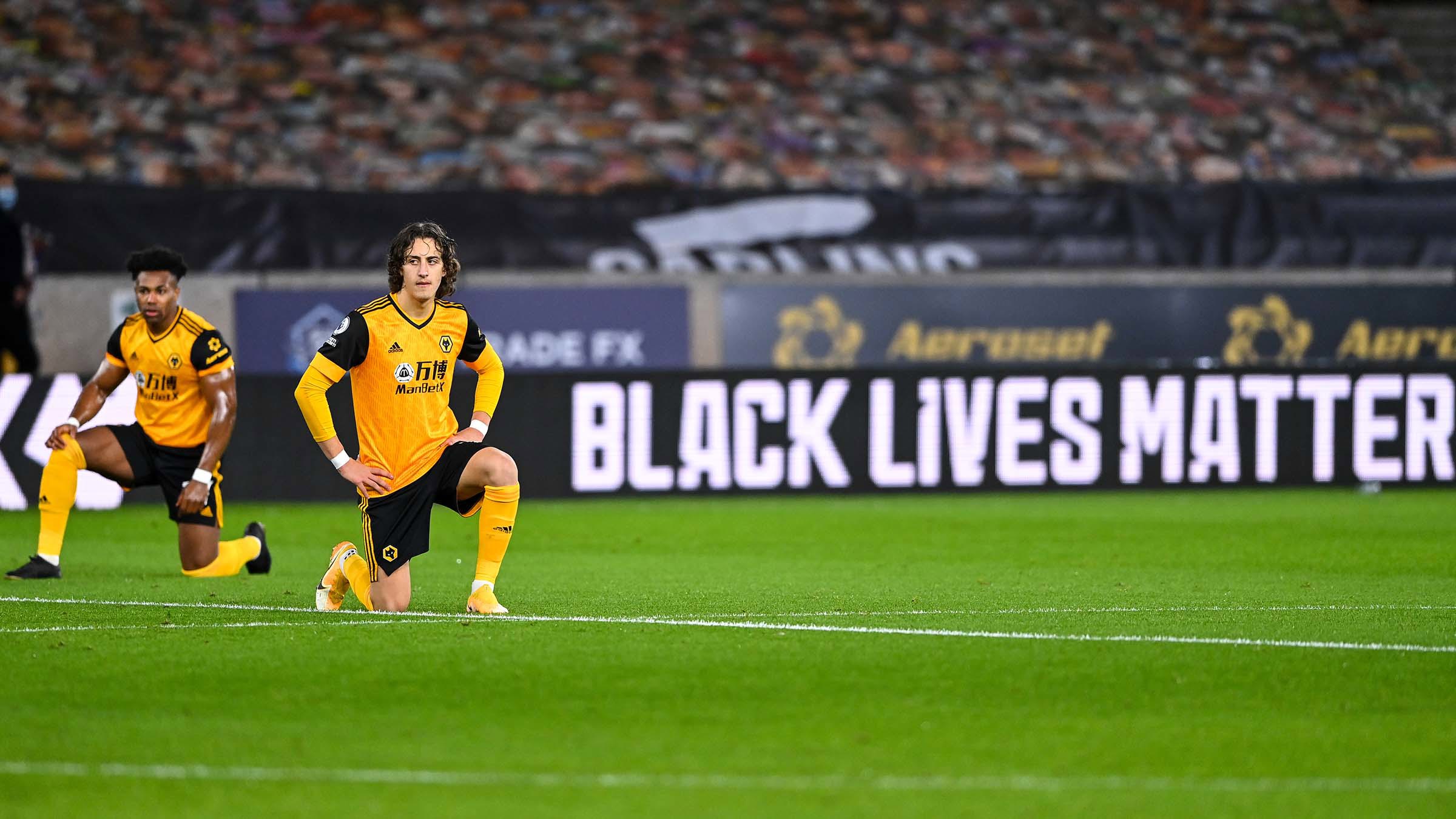 On Jimenez's return to training
"He's feeling well and good, and we decided that was the best step, together with the doctor, to integrate him into parts of the training session because working by yourself for many hours can become hard to handle, but we still have to wait.
"He's now integrating in the training sessions, not 100 per cent, but he does a lot of the things his teammates do. Things with contact, we are not allowed to do it, but we will progress.
"There are still other steps that we have to take before that, but we are following the guidance of the doctor and the specialist and him.
"It's all about how he reacts to situations now, things that he didn't do before and how he reacts to different exercises. He will give us the right answers and the right timing to make any further decisions."
On what Raul does in training
"He's able to be a floater in the possession of the ball, he's able to be participating in small boxes but he doesn't go inside – which is a privilege!
"In the box, he doesn't have to go inside and someone goes inside for him, he does all the finishing, the movement, the offensive part of our game, the lines, he does a lot of things.
"But when we go to small side games, he has to continue his training session with Joao Lapa and work on his fitness by himself."
On the work of the medical team
"It's been very challenging for everybody, but especially the medical team. Not all the injuries go into the same department, we have to isolate them and analyse them and find out why they happened.
"Of course, we lost basically our main foundation, which is the pre-season, but during the season, we've been able to face different challenges and give good answers. Now they have less players there, and hopefully soon, everybody's back on the pitch and we can become stronger.
"I personally believe all our player are integrated into our routines. We work a lot and, sometimes, the work that we do provokes pain, and it's tough to handle, but the benefits come after.
"When they see themselves faster, shaper, they can believe it's based on all the hours of work."
On monitoring Adama's weight training
"Every day. Our players don't go to the gym by themselves. There's always someone from the sports science team or someone from the coaching staff there. But Adama has developed this physique not through weights, but through another kind of exercises.
"He doesn't lift weights, his genetics make him like that, so we have to be very aware of what he does. He's constantly worried about his best and his peak, so he takes care, really well of himself.
"He's aware of that. That's why he doesn't do it. He has to do the type of complimentary exercises to help him."
💪 @AdamaTrd37 pic.twitter.com/mSqrKZjhTI

— Wolves (@Wolves) March 2, 2021
On the threat of Villa
"All the matches against Villa are always special. Some of those we had good performances and good results, some of those we had bad performances and bad results, but it's always a special moment for us as Wolves and for us as Wolves fans.
"I've known Dean [Smith] since he was at Brentford and we've faced each other many times. We've had many conversations, and I truly have admiration for him and his work. It's clear that Villa has improved over the past few months and a very tough opponent for us tomorrow.
"But every game in the Premier League is very tough. You can lose, draw or win against any of the opponents in the Premier League, that is how tough it is."
#AVLWOL