1st March 2021
Nuno Espirito Santo insists Wolves will not be taking any specific measures in their attempt to inflict Manchester City's first defeat in 18 Premier League matches when the sides face off on Tuesday night.
The head coach was very complimentary about City's winning streak, which stretches back to 21st November, and acknowledged the challenge that was facing his side at the Etihad Stadium this week.
But having taken victories both home and away against Pep Guardiola's men last season, Nuno believes the way to overcome City will not be based around focusing on the opposition, but utilising his own side's strengths.
On finding ways to end Man City's unbeaten run
"Their run is because of hard work, quality, dedication, but mainly and more than anything, talent. The talent of the players that they have, it's fantastic.
"It requires a lot of discipline, balance, it requires cover, focus, determination to reducing distances, but Man City will create a lot of questions and a lot of problems to us which we have to find ourselves solutions and give answers to it.
"First and foremost, we must prepare ourselves for a very difficult challenge, because it's going to be very tough. We're going to face Man City, a fantastic team, talented squad, always good ideas in their approach of the game.
"I have a good relationship with Pep, I know him, and I have a lot of admiration and respect for him. He's an amazing person and a fantastic manager.
"It's a tough challenge for us, and the first thing that we have to get ready for is to compete very well."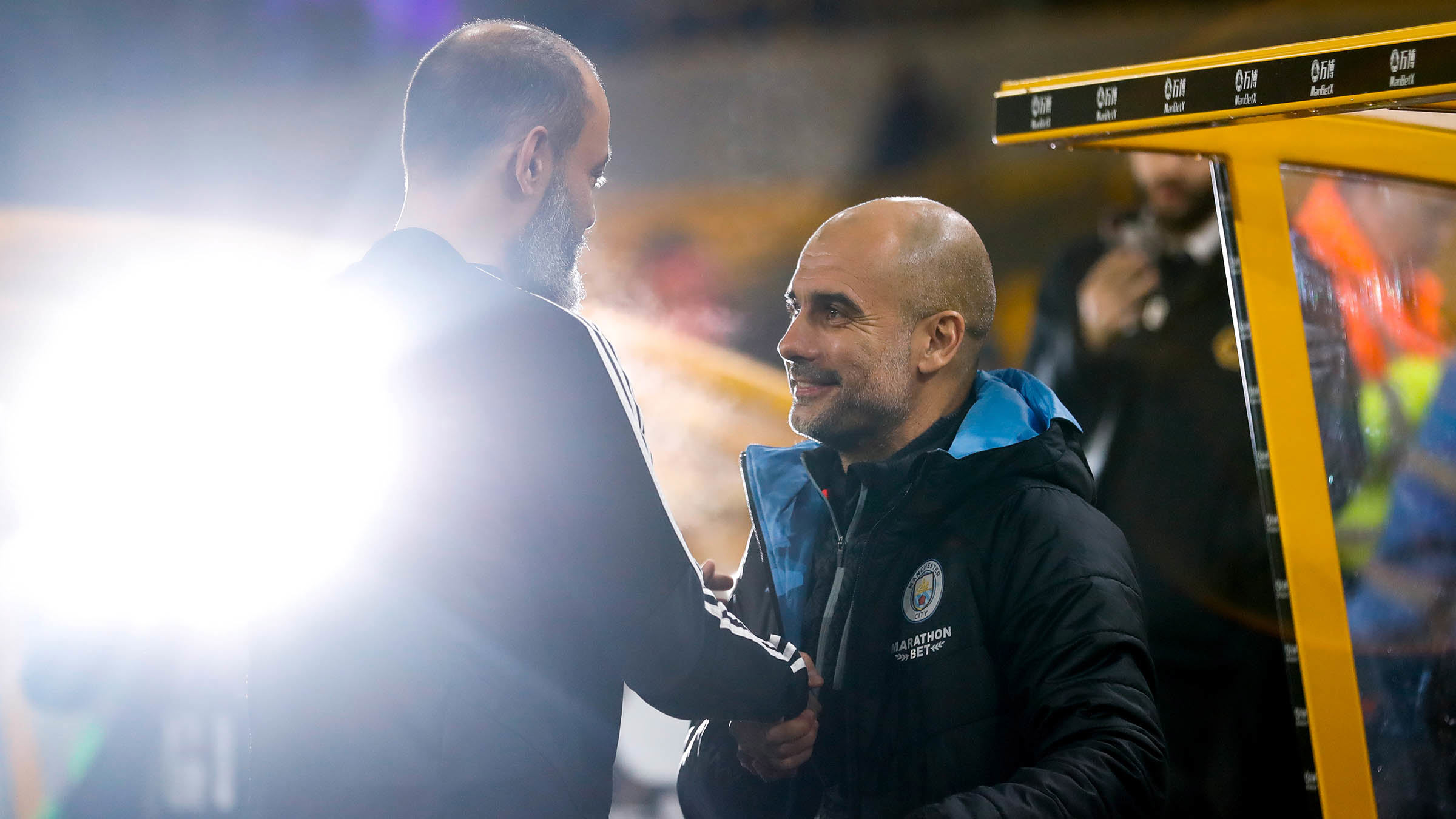 On not changing style to face City
"There's a way to play against all the opponents, it doesn't change, it's about yourself, it's about your tasks, it's about the way you face and the attitude that you have for the game, every ball is important.
"There's no different way to play football. It's all about competing, winning your duels, completing your tasks, play good football, enjoy the game – it's always the same.
"We never approach a game with nothing to lose. There's always something to lose and always something to win, but the aim is to compete.
"All the matches for us are very important, but it's always tough and we have the realisation that tomorrow is going to be tough. But let's play the game, let's challenge ourselves and compete well."
On injured players unlikely to return
"Same problems that we had. Some players are getting better, but basically the same. You can assume [they won't play], but you cannot be sure."
#MCIWOL