13th January 2021
Although admitting Wolves' current run of form is worrying, Nuno Espirito Santo said it was fine margins which cost his side against Everton on Tuesday evening.
Michael Keane's 77th minute winner subjected Wolves to a fifth Premier League match without victory, after the hosts had fought back from conceding early on through Ruben Neves. Nuno knows Wolves need to improve, particularly defensively, and quick, but still highlighted a number of positives from the committed performance of his players, despite the defeat.
On the reason behind the defeat
"It's details. It's happening to us and we have to improve. Set pieces, focus, because it was a good game, but small details and it got away.
"The first-half I think we played a good game. Second-half both teams organised, not too many chances. It was a small detail where we should do better because it's only a matter of focus, concentration, aggressiveness in the box that we didn't have, and it cost us the game."
On conceding first regularly
"When you concede goals, it's always a problem. Our intention is always to have a clean sheet and be compact and organised. When you concede, it requires more of you in the offensive part of the game. It's a moment that we have to be worried, but we have to find solutions in ourselves."
On the response to falling behind
"That can never go away for us ever. We have a strong team spirit that in this moment not so good requires more unity.
"We responded well. We had patience. Everton were very organised, not too many spaces, but we had possession and patience to break them. We scored a good goal and in the first-half I think we had more of the ball and played better."
On pushing after the break
"It was hard because they were very organised, very compact, it required patience and I think the team had it. When you have something, you want to keep it. The moment we pushed to go for the game, we conceded the goal.
"I think both teams in the second-half didn't have too many chances. As the game went by, I think we started losing some situations on the offensive part.
"We tried to balance the team in defence with Ki [Jana Hoever], knowing that he's not a winger, he's a full-back, but he did well. Everton achieved the goal, congratulations to them, but I think we should improve on small details like our focus in some aspects that require our attention."
On the run of form
"Very worried. It's something that we know we have to improve, but at the same time we're aware of what's happening and what we have to do for the future.
"We have to be aware of the situation. Hopefully soon we'll be better because we need all the players in the squad, need to have them healthy to improve."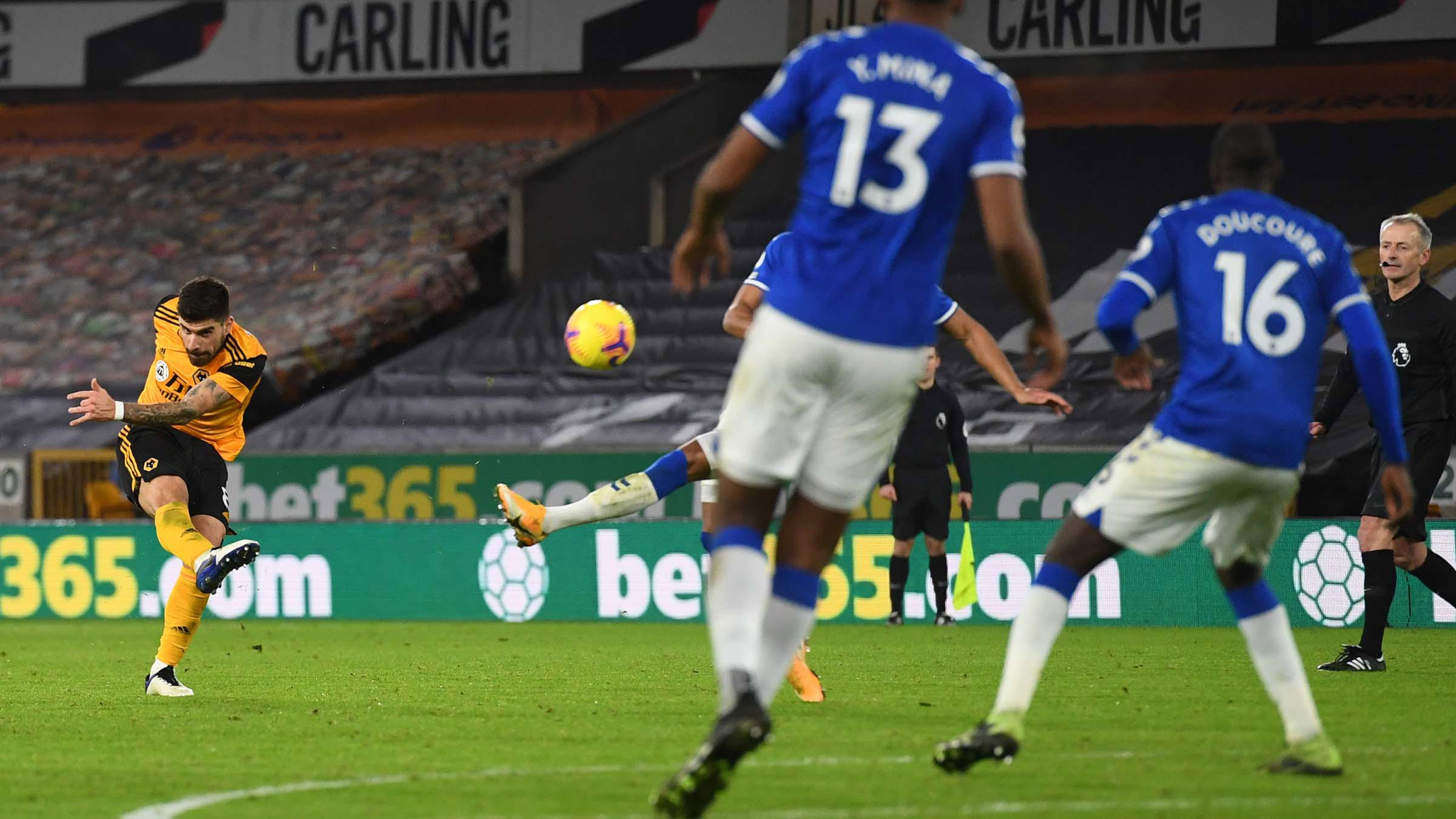 On a different set-up
"They adapted well. Morgan [Gibbs-White] did a very good game. He's returning, I think he went over the time we predicted because he was playing well and helping the team.
"Of course, Fabio [Silva] in wide areas tried to run from outside to inside. He had his position, but it's up to us to try to find solutions. We didn't have too many today, but the boys tried hard."
On solutions within squad
"We'll see. We still have time. The idea is to be supportive of the situation. We have to acknowledge that this is not the right moment to make mistakes. Hopefully we'll have players joining again the group that will make us stronger for sure."
On no comparison to previous years
"We have to stop comparing what happened before. That's a mistake. It's different, we are in a different moment, they are different players, so we cannot compare. We have to realise we must do better on the situation we are in. Improve defensively is what we have to do very fast."
#WOLEVE