5th January 2021
Saturday evening's six-goal thriller against Brighton, scoring three goals in the first-half and Wolves' growing injury list were just some of the topics discussed on the latest episode of Wolves' Matchday Live Extra show.
Joining Mikey Burrows was regular co-commentator and ex-Wolves full-back Andy Thompson, as well as fellow former old gold players in goalkeeper Carl Ikeme and winger Michael Kightly, who analysed the Premier League draw against the Seagulls.
Also joining the panel were special guests including The Athletic's Wolves correspondent Tim Spiers and legendary striker Steve Bull as the team discussed Nuno's side deserving more points from their festive fixtures and the necessity of picking up a run of wins to push the side up the Premier League table.
On injuries affecting the consistency
Ikeme said: "We've been so used to having the same team play week in week out, with one or two changes possibly every now and again, I feel that [changing the team each game] is obviously not helping us to be consistent or keep a clean sheet.
"It's tough, and looking at the bench, we had two goalkeepers on it and a lot of young lads, and you're asking a lot of the players who are coming into the team, like Ait-Nouri - who's only a young boy himself – and Hoever, who did well against United, and straight away find consistency and solidness, which we've been used to.
"The formation switch [from 3-4-3 to 4-2-3-1] has been trying to get more goals and more attacking players on the pitch, but it's not necessarily helping us keep more clean sheets."
On scoring three goals in the first-half
Kightly said: "Even before Brighton scored, I thought we looked comfortable. Obviously to concede wasn't ideal, but after that we were the best by far and thoroughly deserved to be leading at half-time.
"It was a great little ball by Semedo, a delicate little dink to the far post and it's a great header from Saiss. He's looked really dangerous from set-pieces over the last few weeks and it was a really good header and exactly what Wolves deserved."
Ikeme added: "The passing was really crisp and we were passing it really well. The way that Moutinho and Neves were manipulating the ball out wide to our wingers was really good. Apart from the goal, Brighton didn't cause us many problems."
Saiss on 🎯 once again...

🙌 pic.twitter.com/uk0TxxnjIA

— Wolves (@Wolves) January 2, 2021
On the importance of Brighton's early second-half goal
Kightly said: "I'm one of Moutinho's biggest fans but I don't know what he was thinking there. I think if we hadn't of conceded that penalty so early one, we probably would have hung on.
"It changed the entire dynamic of the second-half because it gave Brighton that bit of confidence, Wolves are then a little bit nervous and it ends up being two points dropped. We were so good first-half and then we just weren't at the races in the second-half for whatever reason."
Thompson added: "The timing of the goal was such a big point, conceding a penalty 20 seconds after coming out put Wolves straight on the back foot and Brighton were able to push forward for everything and it gave them the belief that they could get back in the game."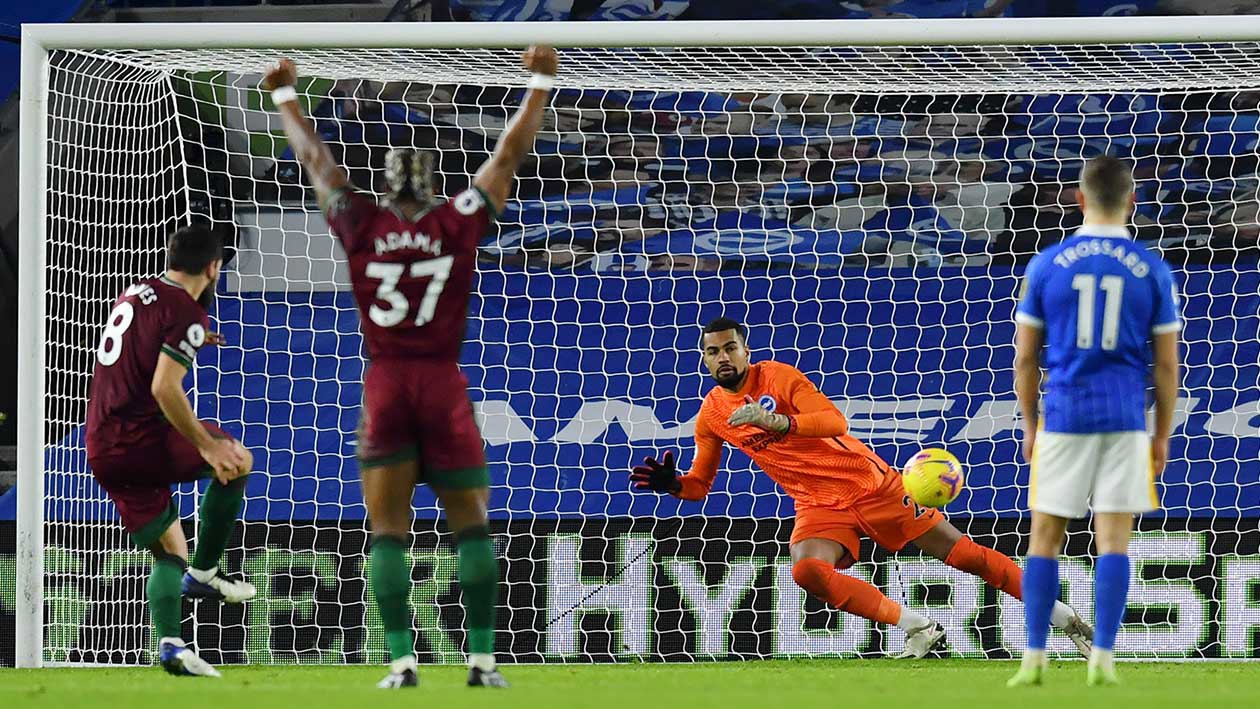 On Brighton being a 'bogey team' for Wolves
Thompson said: "We had a couple of teams that we struggled to beat, I think Barnsley were that team for us and I remember once that they came to Molineux and gave us a bit of a hammering.
"You think teams like that – no disrespect to them – they are teams that Wolves should be beating, but you do come up against teams where things just don't come up for you and you're wondering if you're going to score against them or get something out of it."
Ikeme added: "You speak about Brighton being a bogey team, but I remember the game I had against them [made two big saves in 2016 – the last time Wolves won at the Amex] and it was a game which I have great memories personally because I think I got man of the match that day and it was a great win for us. But you do have sides who are your bogey teams. I remember we used to get stuffed every time we played Derby."
On deserving more from festive fixtures
Ikeme said: "Apart from Burnley, I think we've played well. The Villa result was another harsh one really. I don't think we played unbelievable that game, but we didn't deserve to lose either because we created plenty of chances.
"The Spurs and Man United games as well were another two great performances, in my opinion, and I felt like we deserved a victory against Spurs and we definitely didn't deserve to lose that against United.
"Nuno and the staff need to try and pick the lads up, because even though they did perform well, they're still going to be bitterly disappointed with the points total. But they should be pleased with how they've played over the Christmas period."
🏟 Three big home games in a row...

Starting this Friday 👊 pic.twitter.com/0ciNxfW5ob

— Wolves (@Wolves) January 4, 2021
On needing a run of wins
Kightly said: "The character of this team over the last couple of years has been top drawer, in my opinion. In the last few games they've gone toe-to-toe with United and Spurs, and beaten Chelsea a little while ago, so they can go toe-to-toe with any team in this league, it's just trying to get that consistency of picking up wins.
"Back to back wins in the Premier League is massive for a club, so it's just about picking up wins and building our way back up to the top half of the table."
Ikeme added: "It's not just consistency of performances, it's consistency of wins that Wolves need now. We've been getting consistent performances over Christmas, but not turning those performances into wins."
To rewatch the latest Matchday Live Extra show from Saturday, click here.
#BHAWOL