4th January 2021
Conor Coady insists, despite Wolves missing a series of key players to injury, the current squad must rally together to ensure they're still producing the required performance.
The skipper saw exactly that in the opening half at the Amex Stadium on Saturday, but the second period was less pleasing for Coady, as Wolves let a 3-1 lead slip on the south coast. After conceding a minute into the second half, the visitors handed Brighton & Hove Albion the impetus, which they took advantage of to earn a draw, and Coady insists lessons must be learnt and quickly.  
On two points dropped
"It's two points dropped. It feels like a defeat for us. We were right in control of the game at half-time, and when we got together, we spoke about managing the game properly, keeping going, doing the same thing, trying to attack as much as we could, and we gave a goal away right at the start of the second-half which was massively disappointing because we were in such a controlling position.
"It's a tough place to go, we've not got many good results there in the past, and we felt in control at half-time, so to come away with only one point was massively disappointing and we have to learn as quickly as possible."
On dealing with injuries
"We're a football club which has always given opportunities to young lads and the young lads who've come into this team have done fantastically well, really good.
"You have injuries throughout a season. We're lucky in the past that we've not had many injuries, but now we've got quite a lot to some really important players. It's up to us, and the players who go out on the pitch of a weekend, to make sure we put a performance in and put a job in.
"We did it until half-time. Then we got together, spoke about it, and every single one of us involved in the squad at the minute needs to improve and learn because to come away without the three points is massively disappointing."
On different formations throughout
"It's something manager did and that's fine, it's something we're trying to learn, both formations, we're trying to get better and improve as a team. I think you see we're trying to evolve in terms of how we're trying to play.
"Whatever the manager wants to play, we'll get on with it and try our best to do it. There's a massive amount of learning we've got to do from Saturday because we've got to improve as quickly as possible."
On Traore's performance
"We know what Adama does, he's a fantastic footballer, we know when he gets into the box, he's dangerous for anybody to play against. It's tough on whoever comes up against him when he's playing like that."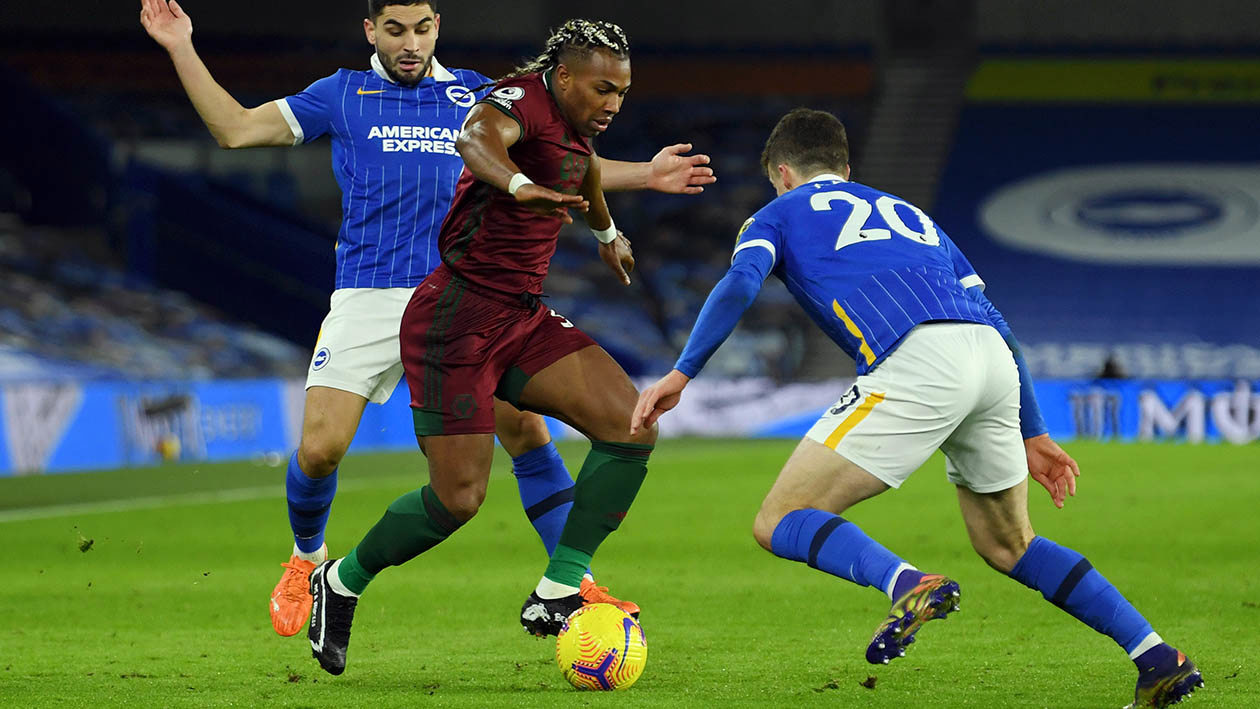 On a run of home games ahead
"It's always nice to play at home and be back home, to play at Molineux. That's where we want to be playing football, where we love playing football, and we want to go into these games to improve.
"We're trying to improve every single day, we're not the finished article in terms of what we want to do, we always want to evolve, and these are massive games coming up for us now because we really want to bounce back. The last game we won was Chelsea, so it's important we get back on it."

#BHAWOL