2nd January 2021
Nuno Espirito Santo said Brighton's penalty straight after half-time changed everything at the Amex Stadium on Saturday and mistakes need to be cut out by Wolves.
The penalty allowed Brighton & Hove Albion back into the contest in East Sussex, after Wolves had looked comfortable at 3-1 up at the break. Nuno spoke of the game plan devised at half-time, which quickly went out of the window following Neal Maupay's spot kick, and how Wolves will stick to their philosophy and learn from mistakes suffered on the south coast.
On how things unravelled at Brighton
"It was mistakes. After a fantastic first-half, from the first minute of the second-half there's no explanation for it. It was the first action of the second-half, it's what changes the game as a whole.
"The first-half, every time we attacked, we were dangerous, caused problems, controlled the game well. I felt the game was in our control.
"It's just a question of sticking together, do what we have to do, control the game, and I think the team has enough ability to do much better. It's a mistake of the team.
"We have to be much more responsible, knowing Brighton are going to react. We will go, try to analyse the mistake and correct it, but we are frustrated about it."
On the crucial point after the break
"There's a point where there's no excuse. Us, as a team, we should have performed and acted better.
"After that, it's a matter of seeing the game out, controlling possession and eventually taking advantage of the spaces that Brighton will have. That was the plan, but everything changed – it's an indication of the process.
"Set pieces, we knew Brighton were dangerous. Of course, we give credit to the players of Brighton, and their manager to find solutions, but I felt it was more about us than our opponent."
Causing problems 👏 pic.twitter.com/fYMyZ2gf9i

— Wolves (@Wolves) January 2, 2021
On Otasowie learning from his miss
"He's growing. He's a young talent. He's very young. He had his moment, of course he's sad, but the point is he'll have it again, he'll have another chance.
"This is football. We have a young squad, young players. For sure, Owen will get another chance and put it inside because he's talented."
On entering the transfer window
"We have to plan. We have to rebalance our squad in terms of positions we're missing. It's a strange situation. We were aware things can happen to us, but we lost important players at the same time.
"Honestly, it's our philosophy, we trust the young boys, we put them to play, we try to support them and help them. The solutions are here, not in the transfer window.
"Today, it was all the players of the Academy on the bench. This is the way we work; we work with a small squad. We don't have to panic; we need to stick to our plan."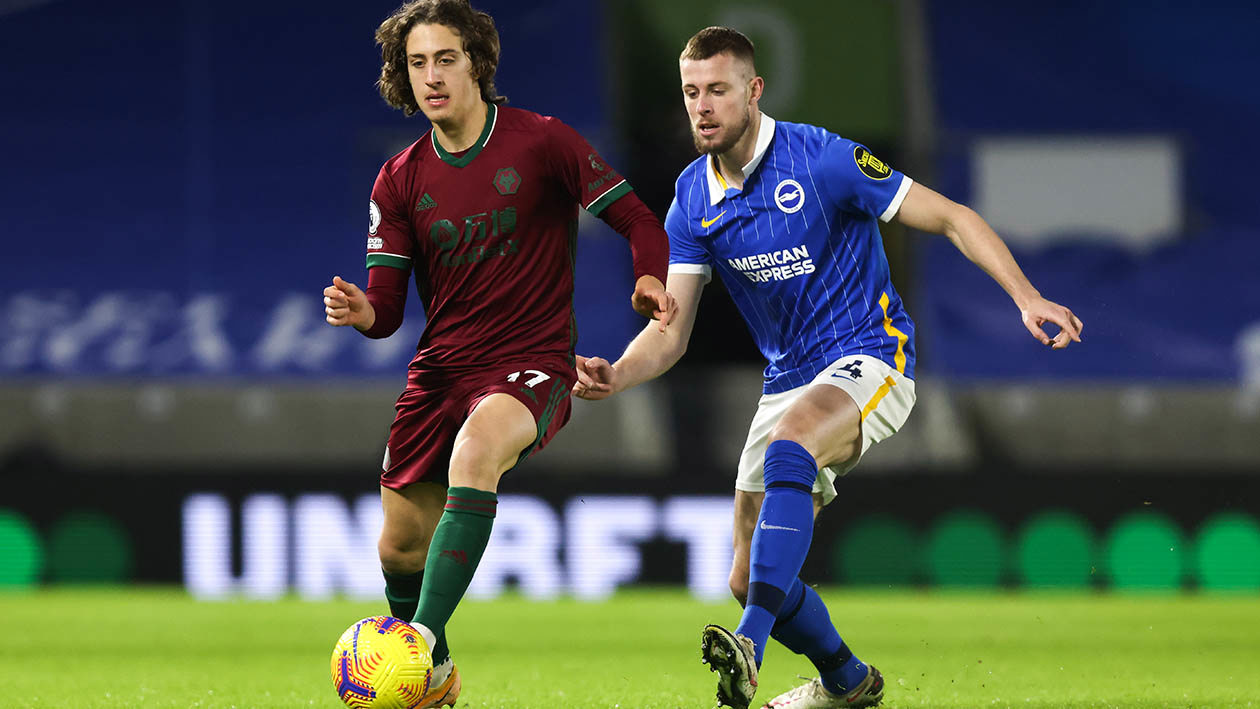 On the young players developing
"We didn't plan it, but it happens, we have to react to it. Players need time to develop, but the chance is there, so now we have to react, not panic.
"Fabio [Silva] is getting used to it, it's a very physical game the Premier League, he did a fantastic job against big centre halves, I'm proud of that. He has to grow, and this process has to speed up."

#BHAWOL