23rd November 2020
His side's reaction to falling behind gave Nuno Espirito Santo heart against Southampton, as Wolves fought back to earn a point.
Once Theo Walcott had put the Saints ahead, Wolves could have buckled, but inside rose to the challenge and pulled themselves level when Pedro Neto reacted quickest after Raul Jimenez had struck the post. Wolves finished the stronger side and went searching for a winner, which summed up the positive mentality which pleased Nuno most.
On improving after the break
"In the first-half we wanted to play better, but Southampton are a very good team. They press very well, they played very good. We were better second-half, reacted well to the goal.
"We wanted to go for it and created chances. At the same time, we were very aggressive, on the moment that Southampton could counter attack, we stopped them. I'm happy and very proud of the boys.
"We played good. Southampton played good also, very difficult, very good players, very good manager. We matched them, we finished the game on the front foot and I'm very proud to the reaction of the goal."
On playing a back four
"Conor was out – Saiss also. We decided to go with three midfielders and it was good. I think we should grow, find solutions, we have an identity that is not about the system, it's about the idea that we have.
"We fight, we try to play good and try to be solid, and I think we managed that. The goal was a bouncing ball, but it was a good game of football, very intense, and I'm very proud.
"We knew that we have lines of the ball in us. When you take one player from the backline, with the circulation of the ball it's noticed. But at the same time, we have an extra body in the midfield and up front, which allowed us to be a little bit more aggressive sometimes.
"I think we should analyse what we have. The foundation is so good, so let's try to improve it and if it's different players, with different characteristics, we'll go for it because we believe in it."
🎯👏 @pedrolneto7 pic.twitter.com/wz5fEy8Ujh

— Wolves (@Wolves) November 23, 2020
On reacting to falling behind
"After that, it was about reacting to that incident, trying to get your mind off the referee's decision and focus on the game. It's hard without an atmosphere to engage again in the game and the boys did that. It was a strong reaction and we finished the game well with clear chances, so let's go again."
On Neto's impact
"That's always the idea. When you put a player in, it's because you believe he can have an impact on the game."
On fans potentially returning
"We all wish it was tomorrow. We have enormous desire to have fans back in football because it's all about them, so let's try our best to get them in the stadiums."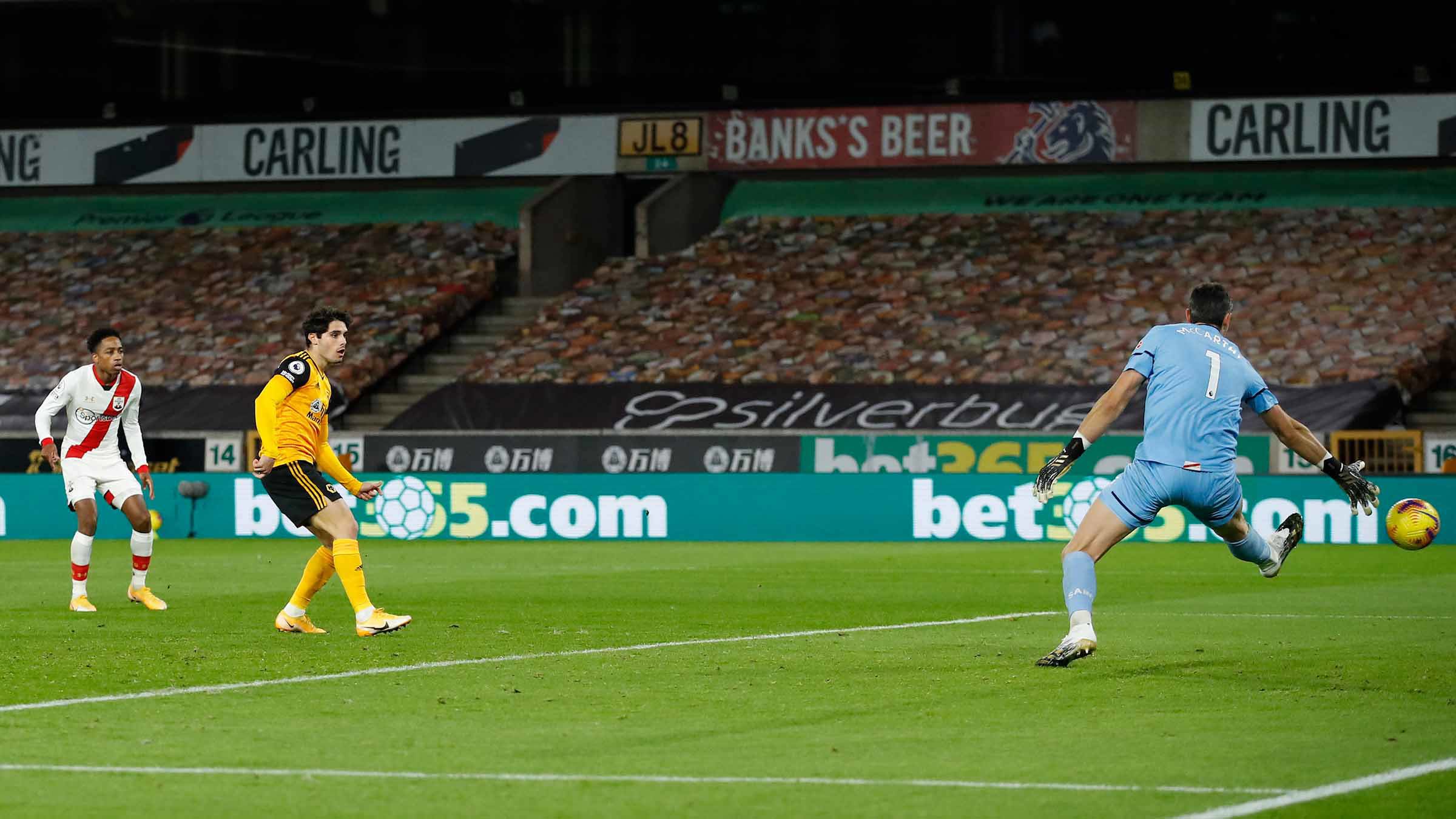 On missing Coady
"It was a big blow. Unfortunately, neither Coady, nor Saiss were with us today. Players that have been with us since the Championship, played a lot of game. This is how it goes with the situation.
"Since Coady returned from the England squad he's been self-isolating. He was tested and was negative, he already had the virus, maybe he's already immune, but he could not be with us. Many things don't make sense, but we're inside society, we know how it goes. It's not a good moment for anybody."
On Saiss' situation
"He's self-isolating. Since returning from the national team, he tested positive. It's very personal, but I know he's comfortable with the situation and he's at home by himself, with the family in another room, and he has to protect himself because we want him to return safe and healthy."

#WOLSOU