9th November 2020
Ruben Neves highlighted Wolves' start to the game at Leicester City on Sunday as the reason they returned empty handed.
The Foxes capitalised on Wolves' slow start to the campaign, and a close VAR call, to score the decisive goal through Jamie Vardy's penalty. The visitors improved after the break and Neves himself had the best chance to equalise when a fine Kasper Schmeichel save denied him, leaving the midfielder frustrated post-match.  
On a disappointing start
"I think the main thing was our start to the game. We didn't start well, like we did in the last match, we gave them the ball and a lot of attacks. Even if not chances, we gave them a lot of the ball and they have great, dangerous players.
"In the Premier League, when you start like that, you're in trouble against this kind of team. Playing Leicester away is always hard for us, we didn't adjust well to their team and we didn't win the second balls, that was the main part of the game. They won every duel and took us back on the pitch.
"We created chances to score, they had chances as well. A draw would have been a fair result, because unfortunately we didn't score, and the penalty was the difference."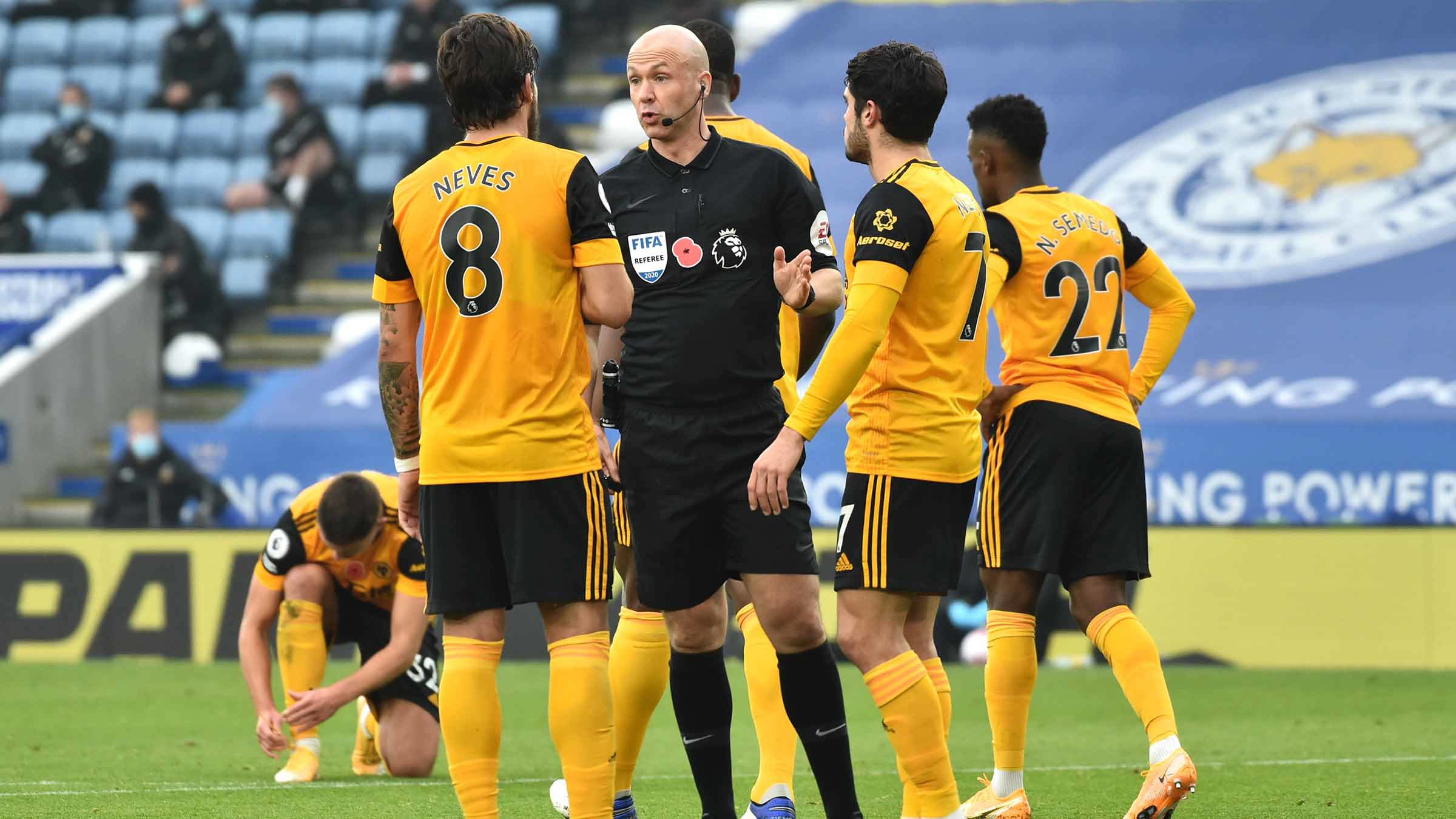 On Schmeichel's save from him
"I think it's a great save. I also had a free-kick that I didn't take well, unfortunately. It's part of the game, I shot well and he was there to save it. We had a lot of chances to score.
"I always try to do my best to help the team. We had some chances, we did a good second-half, but we need to look at beginning to the game because it's not what we want at all and we need to improve on that."
On a tough VAR decision
"It's hard for us and it's hard for the referee as well. The ball was really close to our defender, but we need to accept the penalty. There's a lot of strange play in the Premier League at the moment and everyone needs to look at it and improve it.
"The ball hit Max's hand, it was close, but we need to accept it. There have been a lot of mistakes in this league this season, it's hard for everyone the conditions we're playing, but if we're going to improve, everyone needs to take a look at it."
On improving going forward
"We always take positive things from our games. We need to look back at our bad things and improve them and get better on our good things. It's all about improving for the next game.
"We always want better. We know we need to do better, and we can do better. We will never be satisfied. We want to win every game. I think we played well this last month, but today we cannot come to the game and start like we did, which cost us three points."

#LEIWOL