9th August 2020
Conor Coady admits to getting goosebumps when thinking about leading Wolves out in their Europa League quarter-final against Sevilla on Tuesday.
The defender helped guide Wolves to a thoroughly impressive aggregate victory over Olympiacos either side of lockdown and took pride in the way they finished the job on Thursday evening. Constantly learning as the competition progresses, Wolves handled everything thrown at them by the Greek champions to extend their 2019/20 campaign even further, but Coady insists nobody is ready for a holiday yet.
On his emotions after Thursday's win
"It was really hard; it was really tough. We were saying to be brave, saying on the pitch to learn from the Burnley game, obviously when we conceded in the last minute. Try to be brave and try to step up every time the ball goes back.
"They're a top team, we knew that from the first leg when we played them out in Athens, and we knew we had to stifle them, frustrate them, and I thought the lads did fantastically well.
"Raul took a brilliant penalty in the first-half and that gave us a bit of confidence to stay organised, stay in shape. It's how we do things every week, we wanted to make sure we came into the game and did the simple things right and luckily, we did that."
"We're going to Germany."

💬📱 pic.twitter.com/1mV8R8Bpd2

— Wolves (@Wolves) August 6, 2020
On adapting to cope with Olympiacos
"What we've learnt in this competition is, when you play against European teams, good footballing teams, they want to try and get in pockets. Valbuena played at the highest level, so he tries to get in pockets.
"It's hard to stop, but we base our game on trying to be organised, compact, tight in the middle of the pitch, and not let balls come through the middle of us. You see quite often, the manager's fantastic with his substitutions, and how he does things, and you bring on Diogo [Jota] and Leander [Dendoncker] towards the end and I think that shored us up a bit.
"It's important, whether we play with a two or a three [in midfield], we try to be as organised as we can, because if you start letting players play through you, especially of that calibre, it becomes really difficult.
"I thought we handled it, it was important we learnt from past experiences, and we stayed high as much as we could because we didn't want them tight on us. We should look back on this whenever the season finishes, because we don't want it to finish any time soon, and say we've done really well because they're a top team."
On the manager's message at the end
"The manager just wanted to have a chat. He said, 'We don't want our holidays yet, as player, as staff'. We want to make something fantastic for this football club – that's what we're all here for.
"We're here to make people talk about this club and that's up to us to make it happen. We want to enjoy it and make sure we're ready for Germany because that's where we wanted to be. We can't wait for it."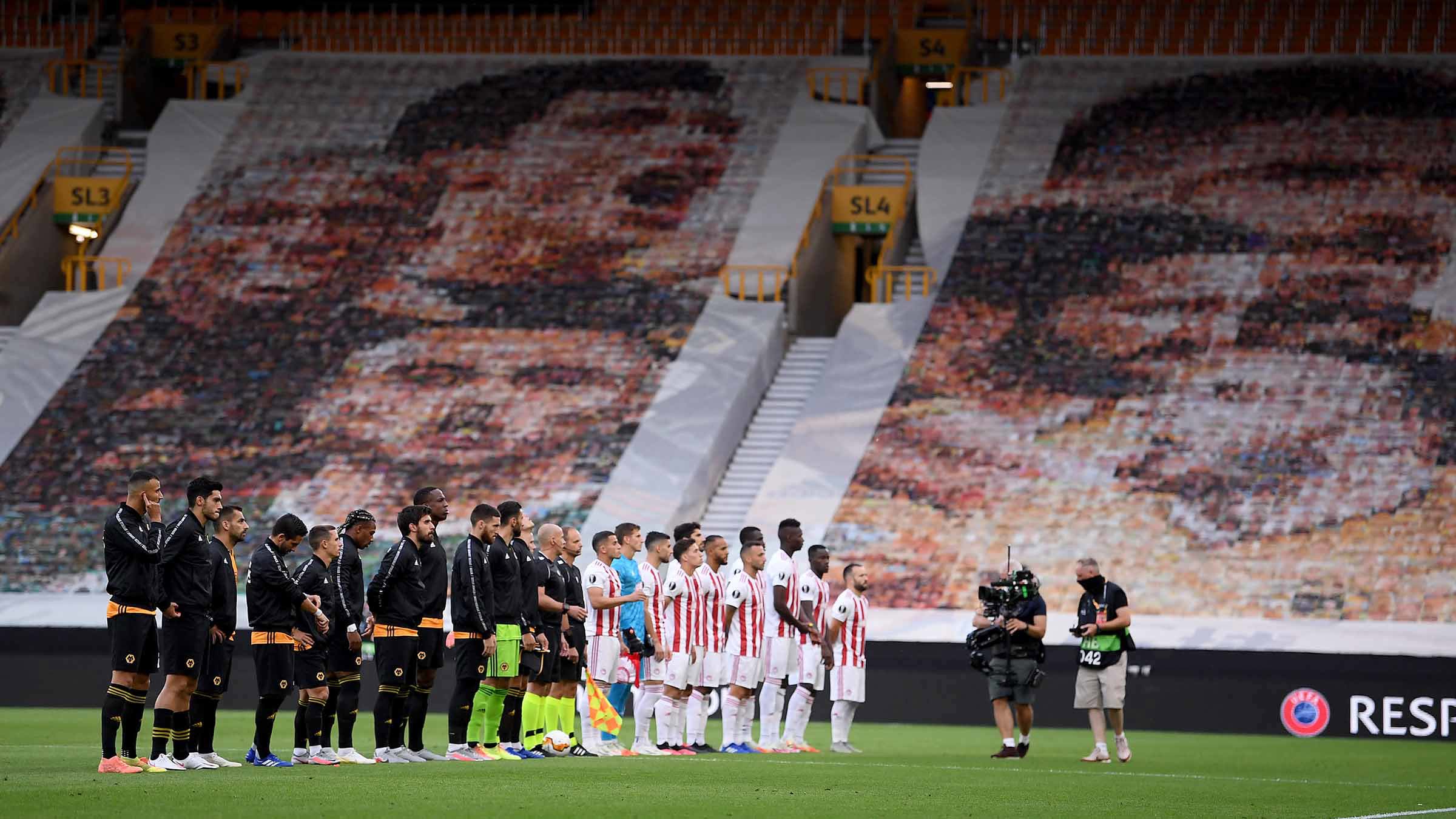 On leading the team out in the last eight
"It gives me goosebumps. To play for this football club, it's a massive honour, and it has been for five years. To do it the way we're doing it, to do it the way we did on Thursday, I take massive pride in doing it for this club.
"Come Tuesday, it'll be amazing, but we'll look back at what we did on Thursday because it was tough out there. We dug in, did what we needed to and come away with a fantastic result."

#WOLSEV