3rd August 2020
Raul Jimenez believes Wolves must "think big" when approaching one of the club's most important matches of recent years on Thursday night.
Wolves face newly crowned Greek champions Olympiacos in the second leg of their last 16 Europa League tie, with the reward a place in the quarter finals against either Roma or Sevilla out in Germany. Nuno Espirito Santo's side hold the slenderest of advantages thanks to Pedro Neto's away goal in the 1-1 draw out in Greece five months ago, but time hasn't altered the lofty ambitions of 26-goal Jimenez.
On his Europa League aspirations
"We have to think big. If we think like this – we want to be in the final and win it, we have to go with that mentality and effort – we can achieve it.
"If we go with our heads down, we aren't going to achieve anything. We all know each other; we know we are a good team that works together. We have to think bigger."
On turning attention to Europe
"After the Premier League finished, we had some training sessions and we are all focused. What we want, it's going to be difficult. We know our goals, we want to be there in Germany for the next two weeks, after this game, but we have to be thinking game by game.
"Now, here at home, we have to be focused on this game."
✅ Qualifying rounds
✅ Group stage
✅ Round of 32
🔜 Round of 16

A big week ahead.

🐺🇬🇷 pic.twitter.com/MBKInJTiS1

— Wolves (@Wolves) August 3, 2020
On welcoming Olympiacos
"Every single match is going to be difficult. There is no easy opponent. We have to concentrate, be focused, be the team we've been all season. Like that, all together, we can do it.
"It has good things and bad things [being at home]. The bad things are our people are not there to be with us. The good thing is on the pitch, we hear each other more – the instructions.
"We are more focused on our teammates, knowing we can hear each other and do better things."
On the time between the two ties
"It was difficult to stop for that long, but I think we kept the form, we still did the best we could. Every single thing we were doing before the pandemic started, we kept trying to do the same.
"The last time we played in the Europa League it was a draw – now we have the opportunity at home to get into quarter final. We are very happy with this opportunity and want to keep it."
On becoming used to empty stadiums
"You have to get used to it because I don't know how long it's gong to be. We have to keep going like this. We proved that we can do good things like this.
"It's always difficult because the people always support us in the stands, it's amazing, but we have to keep going like this. We don't know when it's going to stop, but we have to keep going."
On improvements this season
"I think both years were good for us as a team. We keep improving every single match, every season. Last season we got seventh place and got into the Europa League. This season we beat our points record of last season, so I think both seasons were fantastic.
"Maybe we should do better, but I think, we, as a team, all together played very good and deserve all that we have."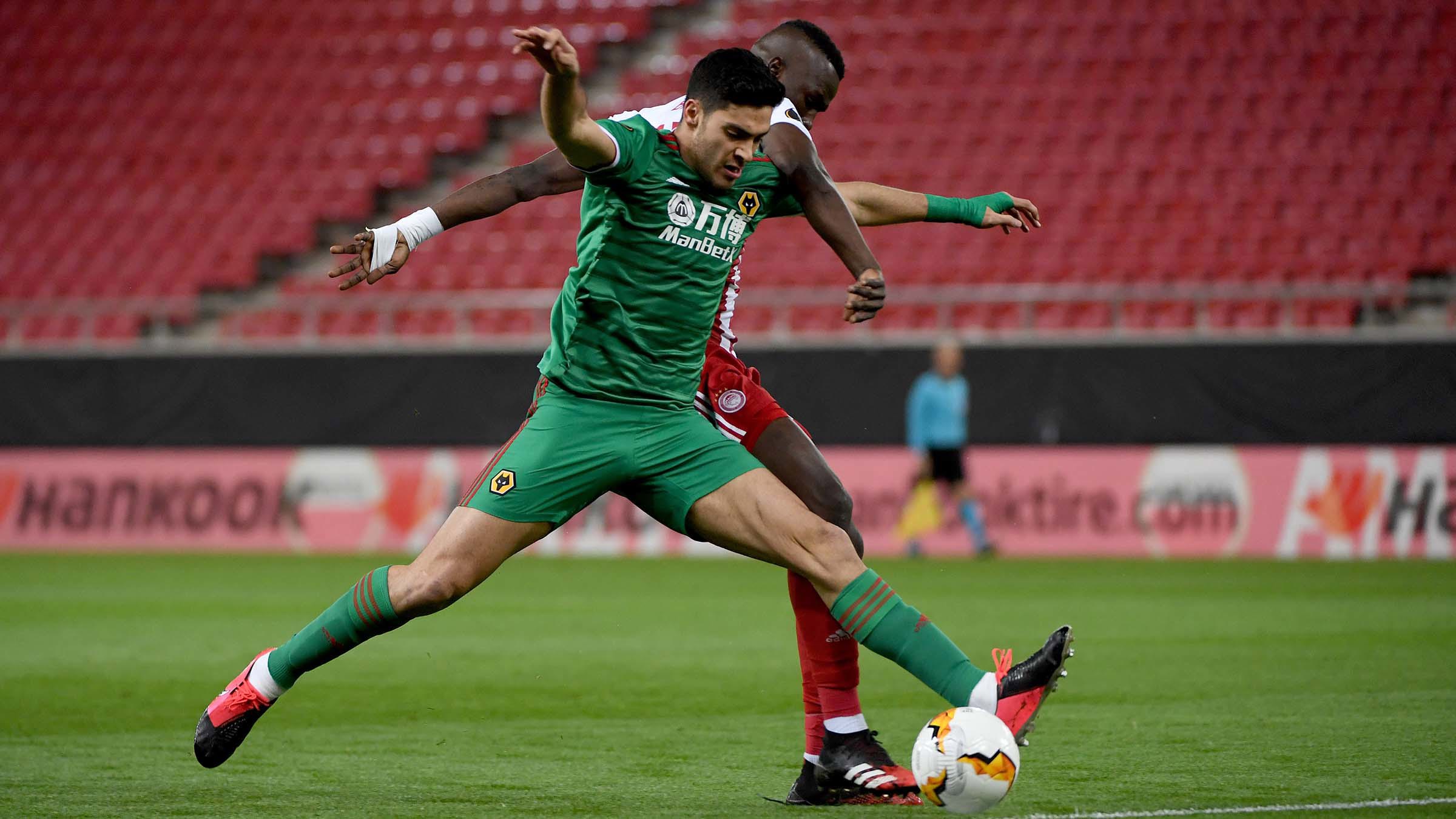 On how the team helps him
"Having two wingers gives me the opportunity to be in the centre, in the box, looking for crosses and spaces to be in to score. All the team is involved in this and my work as a striker is to score as many goals as I can."

#WOLOLY