10th October 2019
In what was an outstanding week for Wolves, Nuno Espirito Santo has expressed his pride in the efforts of his players to follow up their first win in the Europa League group stages away in Istanbul with three Premier League points against Manchester City at the Etihad Stadium just three days later.
Although the head coach is already straight on to planning how to get the better of Southampton next weekend, during this international break he has taken time to reflect on what was a proud week for everyone associated with the club, despite admitting he is not one to get carried away by the results at both Besiktas and Manchester.
On a proud week for Wolves
"I cannot deny that last week was a very good week. Last weekend was fantastic, the performances were good, and it was a very good moment for the club.
"Our preparation for Sunday was on how we could stop City, because they are so good and the idea of football of Pep's is so difficult to go against. The only solution was for the players to run – and they ran. The high speed running to get to the covers, to get to the points of pressure, was amazing.
"Everybody is proud because the players worked so hard and they ran so much until the end of the game. To be able to go and celebrate with our fans was a great moment of happiness."
On celebrating success
"We enjoy these moments. Everybody saw it, how we celebrated with our fans. It was amazing. I don't know how many of our supporters were there, but it was a special day for everyone.
"But in football, this moment of joy is so small in time because you're always starting to think about what's coming up next.
"Now the boys are on their international break and we are already trying to prepare for when they return and how we prepare for the game against Southampton.
"We truly enjoy it for little moments, but now the players have gone to their national teams full of pride, knowing what they achieved on Sunday was massive for the football club."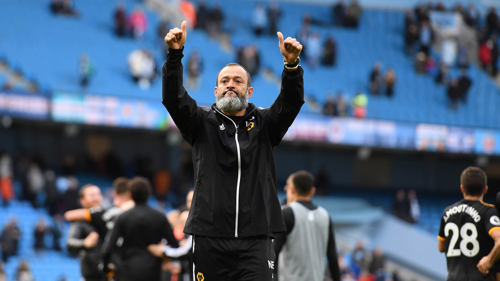 On four successive wins
"I feel we've improved from the previous games. At Palace we already showed signs of improvement and after that, with Watford, we gave a good performance, a very good performance. The team was balanced, it was organised and when you go to Europe, having lost the first game, we know that we have to give everything.
"We were lucky with the moment we achieved the goal [against Besiktas] as it was in the last moments, but it shows – again – our character and the way we are resilient. We keep on going, we keep on believing, and it's not the first time that we've scored in the last minutes, so I'm very proud of them.
"Luck is a factor that exists in football. Sometimes you play so good and perform so well and you don't achieve. Sometimes not so good and you have this moment of luck or a mistake from your opponents which concedes you the goal and a result.
"On Thursday night, for example, we were balanced, but in the first-half we didn't create offensively and that was a moment to improve. We spoke about that at half-time. We wanted to keep the same balance in the second-half but go for the game, because the game was there to win, and the boys did that, which was amazing."
On taking one game at a time
"I don't get too carried away, but at the same time I don't get too pessimistic when things don't go the way we wanted. This is because I truly believe that this is the realities of life, ups and downs, perfection doesn't exist. You have to work hard to find the best way to approach and play the games.
"This is what I believe in and this is how I am. The players, they understand that. Since the beginning, when I started here three seasons ago, we truly believe in this approach – game by game – with each game having its own preparation.
"No matter what happens in the previous game, we have to prepare for the next one. This has been growing and now, I believe, it's part of our character. To train, to play, it's part of these standards. Each day is important, and no matter what happens with the result, what's important is the way – how you do things, how you want to play.
"If that was achieved in the game, then the why comes after, as you prepare for the next one. This doesn't allow you to go up and down, you just have to sustain and keep on doing things you do as a normal routine. We think it's the best way to compete and we embrace it."
#MCIWOL