25th April 2019
Three of the best from Wolves extended their unbeaten home run into double figures with Wednesday night's stunning Premier League display against Arsenal at Molineux.
Goals from Ruben Neves, Matt Doherty and Diogo Jota secured the three points for Wanderers, but here's five things we noticed following the 3-1 win.
1. GUNNING DOWN ARSENAL
Before Wednesday night, Wolves had not had the best history when it came to the Gunners. You would have had to go all the way back to Saturday 29th September 1979 to find the last time Wolves were victorious against Arsenal, when John Barnwell's side came from behind to seal a 3-2 win. In the 40 years since then, the two teams have met 20 times – 16 of these in the top-flight on English football, with Arsenal coming out on top in all but four of those ties, one of those was a 1-1 draw in the reverse of Wednesday's Premier League clash at the Emirates in November. In the end, it was just 21st time lucky for Wanderers, who put in a dominant display to dispatch the Gunners, denting their opponents' Champions League aspirations, whilst boosting their own Premier League position.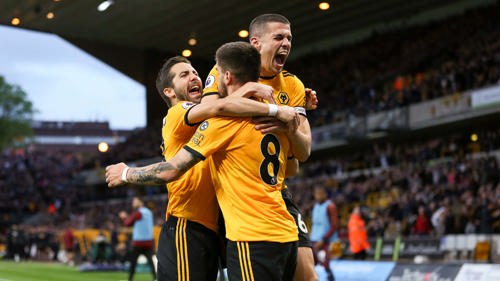 2. THREE IN 19 MINUTES
Neves' stunning free-kick, Doherty's perfectly timed header and Jota's powerful drive – all in the space of 19 first-half minutes – not only claimed the win and three Premier League points for Wolves, but by being so quick out of the blocks with an amazing 45 minute display also set the record for the first time ever that a Wolves team had ever been leading a game by three goals at half-time in the Premier League era. The points against a current top six side also take Wolves' tally this season to 16 – the most of any team in the Premier League, outside of the runaway league pace setters Manchester City and Liverpool.
3. THE PORTUGUESE MAGICIANS
Two of the stand out performances from Wednesday evening's clash came from a pair of Wolves' Portuguese internationals – Diogo Jota and Ruben Neves. With his goal putting the icing on the cake last night, Jota has now been directly involved in seven goals in his last five Premier League appearances for Wolves at Molineux, with five goals and two assists under his belt. Not to be outdone by his fellow countryman, midfield maestro Neves has more glorious stats to his name in the Premier League this season, scoring more goals than he has had touches inside the opposition's box. Neves has scored four times, while only making three touches inside the area – with two of those touches being goals. Following the game, Neves reiterated that it was the team's performance, rather than goals for himself, which is the most important aspect.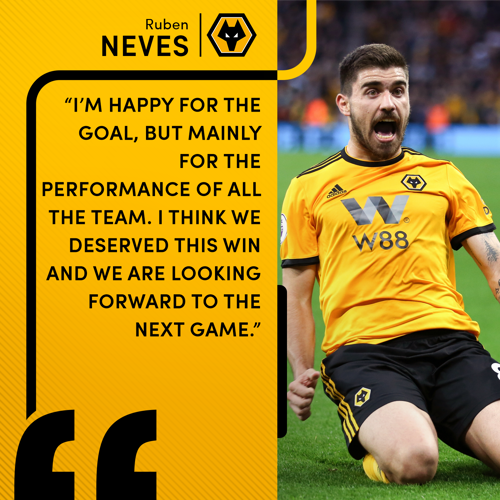 4. FORTRESS MOLINEUX
The home support at Molineux has been outstanding this season, and together with the performances from Nuno Espirito Santo's side, the players and fans have joined forces to turn the golden palace into a stadium to be feared by the opposition. By picking up at least a point against Arsenal, Wolves extended their unbeaten run at Molineux to ten matches in both Premier League and FA Cup. This is not Wolves' longest unbeaten run in the Premier League however – in 2003/04 Dave Jones' side went eight league games without defeat, starting with a 1-0 win against Man City in October, before ending in a 3-1 defeat at home to the Gunners in February. The current Wolves side are unbeaten in seven Premier League matches, meaning they can only equal the record if they avoid defeat in the final home game of the season against Fulham next weekend.
5. JONNY B GOODE
On Wednesday night, a masterclass in how to perform the left wing-back position was given by Jonathan Castro Otto. Jonny was outstanding from start to finish against Arsenal and was rewarded for his hard work by claiming two assists. Constantly driving into the heart of the Gunners' midfield, Jonny played a key role in winning the free-kick which was then expertly tucked past Bernd Leno by Neves after he was felled by Nacho Monreal, before curling in a delicious cross for his fellow full-back Matt Doherty to nod past the Arsenal keeper. He also linked up well with Raul Jimenez in the second half after being played through, but the Mexican striker couldn't find a finish. Fantasy Premier League managers who had the Spaniard in their side will be happy with the gameweek he's had, notching six points against Brighton on Saturday before claiming another 11 last night. Jonny's assists were reward for his positioning; if you look at the average positions taken up by the Wolves players, the only two who played higher up the pitch in the team's starting XI were the two strikers.
#WOLARS