12th November 2018
Although a late Arsenal equaliser saw Wolves head home from the Emirates with just a point, fans will be proud of a committed team performance. Here are five things we spotted from our trip to north London.
1. Nuno likes consistency
After Wolves became record breakers by naming an unchanged starting line-up for the first nine games of the Premier League season, Nuno made his first change by bringing in Adama Traore in place of Diogo Jota for the match against Brighton. But the head coach started a new run last weekend against Tottenham, with Ivan Cavaleiro now the man in charge of the left forward role. But will Nuno stick with the Portuguese when Wolves take on Huddersfield following the international break, or will he go with one of his other options?
2. Half time lead
Following Saturday's matches, Wolves were one of only three Premier League teams to have not gone into half time ahead. With Cardiff and Arsenal as the other two sides to not have taken a lead into the break, Sunday's clash at the Emirates was a chance for either Wolves or the Gunners to change that. And it was the home side who join the Welsh club with that particular record as Cavaleiro's 13th minute strike, as well as solid defending from the Wolves backline, saw a 1-0 lead for the visitors stand firm for the first 45 minutes.
3. Cav, the fantasy star
After making his long-awaited full Premier League debut last weekend, Cavaleiro was rewarded for performance against Arsenal by being named among the top 11 players in fantasy football. Cavaleiro made it into the Fantasy Premier League Team of the Week thanks to earning 11 points due to his goal scoring appearance – picking up three bonus points. However, the forward (who counts as a midfielder in the game) has only been selected by 0.1 per cent of fantasy owners this season, and at £5.3m could be a worthy pick-up heading into the post-international break fixtures.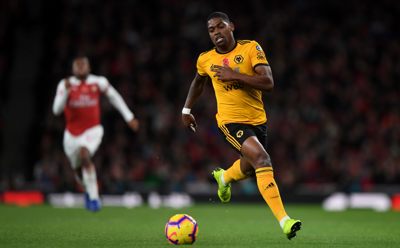 4. Aerial threat
Wolves' defence have shown this season they are – literally – head and shoulders above many other Premier League sides by their aerial threat at both ends of the pitch. In the past three matches, Nuno's team have won more aerial battles than their opponents, claiming 65.4 per cent against Arsenal, 61.1 per cent against Tottenham and 54.5 per cent against Brighton, as the players assert their dominance in the air.
5. Coady's reaction
Although Nuno was in a very positive manner following the draw against Arsenal, Conor Coady showed his disappointment in the team not taking all three points back to Molineux.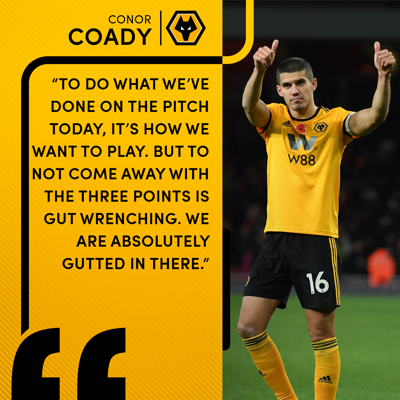 However, the Wolves captain felt his side couldn't have given any more in their search for a victory, and that despite the late equaliser, he was pleased with the team's performance, adding: "To come here and play as we have is really pleasing - we will probably come in on Tuesday and look back and it's a good point at the Emirates."
#ARSWOL