5th November 2018
A spirited second-half fightback against a title challenger in Tottenham Hotspur, there were plenty of positives to take from Wolves' Saturday night performance, despite the defeat, and here are five things we spotted.
1. FITTING REMEMBRANCE TRIBUTE
Poignant scenes opened the fixture on Saturday evening as Molineux paid their respects for Armistice Day and the Leicester City tragedy. A spotlight shone on the bugler who played the Last Post, before a period of silence and a solitary red firework, to represent a poppy, was fired into the air. The Steve Bull Upper also held aloft a poppy display, representing each of the 4,272 Wolverhampton people lost during the First World War. The events at Leicester were also marked, with both sets of players warming up in t-shirts showing solidarity and black armbands being warn throughout the game.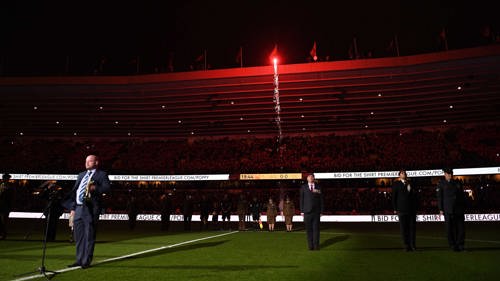 2. MIXED PENALTY RESPONSIBILITY
Two penalties and two different takers, but the same outcome. Wolves continued last season's approach of swapping their penalty taker each time, with Ruben Neves and Raul Jimenez taking the responsibility from 12 yards. Last season six different men stood up from the penalty spot, with five successful. Neves' penalty, successful dispatched beyond Huge Lloris, was his first goal from inside the penalty area in English football. Each of his previous seven had come from long-range and none had been in defeats, six in victories and one in the opening day draw with Everton.
3. CAV'S FIRST START
Ivan Cavaleiro made his long-awaited full Premier League debut at the weekend, taking the place of Adama Traore on the left-hand side. The Portuguese had come off the bench in the previous three fixtures and was rewarded with a starting spot, playing 62 minutes up against Kieran Trippier. Diogo Jota missed the game through injury, while Adama Traore and Raul Jimenez finished the game out wide, so Nuno Espirito Santo is happy to mix things up on the wings.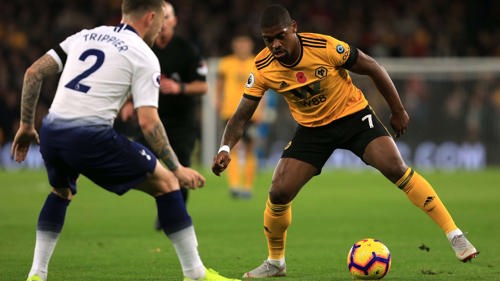 4. YELLOW BALL
If there was any doubt, it was clear that winter is upon us as the yellow Premier League ball was used for the first time at Molineux this season. Debuted in a Wolves game at Brighton the previous week, but now Molineux is up to speed with the darker evenings too. Fortunately, the exciting action on the pitch kept the supporters warm during the 90 minutes.
5. MORGAN IMPACT
Coming off the bench in the 62nd minute, Morgan Gibbs-White put in his best performance yet against Champions League opposition in Spurs. The midfielder attempted as many dribbles as anyone in a Wolves shirt, despite playing just 28 minutes, and enjoyed an 80 per cent pass completion rate. The 18-year-old is now up to five top-flight appearances and is growing with each performance.
#WOLTOT