16th October 2018
Diogo Jota has been one of the ever-presents in Nuno Espirito Santo's Wolves side this season and the Portuguese under-21 international has given wolves.co.uk the lowdown on what life is currently like at the club.
On ambitions
One of my targets is to score my first goal. I'm fine at the moment because if we win I don't care if I score or not. For me, last season was a good thing [scoring 17 goals in the Championship], I think we all as a team and as a club had a fantastic season, so that was very good. But it's in the past now and we have to think in the present.
We are only in our first season in the Premier League. It's the best league in the world. It's very hard and we are trying to do our job, but mainly to not be relegated is our main target. But if we can do other things we will try to do that.
On Nuno
He is an ambitious coach and we are ambitious players. We link well and he always gives us good advice in every moment, even at bad times he knows how to react and deal with us. When in a good moment he knows how to keep us going, so we have a good relationship with him.
Nuno brought a new identity to the club, even for me the system is different. Before last season I never played in the system with five at the back, but he brought a way to live football which is completely different.
Even when we played at Old Trafford, it is a magnificent stadium, but he passed us the message that it's possible to win because it's just 11 against 11, and with the international players we have, we don't feel that pressure. We have players that are used to playing in those kind of grounds, so it's a message that helped us to be confident.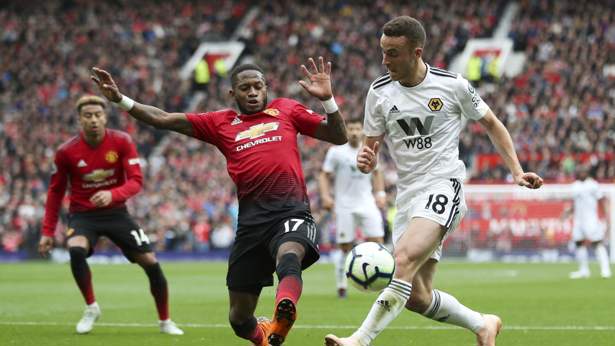 On moving to Wolves
In Portugal many people didn't understand our move. Not just me but Neves as well, but we are here now and the people that said things now understand. Of course it was a risk because it wasn't a shortcut to reach the Premier League, but in the end it was a good move.
My family were always supporting me and they understand my position. They were always supportive and that is what I care about.
I started to learn English when I was 10-years-old. I don't know a lot of words, but I can express myself and be understanding with each other here day-to-day.
Being in a different city, especially with the weather, it was a big difference between here and Porto, where I used to live. But in the end, we have many Portuguese here and we are always together when we can be, and that helps us to be a family.
On cricket
I try to play with the guys in the gym, but I can't throw the ball properly, so I'm mainly the catcher. But I do it for the fun to be with the guys a little bit more.
The lads usually watch it and I try to watch but I don't know the rules, so it's hard for me to understand the game. Even when we play we try to ask one or two questions to understand better, so I'm improving.