31st October 2017
Congratulations have continued to pour in for Wolves' midfielder Morgan Gibbs-White, whose sensational 2017 has continued with a World Cup victory with England Under-17s. out in India.
And Gibbs-White grabbed his second goal of the tournament to equalise for England as they came from two goals down to beat India 5-2 in Saturday's final.
The talented 17-year-old had scored in the quarter final victory against the USA, and is now part of an England team which has written their name into folklore by following the Under-20s – coached by former Wolves midfielder Paul Simpson – in becoming world champions.
Wolves Academy manager Gareth Prosser made his second visit out to the tournament to take in the final with Morgan's Dad Kirk, and were delighted to meet him after the game and take a close look at the World Cup medal.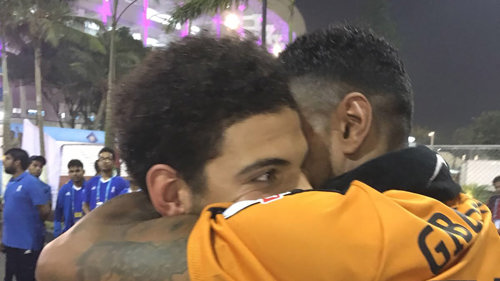 Wolves players past and present have also added their congratulations via Social Media, as have a number of coaches who have worked with the midfielder since he first arrived at the Academy at the age of eight.
And Head Coach Nuno Espírito Santo has also praised the midfielder and England for their achievements at the tournament.
Nuno said: "Congratulations to the England team and of course our very own Morgan Gibbs-White who made a positive contribution through the tournament and also scored in the quarter final and final.
"It is an excellent achievement for everyone involved.
"Morgan is an interesting player who has come through the Academy at Wolves and has already played in the first team at a young age.
"It will be exciting to see how he continues to progress and we now look forward to getting him back to Wolves to press on with his development."
Gibbs-White, educated at Sir Graham Balfour school in Stafford and then Thomas Telford, has made considerable progress throughout his time at the Academy, and scored his first goal for the Under-18s, as a 15-year-old, in an 8-0 win against Brighton in May, 2015. 
He continued that progress, including junior caps with England, to the point of becoming the first player born in the 21st century to play for Wolves when appearing as a substitute in the 2-0 FA Cup win against Premier League Stoke City in January of this year.
He was an unused substitute at Anfield for the famous fourth round victory, but made eight senior appearances in total – including two starts – before suffering an injury at the back end of last season.
Named the Academy Player of the Year at the end of the season, Gibbs-White then went through a programme of rehabilitation through the summer before returning to fitness, coming through a planned 30-minute appearance for the Under-23s before joining up with England.
He appeared in every game at the finals, starting the last three, and enjoyed an excellent tournament.
We caught up with some of the many staff who have played their part in Morgan's footballing journey so far, and were thrilled to see him become a World Cup winner.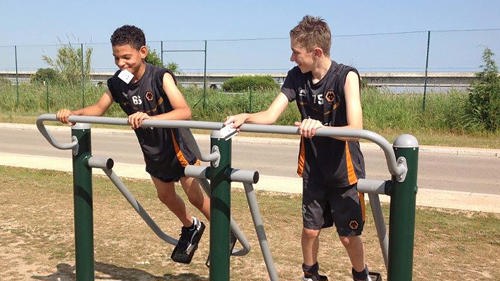 MARC CAMPBELL (Assistant Academy Manager)
When we first engaged with Morgan at the age of 8, we thought we had found a player with a great work ethic and the attitude to want to learn and work hard which is massive for us.
Did I think he was going to go on and play for England in a World Cup final? Probably not!
But at the time, myself and all the staff knew that this kid was a good player.
Knowing Morgs, even though he has just won the World Cup, I am sure he will be thinking….what is next.
He will be wanting to get in the first team at Wolves and I think the sky is the limit for him.
With the support around him, from his family and everyone at the club, I think he can go on and be whatever he wants to be.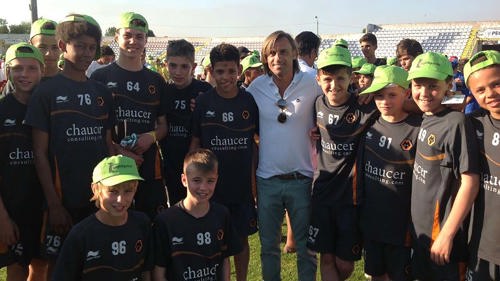 DARREN RYAN (Under 18 coach)
Morgan was always very competitive - he loves the game, and has a big desire to succeed.
When I first worked with him at the age of 12, I could tell he had the ability to go on and progress into a top player and he is well on that journey now.
He has a winning mentality and every game means a lot to him.
There was one occasion when he'd just got into the Under-18s under Rob Edwards as an Under-16, but had to come off for tactical reasons after another player had been sent off.
The game was at Compton and I was with the Under-16s on another pitch.
Morgan came running over and said he'd had to come off and he wanted to come and play on our pitch instead!
We got to half time, 4-0 down to Newcastle, so I made the change and sent him on.
We ended up losing 4-3 and should have got something out of it in the end!
He came on and took us to another level and that is something that he has shown he is capable of doing all the way through the Academy.
SCOTT SELLARS (Under 23 coach)
When I first arrived at Wolves, Morgan was in the Under-15s and I recognised fairly quickly that he was a player with a lot of ability and enthusiasm.
When he got to the Under-16s I remember talking to him and saying that I was going to challenge him every single day, and that he might not always like me or like what I said, but that hopefully in the future he would understand it.
I will always push him, and always challenge him, but over the last year I haven't needed to do that at all.
He is in charge of his own career and his own destiny, and his talent and ability is matched by his personality and his desire to be a top player.
To go to a World Cup after playing just 30 minutes in an Under-23s game after his injury, and then force his way into the team and score in the final sums him up both as a player but also as a personality and character.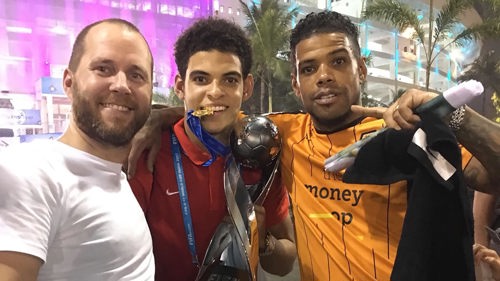 GARETH PROSSER (Academy Manager)
I was extremely fortunate to be out in India to witness England winning the Under-17s World Cup against Spain, and to see one of our own – Morgan Gibbs-White – play a key part in the success.
What a year it has been for Morgan, from making his first team debut as a 16-year-old in the FA Cup at Stoke, to now scoring in a World Cup final in front of over 66,000 people.
Like any young player, Morgan has had his ups and downs since arriving at the club as an eight-year-old, but throughout all the challenges his talent and his determination to succeed has shone through.
It was a privilege for me to be with Morgan's Dad Kirk at the three group games and the final, fitting reward for the family's many hours spent back and forth to Compton Park and various training grounds around the country.
The Academy staff at Wolves should also feel justifiably proud of the work they have carried out with Morgan, as should staff at the FA like Dan Ashworth and coach Steve Cooper, who have helped mastermind the success.
Morgan had already created some history in his career to date – one of the youngest players to play for Wolves - and now he adds the World Cup success to this too.
At still only 17, he has many more exciting years ahead of him if he keeps up the attitude and desire to be the best he can be.
KEVIN THELWELL (Sporting Director)
Morgan has been with us a long, long time now since we signed him as an eight year old.
We live in the same town so I see him around the place, and know him as a person as well as a footballer!
I am delighted he has achieved what he has achieved, and delighted he is a Wolves player.
He is a fantastic advert for young players who aspire to be the very best they can be, 
I think the Academy also deserves huge credit for the work that they have done with Morgan.
Things have changed a lot here since Morgan first came here, but it is also very similar.
The development of young players remains at the very heard of everything we want to achieve.
They are values that we hold strongly as staff who have been here for a long time, and I know that Nuno and Fosun hold those similar values.
Players like Morgan and others who have had their opportunities are at the very centre of what we want to achieve here.
LAURIE DALRYMPLE (Managing Director)
Everyone connected with Wolves was so proud and delighted to see Morgan and England come through a tough competition and win the World Cup.
And for Morgan to add to his quarter final goal with the equaliser in the final was an added bonus.
The way he has progressed through the Academy since arriving at the age of eight is a testament both to his talent and hard work, and the support of his family and all of the staff at Wolves who have helped him along the way.
It is a fantastic achievement, and one I am sure Morgan will never forget.
I am sure he will now return to Wolves with added confidence and belief that he can continue to push on and, even at such a young age, try and force his way into the Wolves first team.