8th September 2017
Matt Doherty is now one of the most experienced figures in the Wolves dressing room – but he is certainly not resting on his laurels.
Only Danny Batth among the Wolves outfield players made his debut prior to Doherty, but the 25-year-old Irishman, who joined the club in 2010, knows that will count for nothing if his standards slip.
One of the great survivors to have featured through the changes in managers and coaches across those seven years, Doherty has made an impressive start to life under Nuno Espírito Santo, and is firmly focused on ensuring that continues.
"Yes I have survived a fair bit over the last seven years," says Doherty.
"But if I am honest not a lot has changed off the field.
"Maybe I am more experienced and I am there if needed but it isn't like I am giving the boys advice on how to cope with the Championship.
"I am still learning in that respect myself and could go out and get skinned by a winger next week!
"They need to figure out their own ways of adapting, but at the same time I am here if needed, and I am a lot more experienced.
"I have been here for seven years now, and don't want to go anywhere else soon!
"Of course I do feel more comfortable here now and it is different to going somewhere else and being one of the new boys again.
"Not wondering about getting on the bus for an away game and wondering if I am going to take someone else's seat!
"But while I am more comfortable with the surroundings I am still pushing and don't ever want to feel comfortable on the pitch.
"It is about keeping your standards high and always thinking that someone else can take your spot."
Of Doherty's 204 career appearances to date, 165 of them have come for Wolves, the rest amassed during loan spells with Bury and Hibernian respectively.
The wing back position he has been employed in so far is a new one, but he has impressed and kept his place during the early weeks of the season.
"There have been a lot of changes and I have managed to stay in which is what you want to do when you come back for pre-season," says Doherty.
"Long may it continue – although it will only continue if I keep playing well.
"We have a really good team which I think has a good chance of being successful this season and I want to be a part of that as much as I can.
"It is new playing wing back but it is always a position I have admired and thought I could be well-suited to.
"It is hard work, getting up and down the pitch every game, but it is enjoyable as I like to try and get goals and create chances.
"And while it is tough getting up and down, they have us in good enough condition to be able to do that, so I can have that licence to get forward.
"At times I am very high up the pitch, but I can get in at the back post and not worry about being there – it is where I want to be!
"At the same time I know I have to defend as well, but I have a good goal and assist record over recent seasons and it would be nice to better that if I can."
Wolves have certainly started the season well, with five wins in seven in all competitions, and Doherty has been impressed by the new gaffer and staff.
He also knows there will be no getting carried away with, after a fortnight off for internationals, another fixture glut of seven games in 22 days ahead, starting with the Molineux double header against Millwall on Saturday (3pm) and Bristol City on Tuesday (7.45pm).
"The coach and staff have been really good so far – top class," says Doherty.
"Everything they do with us has a meaning towards it – it isn't just for the sake of it, and it has been a really good start.
"One point out of the last six isn't what would have wanted but with the three wins to kick off it is certainly a start we would have taken at the beginning of the season.
"We are still in a strong position now and ready to push on.
"We come back now with another two quick games, and this is what it is like in the Championship.
"We are used to it now and know what to expect and two games in four days is never easy.
"But we are going into a run of fixtures now where we want to try and pick up as many points as possible.
"We are probably favourites in a lot of the games, and what let us down last season was those games where we were expected to win and didn't.
"We need to be better in those games, but I think the team and the shape is better equipped to do that this season."
This weekend's visit of Millwall brings Doherty and Wolves back into  quick contact with a couple of players who only left the club in the summer – Jed Wallace and George Saville.
Doherty is looking forward to catching up with them both – but only after a positive result for Wolves!
"I've already spoken to Sav and we have discussed our change of shirts, whether we will get our bellies out on the pitch or back in the tunnel.
"Both he and Jed have been playing well for Millwall and are happy there.
"It is nice to see them doing well but hopefully that won't be the case this weekend!"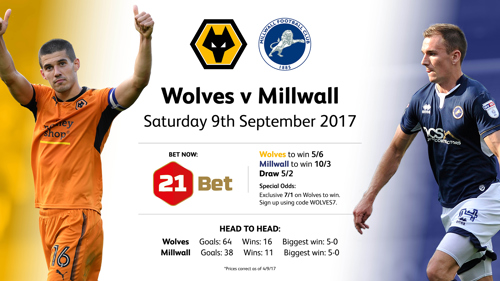 WOLvMIL