21st March 2021
Dion Sanderson has made a vast impact for Sunderland since he moved temporarily away from his boyhood club in October.
The centre-back has established himself as a regular starter for the Black Cats, who are striving for promotion to the Championship. The 21-year-old has appeared in 19 games, starting 13 of them and scoring once, against Rochdale earlier this month, as he looks to develop away from Wolves.
On his loan spell so far
"It's been good, we've been winning games and I couldn't ask for anything better. When I started here, I didn't get much game time under the previous manager, who was dismissed halfway through the season.
"When we had a new manager come in, I started off making a few appearances off the bench and due to injuries, I was given my chance, and I've been playing ever since, and it's been going really well."
On his development this season
"It's been great. The only way to improve is to play games – that is what is required.
"Being at Cardiff last season and now dropping down to League One is a challenge, it's a physical challenge, and I think I was just getting used to it at first.
"In League One, you play against a lot of teams that play long ball games, but I think I've handled it well. I'm really happy with my progress."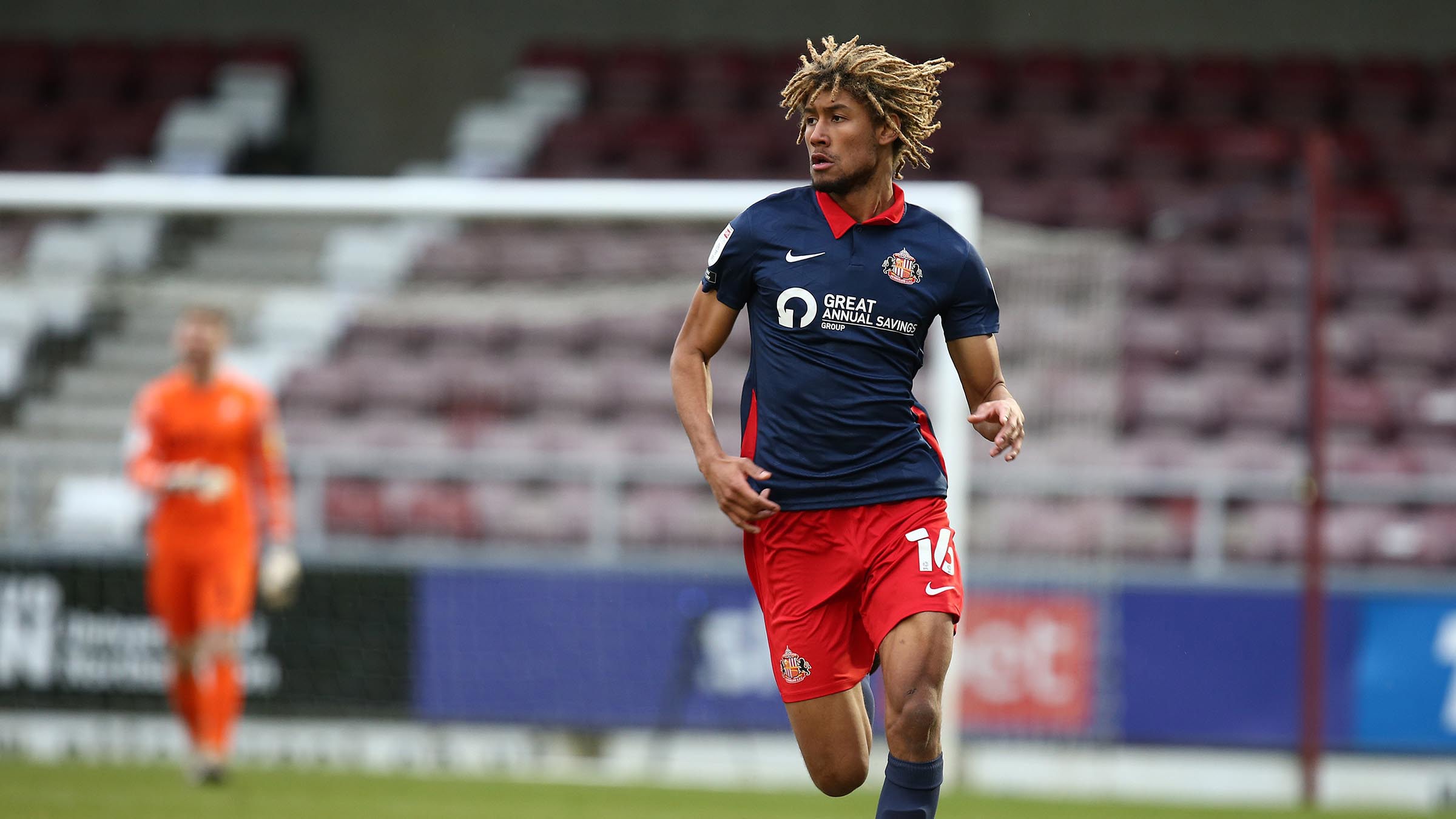 On the comparison between League One and the Championship
"There are a lot of great football teams in the Championship and there's a lot of experienced players there. With League One, I think it's very physical.
"You're up against big strikers, physical players, and you've got to deal with a lot of balls in the air. I just think the division requires a much more physical game overall."
On his versatility in the backline
"This season I've played all over the defence. I've played left-back, left centre-half, and right back. I think it's important to be versatile, especially when there are injuries, and you need to come in and help out.
"That was always an opportunity for me to get a little more game time. My natural position is that centre-back role and I think I've been doing really well there."
🦾 Another one... @SandowRs is your @UKASL Man of the Match! #SAFC I #SUNROC https://t.co/uQrw6wLjrc pic.twitter.com/Sia5LWIcTU

— Sunderland AFC (@SunderlandAFC) March 7, 2021
On his style of play
"Of course, I'm aggressive and first and foremost a defender, but I'm also a defender who can play football, break lines with my passing, short and long-range, so I think it's all suited in one.
"With the arrival of our new manager, he brought with him a new philosophy of what he wanted to build the team around, and I believe that my ability to play out from the back fits our style of play of how we're trying to play really well."
On his goal against Rochdale
"It was a feeling that you can't explain. I understand why so many people want to be strikers because there are so many emotions that run through your head when you score a goal.
"I even had a celebration planned, but it never happened because I was so overjoyed that it happened. It was my first professional goal, and hopefully, it won't be my last."
On what can transform him to the next level
 "My attitude really. I think that having played in League One and also in the Championship it has given me the mindset that every game I play, I need to come off the pitch as the best defender on the field.
"The quality I try to bring onto the pitch and to the team is from just working on my game and always learning with the experience I'm given.
"When I return to Wolves in pre-season, it will be all about gathering as much information as I can from the players there, learning from them, and taking it back into my game."
On his aspirations for the season
"For the club, we're currently in the top three, so the goal is to get promoted. For myself, I just need to focus and maintain my form and see how the rest of the season develops, starting as many games as I can and continuing to progress.
"We have a lot of games coming up, and I'm concentrating on what I'm doing on the field; anything else is not really the focus for the time being."
What a feeling to score my first professional goal 🔥 Clean sheet , 3 points onto Tuesday game 🦾🦾 Ha'way the lads😉 pic.twitter.com/s9aJMyCXRV

— Dion Sanderson (@SandowRs) March 6, 2021
On what securing promotion with Sunderland would mean
"I would be really chuffed if we do get promoted. If you know Sunderland's history, they've been through a lot in the last ten years, so it would mean a lot to me and, more importantly, to the club, the players who have been there for a while, and the fans.
"We have a massive fanbase as well; the last ten years have been difficult for the club, from being in the Premier League to being relegated and relegated again.  It would be class to secure promotion with them."
On his plans for the future
"If the opportunity to play for Wolves presented itself, I would take it. Wolves have been my boyhood club, and it's where I see myself in the future.
"I definitely see myself in the Premier League. I just have to keep my standards high for myself— that's my aspiration and where I want to be."
Elsewhere on loan:
Ruben Vinagre featured for 90 minutes for Famalicao in a crucial game against Braga which finished 2-2.
Christian Herc also played the full 90 for MFK Karvina in their latest Fortuna Liga clash.
In La Liga, Rafa Mir scored from the penalty spot as SD Huesca faced defeat at Barcelona.
In Switzerland, Toti Gomes, Connor Ronan, Oskar Buur and Leo Bonatini were all named on the teamsheet for Grasshopper Club Zurich in a 2-1 win over SC Kriens, with Bonatini netting from the spot.
By Nikita Gomes Henschl
#WolvesAcademy