14th January 2021
Terry Taylor is currently back at Wolves after being recalled from League Two outfit Grimsby Town but benefited greatly from the experience.
The midfielder made 14 appearances for his loan club before returning to Molineux last week, and with the January loan window active currently, the Wales under-21 international is open minded about what the remainder of the 2020/21 season will hold.
On his Grimsby spell
"I've played in the under-23s and the youth team at Wolves but being on loan is very different. It exposed me to a lot of different scenarios that I wasn't used to. So, I think it helped me a lot and I believe I've come back a better player.
"I think I gained a lot of experience playing against men who are fighting for a mortgage every week – it means so much to them.
"The physicality in the games was different to what I was used to. Playing under a manager who wants to win games and get results but also wants us to play well motivated me to put in the performances.
"Everything I've experienced so far has really helped me. I've come back into training with Wolves and I know it's made a big difference in my personal style, not only in terms of football, but as an individual as well."
On his performances at Blundell Park
"I think I did pretty well. Obviously, it was my first time being out on loan, and there's always going to be some good games and some poor games, and in a really competitive league with some good opposition, but overall, I think I did pretty well.
"I would've hoped to maybe make more of an impact on games with a couple of goals and assists but overall, I think I did pretty well."
On creating chances for others
"I think I did OK. I want to focus on improving the chances I create every time I play, but it was difficult at times. Grimsby were struggling a little. We weren't scoring many goals, but it only made me work harder.
"I'm confident I can improve every season and in every game that I play in, so it's only going to get better."
On becoming an all-round midfielder
"I think my attributes show that I'm solid at a variety of things. I'm not just a one-trick pony. I've tried to work on all aspects of my game, keeping the ball, dribbling past players, creating chances. It just shows that I'm a bit of an all-round player who can do many different things.
"It's becoming increasingly competitive in midfield, so, it's very important to be able to adapt. I think it's vital to have all those different attributes. It shows that I can obviously play a couple of different positions and can adapt to different game scenarios.
"It helps to be a more complete player because I can play multiple positions and do anything the manager needs me to do. If that's keeping the ball, going forward, or creating chances then I think I can really help any team I'm in."
On how the loan prepared him for the future
"I think it was good to get my first step in the game, I made my first 14 or 15 appearances, so now I've got a belief in myself that I can do it at the men's level.
"I've always had confidence in myself but now I know that I've gone out there. I've done it and I've played well so now I want to kick on, do it again and play more games.
"Keeping my intensity high is a key factor in my training. If I go back out on loan, then I'm going to go into an environment where the intensity is really high, and everyone wants to train really well.
"I know I have quality in my passing, dribbling, and shooting but the main thing I'm focusing on is keeping my intensity high so that I'm ready to fit into whichever environment I go back out to and do well."
On a potential second loan move
"I'm speaking to Seyi Olofinjana, the loans manager, every day to try and sort something out. There's been interest from a few teams, but it's about whether or not it's the right fit for me. I don't want to just go anywhere and not have it be the right fit for me so we will have to wait and see.
"If it's right, then I'd love to get back out on loan. Wolves have been encouraging me to get back out there and get some games going. Experience is really important to me and I think I can be valuable to teams, so hopefully I get to go back out there and help out."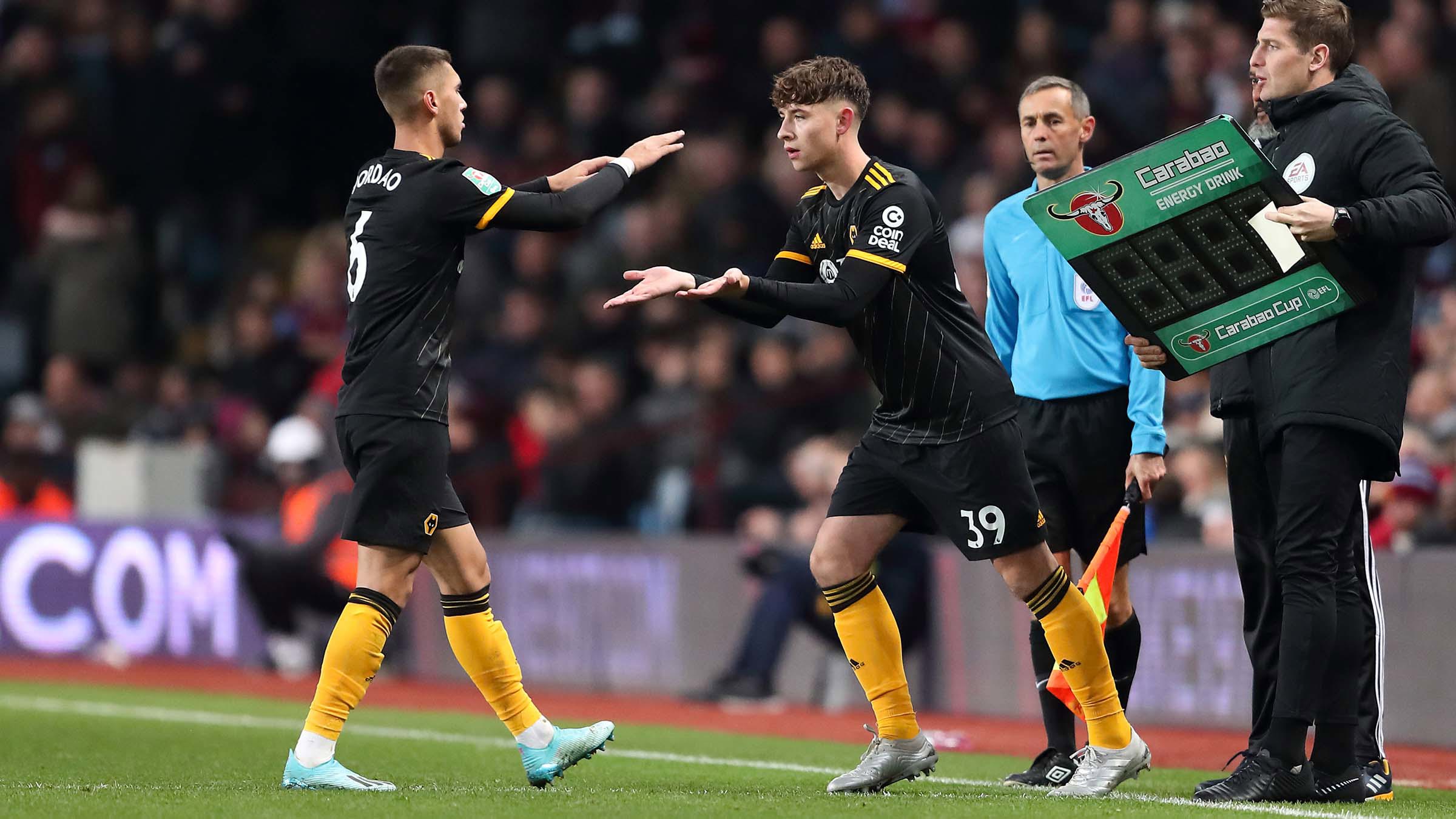 On the Wolves loan system
"I think the development is going well. I believe it's really important for young players like myself to get out and experience different things.
"As good as under-23s football can be, it's not really a clear indication of how all teams play. If you're going to a lower league side you need that experience, it shows you that results matter and people's livelihoods are on the line.
"I think it's beneficial for young players to go out and get as many games as they can, and that in-turn will hopefully give them a chance of challenging the Wolves first-team."
On his long-term goal
"My dream is to play in the Wolves' first team – it has got to be. There's no point beating around the bush, I want to play for Wolves.
"I've had a lot of chances to train with them. I made my debut last season and I hope that the games that I'm getting away from the club mean that I can go back in the summer and show the manager that I'm ready to be part of the squad."
Elsewhere on loan
Dion Sanderson started for Sunderland in their 1-1 draw against Hull City last weekend. The defender added to his tally of eight appearances this season for the League One side.
Ruben Vinagre made his debut for FC Famalicao in Liga Nos on Friday afternoon. Leo Campana was also in action as a second-half substitute.
In FA Cup action on Saturday, Ryan Giles played the full 90 minutes in Coventry City's loss to Norwich City.
By Nikita Gomes Henschl