10th January 2019
One of Wolves' young players who is thriving in first-team football as they use their time out on loan to develop as a professional is midfielder Christián Herc.
The 20-year-old Slovakian under-21 international moved away from Molineux in early 2018 and returned to his homeland to sign on loan for Fortuna Liga outfit FC DAC 1904 Dunajská Streda.
Since joining the club, Herc has been a regular in the centre of midfield, playing in all but one of his new team's matches so far this season, including four appearances in the qualifying rounds of the Europa League.
Herc, who has bagged himself three goals and five assists during the first half of the Slovakian season, discussed his successful loan spell while he was back at Compton Park at the start of his current club's winter break.
On loan experience
"Since I moved in February, a lot of things have changed at Wolves. They've been promoted to the Premier League, the training ground is different, but everything is nice out here, so I'm happy to be back.
"My loan is good. I have grown in my personality, I have tried first-team football back home and I've got some experiences.
"We're doing well. We are second in the table and I'm performing well, so I'm happy over there now.
"I am still there until the end of the season. I want to improve myself, try my best and I want to come back in the summer and then we will see what's going on."
On decision to move to Dunajská Streda
"One year ago, I spoke with Scott [Sellars, Head of Academy Player Development] and Seyi [Olofinjana, Loans Pathway Manager] and we were talking about either going somewhere to get first-team football or I could stay here until the end of the season.
"I made a choice to go and play first-team football back home, and I think that was the best choice we could've made. I'm happy that I'm home in Slovakia and everything's good."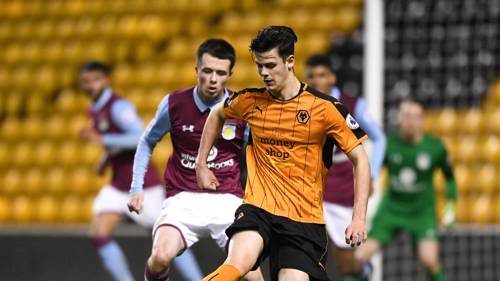 On developing while on loan
"It has improved me as a player and as a man as well, because I'm playing first-team football and it's just about results – that's why I felt for this year I needed first-team football.
"Due to my development, I felt that if I stayed in England and go to a League One or League Two or even a non-league team, I didn't know if the football would be good for me because I'm more of a technical player than a 'fighter'.
"I think Seyi or the other staff at Wolves would have been very worried if I'd have gone back to Slovakia and just saw my family every day or every week and not change, but I think I have changed in a good way and I want to continue in this way."
On Slovakian winter break
"In Slovakia we have nearly one month off, so I have got myself a personal trainer to help prepare for the second part of the season.
"We finished on 8th December for the last game, because in Slovakia it's snowing in December and January, and we start back with a pre-season on 12th January.
"I think we're going to Turkey for pre-season. It's the opposite of England, we're doing it in the winter rather than the summer, but I have to do something if I want to have a good season, not just half a season, so I have to work by myself.
"I came back to Wolves because I got a slight injury in the last game of the season, so I came back here to get myself 100 per cent fit. After a holiday I will come back ready to work with my trainer before we start the pre-season."
#LoanWatch