15th February 2023
Young professional Ethan McLeod was joined by former Wolves and Republic of Ireland striker David Kelly for an anti-racism workshop with students from Bantock Primary School.
The event, staged at Molineux by the Show Racism The Red Card campaign in conjunction with Wolves Foundation, saw speakers introduce the idea and importance of critical thinking, discussing what a 'World View' is and what can influence that World View.
There was then a group activity where students were able to challenge potential stereotypes and learn the tools to spot a racist incident and how to challenge such incidents safely and effectively.
McLeod, an 18-year-old striker, recently put pen to paper on his first professional contract at Wolves, continuing the progress made since first coming into the club at pre-academy stage at the age of seven.
"I think it was a very good opportunity for me to talk about racism," he said of the Show Racism the Red Card event.
"It's good for the children to understand that everyone is unique and come from different backgrounds, and it's important to understand that everyone is different and accepted.
"I haven't experienced any racism but it's because we're educated. The people I'm around know to accept everyone and it's good to be like that."
Kelly, also a striker back in the day, scored 36 goals from 103 appearances at Wolves as part of an overall career which saw him operate at the top level both for club and country.
He has been a long-term supporter of the Show Racism The Red Card since the charity was first launched back in 1996.
"I'm an English-Irishman, born in England and played for Ireland," he explains.
"My mum was English, my dad was Irish so this interests me and it's great with the kids because there's always a 'banana skin' question!
"The educational part of it is key, because older people's views are dying out now and we do live in a diverse country - we should accept people for who they are.
"Campaigns like No Room for Racism are massively important because look at the number of foreign players that are in the Premier League and lower leagues now.
"This is the world we live in, there wasn't room for racism before but there definitely isn't now."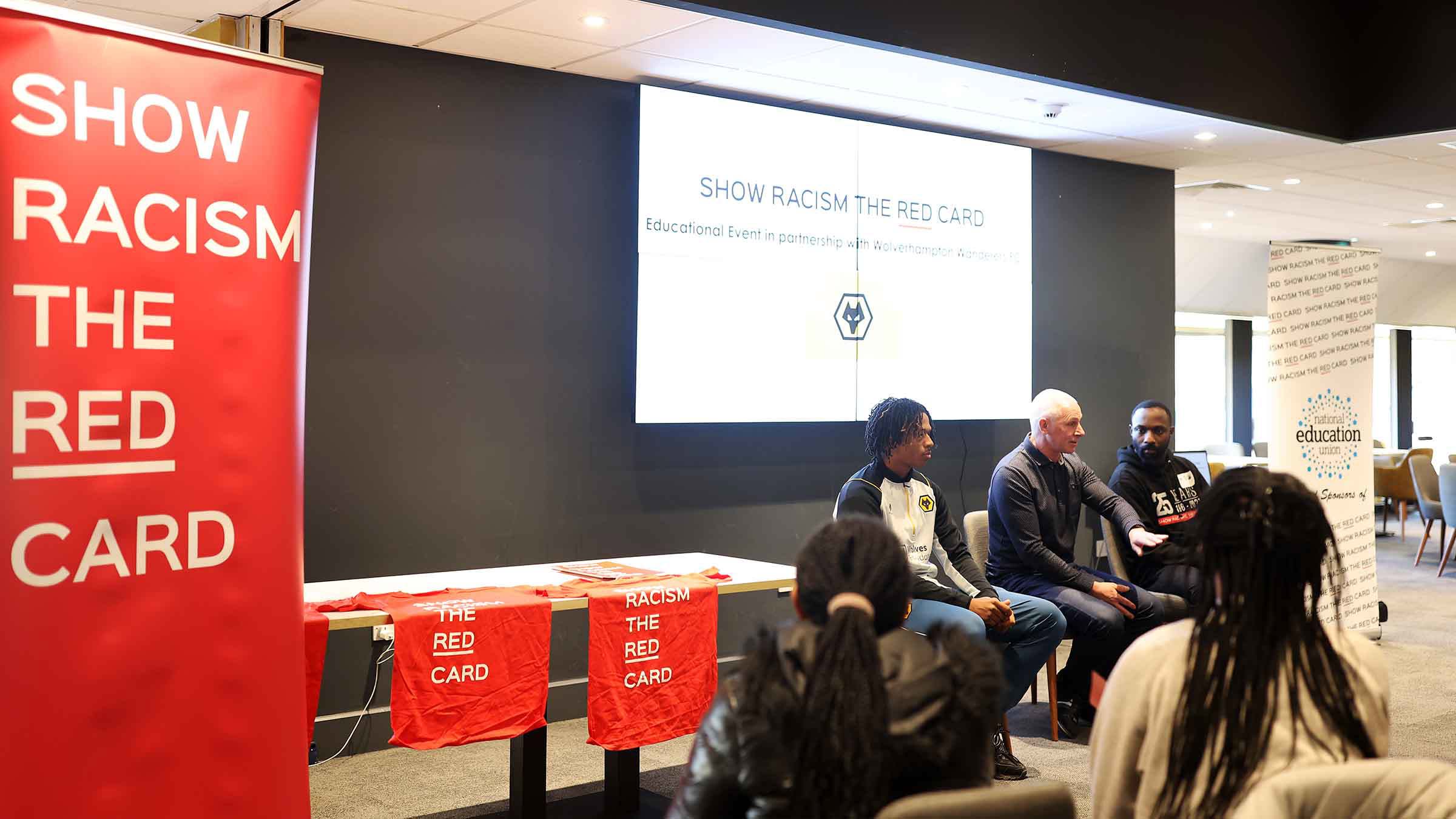 Seth Ejukwu, equality, diversity and inclusion campaign officer with Show Racism The Red Card, said it was another really positive event having also visited Wolves last season.
"We go around the country speaking to young people about racism and deliver workshops," said Seth.
"You could see from the questions the young people asked that they really paid attention during the workshop.
"The panel were great, and for the young people to watch professional footballers, or athletes, or VIPs say the same thing, it is always really important.
"David Kelly gave a different perspective from his generation playing football, and Ethan could give his perspective as a young player.
"Even if we get first team players, we always like to include ex-professionals on the panel too to get that contrast of conversation.
"You can see them talk about years ago what they experienced in society and then young people talk about racism today.
"The younger players talk about social media because they receive racism more there, whereas the older players experience racism more when playing football.
"The most important thing is getting the message out there, to campaign against racism, to make sure the young people understand that it's not right and that we give them the tools to report it whenever they see it."
Marnie Richards, senior schools officer with Wolves Foundation, organised the event from the charity's point of view.
"Seth delivered a great session around different topics including allyship and then Ethan and David added some great insight around their own experiences," she said.
"The pupils really listened and were engaged with the session as well as asking some very good questions.
"We also had time for a stadium tour as well and the staff felt it was so valuable that they are keen to bring their other year groups when we do something similar again."
The visit came as part of Wolves' activity ahead of their designated No Room For Racism fixture against Bournemouth on Saturday.
All teams in the Premier League are dedicating a home fixture to No Room For Racism during this period to send a clear message that discrimination will not be tolerated in football, or indeed in society as a whole.
The ball plinth, backboards in front of where players shake hands and the LED advertising boards will display the distinctive No Room For Racism branding while players will also take the knee prior to kick off.