17th February 2023
Adama Traore swapped the green, green grass of the wings at Molineux for the classroom at SS Peter and Paul Catholic Academy as he passed on his experiences of racism to raise awareness of discrimination.
The Wolves forward joined staff from Wolves Foundation to deliver a workshop at the school on Hordern Road, ahead of Wolves' designated No Room For Racism fixture against Bournemouth on Saturday.
Adama, who revealed he had received racist abuse as a youngster, highlighted the importance of educating young people to ensure a greater understanding of equality and the need to avoid all kinds of discrimination.
"I'm very happy with what I saw at the workshop as the young people know what racism is, and their intention is to take action, they want to help," he said.
"This is very important from a young age. They identify racism and try to make actions to change what is going on in the world, and I think this is the best way to do it.
"When I was younger, I suffered many experiences of racism as a black guy, and I couldn't understand what was going on - I was speaking with my mum asking, 'Why are they doing this?' 
"She explained what was going on in the world, and how things sometimes are going to be unfair. You have to keep going and be strong. 
"Anytime a situation of racism comes out I try to explain my situation, explain my point of view, have these conversations.
"These events give the opportunity to make change, to educate from a young age. That's the best way to change things and I wish I had this when I was younger."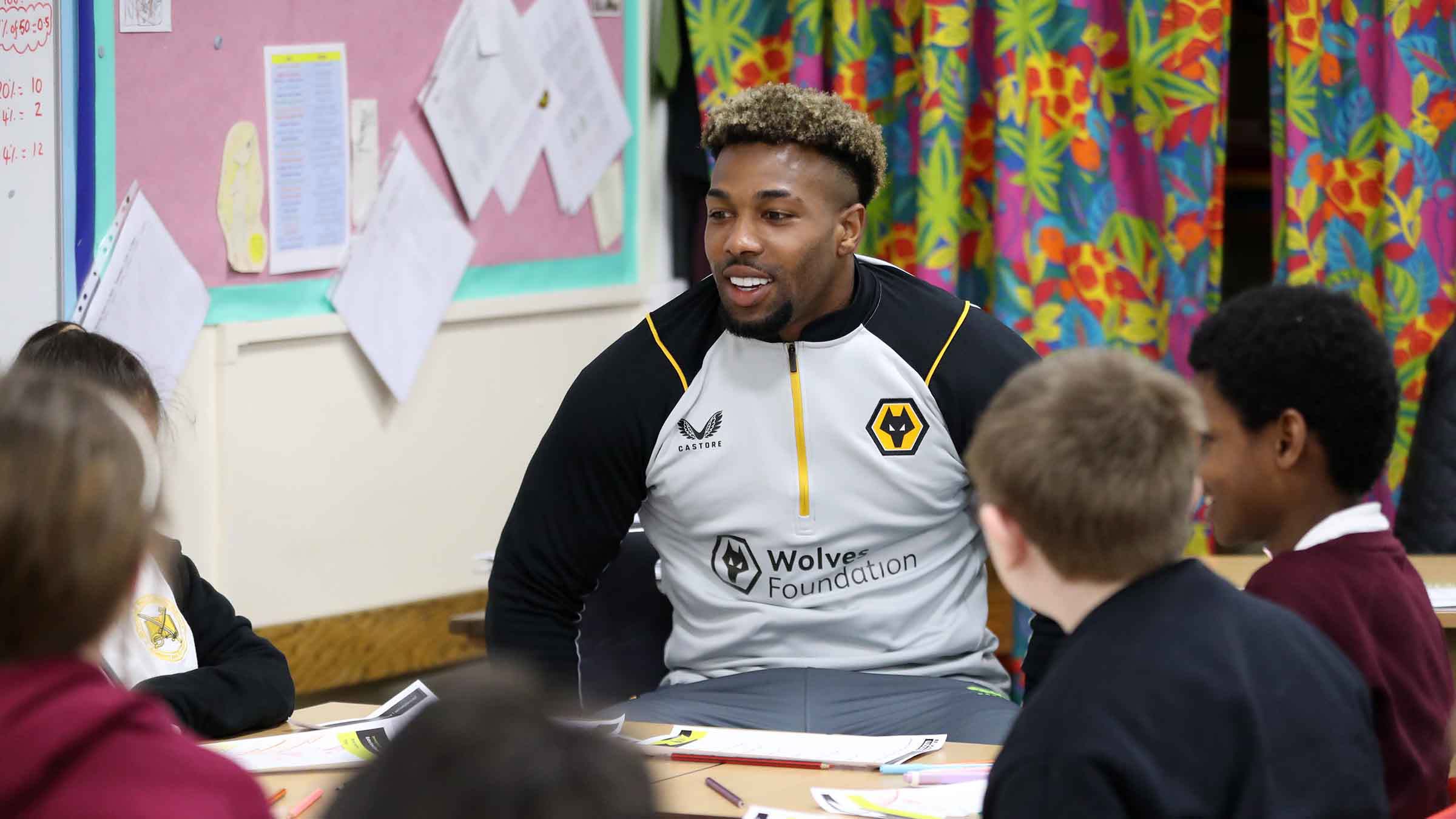 Mrs Tudor, a class teacher at SS Peter and Paul, said the school were delighted to welcome Adama alongside so much other work which the Foundation deliver on site.
"Wolves Foundation have supported us with lots of workshops here at school," she said.
"Part of our PSHE (personal, social, health and economic education) is to make sure everyone is included, regardless of the colour of their skin, their gender - it's all about being completely inclusive. 
"It's just wonderful that Adama could spend some time with us, showing he is a perfect role model on the pitch and outside of the Wolves shirt also in educating the young children about how you should behave.
"Anyone of profile that come into the school and spend time with our children and promote these messages is a definite benefit." 
The visit came as part of Wolves' activity ahead of their designated No Room For Racism fixture against Bournemouth on Saturday.
All teams in the Premier League are dedicating a home fixture to No Room For Racism during this period to send a clear message that discrimination will not be tolerated in football, or indeed in society as a whole.
The ball plinth, backboards in front of where players shake hands and the LED advertising boards will display the distinctive No Room For Racism branding while players will also take the knee prior to kick off.
Education and skills manager Jonny Warburton added: "It was a really good event run as part of the Premier League's No Room for Racism campaign taking place at the moment.
"One of our schools' officers, Soki Makarounas, led an important workshop around allyship, asking the students to write and draw what they felt about racism and how they would tackle it when required.
"Adama was moving around all the different groups engaging with the students, asking for their opinions, talking about his experiences and the importance of diversity.
"The students responded and asked him some really good questions and it was a really good and worthwhile session."
With an increased awareness around campaigns such as No Room For Racism, and the education programme delivered by Wolves Foundation, Adama feels optimistic about the future.
"I think the best way to change things is to educate," he says. "Explaining what racism is and how to act, to understand what the meaning of it is. 
"The children pick up things, understanding what the effect of racism could be. This is the best thing from a young age.
"I think the best way to understand what is going on is to have these conversations and this will help find the best solutions to change."