14th June 2022
'Amazing', 'brilliant', and a 'great experience'. Just some of the reactions from young football fans who were able to take in England's Nations League clash with Italy at Molineux on Saturday night.
While neither side were able to make a breakthrough in the repeat of last year's European Championships final, the result certainly wasn't everything for those supporters occupying the lower tier of the Steve Bull Stand, a reminder in itself that Bull is one of the club's more recent England internationals. 
Instead, it was about young people aged between eight and 13 enjoying the opportunity to watch the Three Lions in a competitive fixture. For the majority of those in attendance it was their first chance to watch a live football match at Molineux.
Following crowd trouble ahead of that European final at Wembley, UEFA had ordered England to play their next competitive home fixture behind closed doors, although the sanction included the opportunity for children under the age of 14 attending the game free of charge. 
With the national team going on the road with the fixtures against Italy and then Hungary tonight both taking place at Molineux, the Foundation were among the group of organisations and grass-roots clubs invited by the FA to take a batch of tickets. 
With restrictions on numbers, invitations went out to a group comprising regular attendees at Premier League Kicks-related projects, with 182 young people – accompanied by 21 staff – taking up the offer of a ticket to form part of an overall crowd of about 2,000.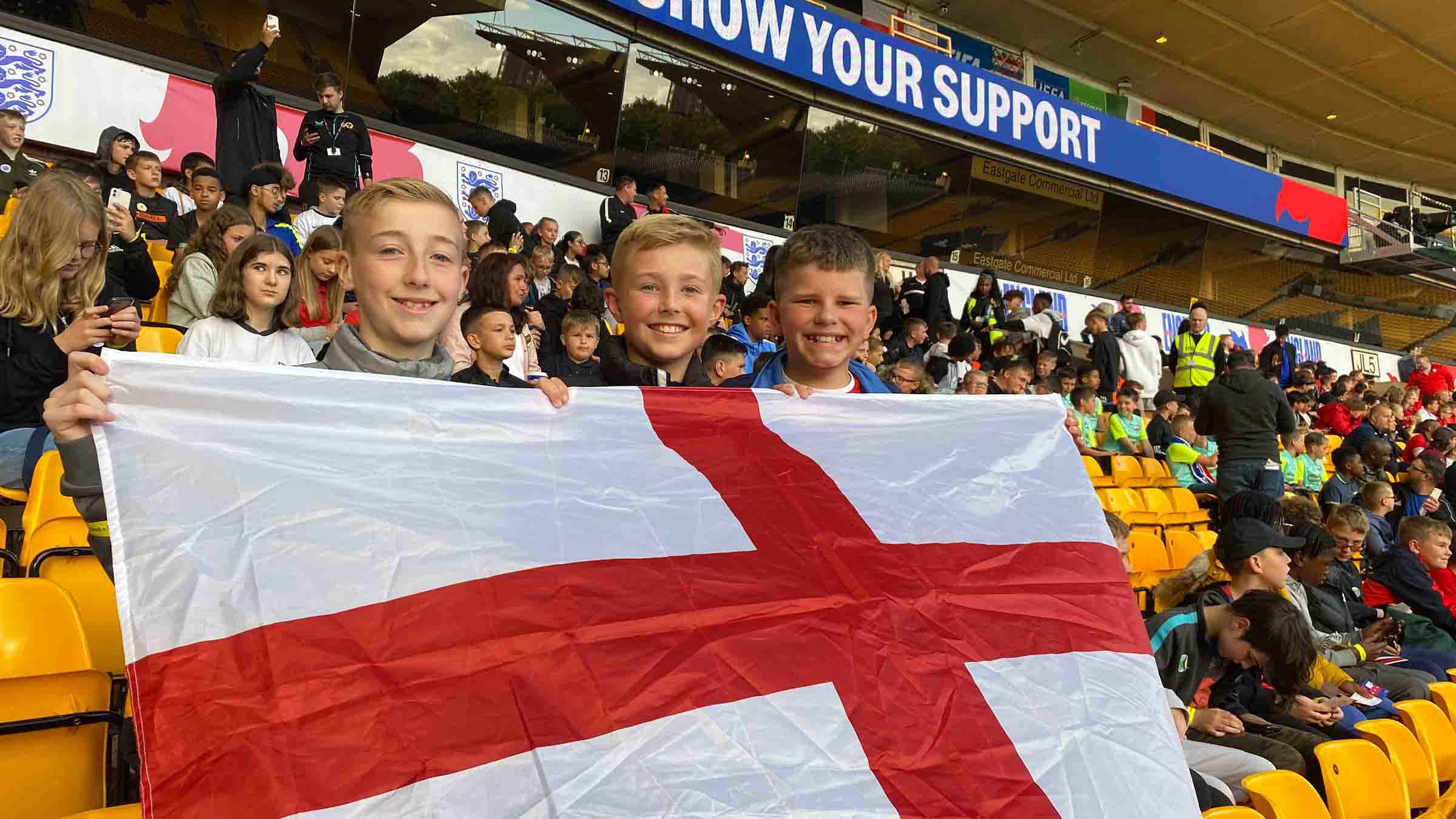 "Once the FA offered the opportunity, it was one we greatly appreciated and were delighted to accept," says the Foundation's inclusion and cohesion manager Luke Shearing. 
"It was definitely all worthwhile to give the young people a unique experience. 
"For many of them, they would never get the opportunity to watch England play, and to see the national team at Molineux made it extra special. 
"They certainly enjoyed it and helped create a great atmosphere even though there were such a small number of fans inside the stadium. 
"What also impressed me was how many of the young fans knew the national anthem, and weren't just singing it inside the stadium before the game but also on the coach on the journey in.
"Even if England weren't able to get the win, being able to watch some of the world's top players close-up will have been a great experience and created some lasting memories for some of our young participants.
"It was really nice to receive some positive comments from a pair of young people as we were taking them to pray too. They were impressed with how accommodating we were, having never been to a live football match before.
"Equality, diversity and inclusion is something we pride ourselves in at Wolves. We strive to provide an environment where everyone can feel comfortable and enjoy sport, so this was a lovely feedback to hear."
Among those who have since contacted the Foundation to say thank you, one parent described how their daughter was 'thrilled' to be part of the overall experience and praised the coaching staff's 'amazing' efforts as making the game 'extra special'. 
The night would have been topped off if Wolves defender and Foundation ambassador Conor Coady had come on from the substitutes' bench, but fans attending tonight's game with Hungary – when Molineux will be full – will be keeping fingers crossed that they will see the skipper in action!