2nd May 2022
The ethos of Wolves' official charity, Wolves Foundation, is to encourage equality, diversity and inclusion across all projects.
In doing so, receiving the support of Wolves players, male and female and across all age groups, is vital. 
Conor Coady and Anna Price, the respective men and women's team captains, are both ambassadors of Wolves Foundation, while players throughout the club are regular attendees at Foundation sessions. 
These visits help to unite the club and community both in giving supporters of all ages and abilities the chance to meet their heroes whilst also adding more value to the Foundation's hugely important work throughout the city.
It's not only seasoned and experienced members of the squad who take part in the year-long programme of Foundation events – players from the Academy upwards are both guided and encouraged to support community initiatives. 
Only recently, there were several player visits which took place to support different Foundation projects following the open training session staged at Molineux. 
And a trio of younger players who have all made debuts in the Premier League this season were heavily involved. 
Defender Toti joined forward Daniel Podence at West Park for Premier League Kicks, a project which uses the power of football and sport to inspire young people in some of the most high-need areas across the country.
"It was amazing to be out there in the good weather at the park meeting the kids and having some fun," said the 23-year-old, whose Premier League debut came against Southampton in January.
"It is really important for Wolves to have this connection with the fans and to see the happiness in their faces."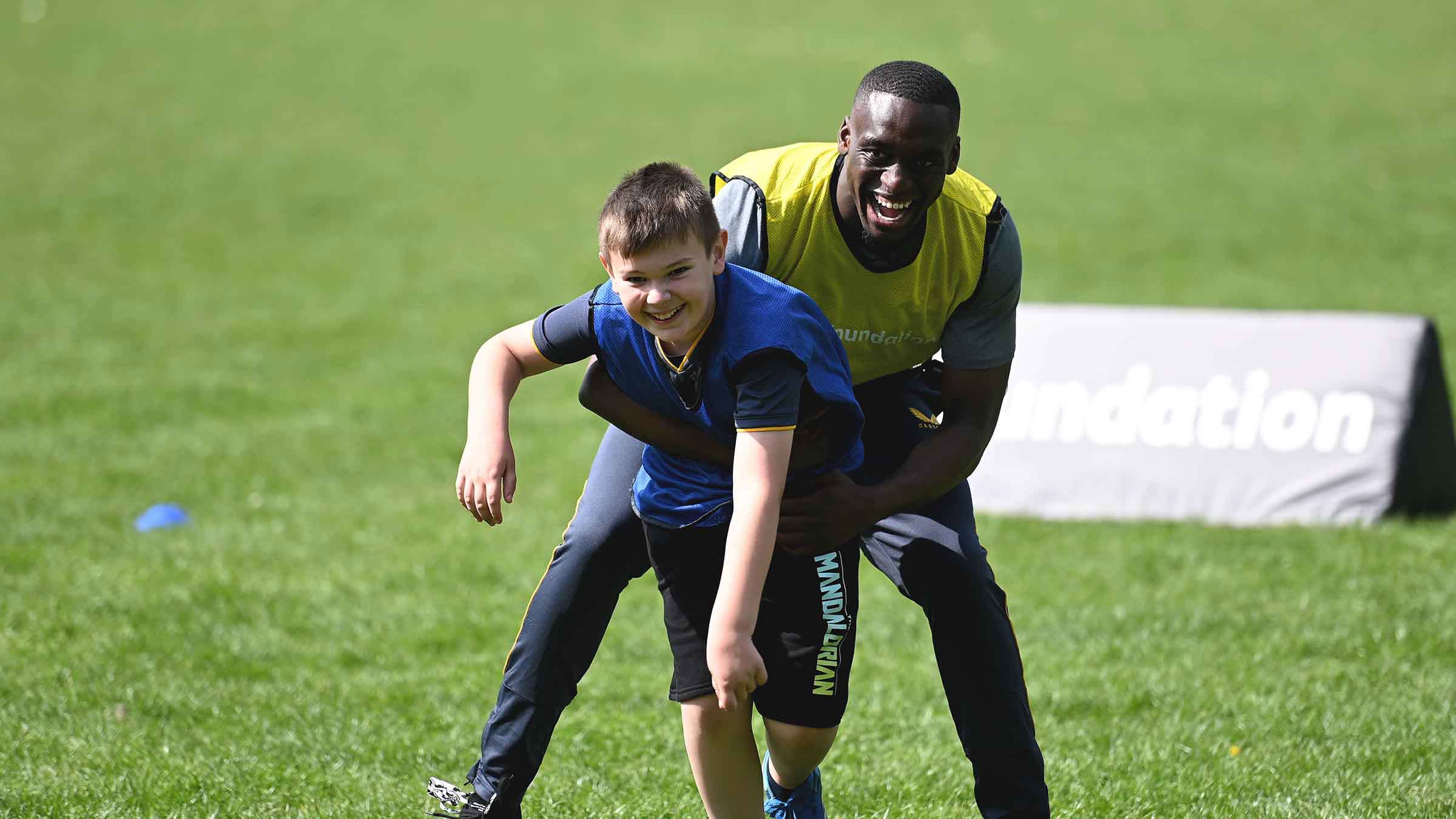 Meanwhile midfielder Luke Cundle and forward Chem Campbell joined experienced goalkeeper John Ruddy in attending a Soccer School session at the Foundation Arena at Aldersley, joining young players in training matches as well as answering their questions.
On visiting the Soccer School, Campbell, 19, whose Premier League bow came recently as a substitute at Newcastle, explained: "It's the best thing just to get out and play football and remember going to sessions like this when I was growing up, maybe aged six or seven. 
"It was good to get along to one of the Soccer Schools – I probably haven't seen an event like this since I went along as a kid so it's brilliant to come along and see everyone having fun. 
"I think it is important as a player to try and show some love in the community and the love that the fans show everyone on a matchday and in the week."
Wolves' official training wear partner Royal Caribbean showed their own support for the Foundation by making a generous donation to finance training bibs which can also be used again at future Soccer Schools as well as gift bags for all participants. 
Cundle, who turns 20 this week, and has made three Premier League appearances this season, including two starts, added: "It was great to get along to the Soccer School and I got myself a bib and started playing with one of the teams. 
"I would have gone along to camps like this when I was younger and I really enjoyed it. 
"It is important for us to go to these visits. 
"When I was younger, I would look up to the more experienced players like John (Ruddy) who is here today and it's really good to get involved."
The club's technical director Scott Sellars has highlighted engaging with the community as a key area for any player's off the field development.
"Football clubs play such a pivotal role in the life of a community and Wolves Foundation do such fantastic work in so many different areas," said Sellars. "As staff and players we have a responsibility to support those projects as much as possible, and it's a responsibility we relish and enjoy.
"There are many people at Wolves working extremely hard to develop our young talents as people as well as players, and highlighting their role as ambassadors for the football club.
"It is always satisfying to see the young players joining their senior counterparts in representing the club so positively, and ensures we are developing strong and rounded personalities as well as talented footballers."
Another part of Wolves' One Pack ethos, which were celebrated throughout One Pack Week, is how by in welcoming sponsors and external partners the relationship becomes more than just a merely commercial one.
A spokesperson from Royal Caribbean added: "We're excited to give back to the community and support this great partnership with Wolves."