27th January 2022
As we take our final look back at the first year of Wolves Foundation's ambitious Feed Our Pack project, we focus on the support that has been given to local foodbanks in helping them with their work across the local community.
Wolves Foundation have worked with different partners and 23 foodbanks across the city to ensure Feed Our Pack provides additional support to those suffering the effects of food poverty during the Covid-19 pandemic.
Feed Our Pack is now helping local foodbanks provide an additional 60,000 meals a year, an overall increase of 30 per cent in food being distributed via foodbanks across Wolverhampton.
Key partnerships have been established and developed with organisations such as Levy UK – Wolves' food and hospitality provider – and His Church, a charity which collects and passes on food which can no longer be used by distributors, to maximise the impact of Feed Our Pack.
And the continuing strengthening of partnerships at local level particularly with the City of Wolverhampton Council has made sure that the support is delivered in the areas, and to the people, where it is needed most.
"As we said from the outset, there are many different strands to Feed Our Pack and more will develop as the project evolves, but the distribution of food to people who need it remains one of the key cornerstones of the initiative," says Tom Warren, senior manager (projects) with Wolves Foundation.
"We know there are so many fantastic charities and agencies who were already providing food and other services within the city, as well as the council delivering their own range of support including huge numbers of food parcels.
"What we as a Foundation, and the football club as a whole, wanted to do was to use any influence that we have, and the fantastic backing from supporters, to try and provide additional help to alleviate any increase in food poverty caused by the substantial challenges caused by the pandemic.
"Part of the network of initiatives delivered by Feed Our Pack during its first year of operation has been to work with local foodbanks, discover what they needed and where the gaps were that could be plugged with some additional investment.
"Our food poverty project manager Ollie Locker has built up some really positive working relationships with the foodbanks, and so far, we have managed to support 23 across the local area in supplying additional food for them to distribute.
"This has only been possible because of a tremendous sense of teamwork and 'One Pack' mentality, from the fantastic support of partners such as Levy UK, His Church and the Council, but also from the Wolves fans.
"The fundraising of supporters over the last 12 months and now the donations of food on a matchday has made such a positive impact on how we can deliver and plan for the future, and ensured we go into the second year of Feed Our Pack knowing we can extend the project to try and help even more people emerge from these difficult times."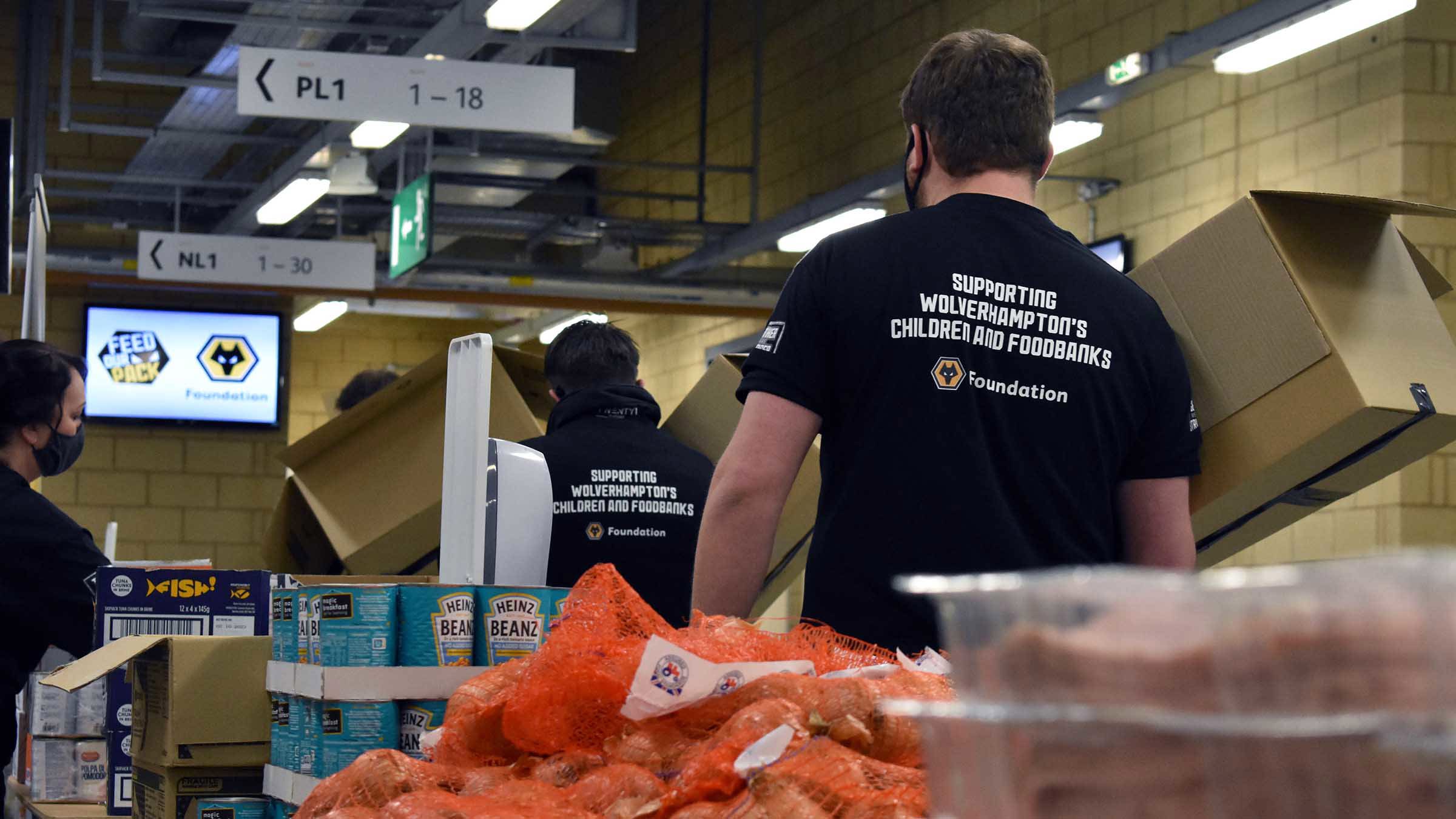 Wolves Foundation has had a long-running link-up with the Good Shepherd charity which provides daily food and support services, as well as with other foodbanks such as The Well.
But Feed Our Pack and the initial £500,000 investment from the Premier League & PFA Community Fund and a donation from former head coach Nuno Espirito Santo has allowed the charity to extend its reach.
"The Feed Our Pack initiative supporting Excel Church Foodbank has had a significant impact in our community," says John Raj, from the Bilston-based foodbank.
"We have been able to provide additional support to over 100 local families, which made their Christmas that little bit brighter."
Jan Kellond runs Friends of Di's Kitchen, a team of volunteers delivering food to those in need across the community.
"We received our pallet of food, delivered by Richard from His Church, courtesy of Feed our Pack at the beginning of December," says Jan.
"This came just in time for our Christmas food parcels for 180 households across the city - helping 480 individuals. Such a donation enabled us to provide store cupboard essentials for those in need over the festive period.
"Although we were very fortunate to receive food donations from schools, stores and individuals to share with others, this donation was very much 'the icing on the cake!'"
Feed Our Pack expects to provide a minimum of 250,000 meals via the different strands of the project to individuals and families over the next 12 months, as well as clothes, toys and hygiene products.
This includes working with the Council to support newly arrived refugees and their families, as well as those who have fallen into poverty due to the pandemic. More than 15 tonnes of these products will be distributed via foodbanks alone.
Can you support Feed Our Pack's efforts to help foodbanks help others in the local community? As an example, a donation of £35 can provide a food parcel for a family of four for a week, or just £2 provides a child with an activity pack. To donate text FOP, followed by your donation amount, to 70085 or visit the Just Giving page here.
TOMORROW: FEEDBACK ON FEED OUR PACK - AND THE FUTURE
#FeedOurPack