16th April 2021
Wolves have painted some impressive pictures on the pitch since the arrival of Nuno Espirito Santo almost four years ago – and now the tables have been turned on the head coach courtesy of a fundraising initiative for Feed Our Pack.
Fans are being encouraged to enter a prize draw to win a fantastic portrait of Nuno which, at the same time, is supporting Wolves Foundation's Feed Our Pack project focused on reducing the effects of food poverty across the city.
Stuart Mayor, an art teacher at Smestow School and Wolves fan for the last 30 years, spent many hours immortalising Nuno in acrylics and the man himself has now seen the painting and added his signature for what is a unique piece of work.
Stuart and the Castlecroft-based school have kindly put the painting up for grabs with a prize draw (one entry for every £5 donated) with all the proceeds going directly to Feed Our Pack, an initiative which included a substantial investment from Nuno to support people in the community who have been affected by the Covid-19 pandemic.
"As a Wolves fan Nuno is a hero of mine and he has done so much for the club and the local community that I wanted to do my bit too," Stuart explains.
"I had been working on the painting for a while before having a bit of a break from it, but when I saw that Nuno had made such a generous donation to help launch Feed Our Pack I decided to finish it off and see if we could help with the fundraising.
"I hoped that by painting his portrait I could not only now raise some money for Feed Our Pack but also inspire my students at Smestow. 
"It has been amazing how many of my students have now also created portraits of their own heroes, some also using pocket money to donate to the prize draw.
"The past year has posed many challenging times for our community and at Smestow, we are proud to be working with the Wolves Foundation to help those in need.
"A lot of us are very lucky as we always know where our next meal is going to come from but others are not as fortunate so the more we can do to help the better it will be."
The painting measures three feet, six inches square, and will be available to one lucky winner to be announced on Monday, May 24th.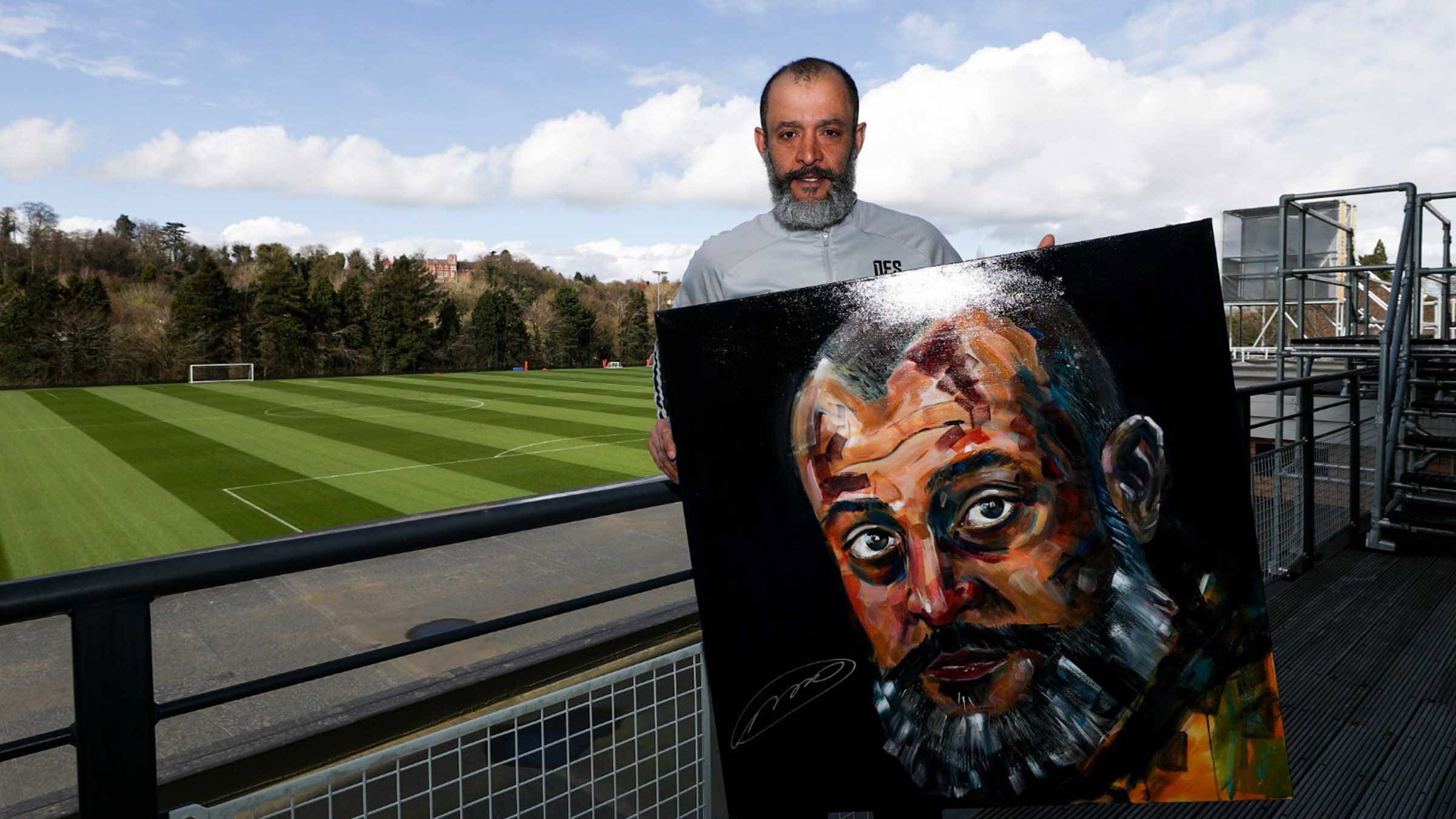 As mentioned by Stuart, both staff and students at Smestow are pleased to be able to support Feed Our Pack in the same way as they support many different good causes within the community.
"For us a school is about more than just learning and the students are brilliant in getting involved in many other areas and supporting fundraising events," says Maggie Keeley, teacher of RS and RSE at Smestow who co-ordinates the school's charity activities.
"Not only did they follow in Stuart's footsteps by painting their own portraits, many have supported the draw by purchasing tickets to try and win this great prize.
"We decided to do a draw instead of an auction as that might have put it out of reach for a lot of people, and the response so far has been fantastic.
"We always aim to different charities when we can and Stuart was particularly keen to highlight Feed Our Pack which builds on support we have previously provided to local foodbanks in the area."
Supporters can click here to visit the Just Giving site to make a donation, with each £5 donated securing one ticket in the prize draw.
Wolves Foundation would like to thank Stuart and all at Smestow School for offering such a generous prize to support Feed Our Pack.
For every £20 raised, we can provide 10 meals for a vulnerable person, whether that be via a food donation to a food bank or a food parcel.
If you would like to become a fundraiser for Feed Our Pack, simply pick a challenge, set up your Just Giving page here and keep us up to date @wwfcfoundation.
Together, let's tackle food poverty!
#FeedOurPack