1st February 2021
It was announced last Thursday that Wolves Foundation have launched a substantial Feed Our Pack project to help reduce the effects of food poverty within the city of Wolverhampton. 
On Friday, wolves.co.uk carried a story looking at how the project plans to support selected local foodbanks, and today we have a feature focusing on the additional help to be provided to families, expanding on the work previously carried out by the Foundation in providing food and holiday activities for local children.
…
Like most cities, Wolverhampton has suffered as a result of the Covid-19 pandemic.
People have suffered both physically from the virus itself, mentally from losing loved ones or issues surrounding lockdown and isolation and economically, from the pandemic's effects on the normal operations of society.
Unemployment rates and the numbers of people claiming Universal Credit in Wolverhampton are currently well above the national average, and 29 per cent of children within the city are categorised as living in poverty.
And that is why supporting vulnerable children and families across Wolverhampton is one of the key elements of Wolves Foundation's Feed Our Pack project, which has been backed to have a major impact on reducing food poverty across the region.
As well as working with local foodbanks as part of the £500,000 three-year project, the Foundation will work with schools and other key partners to provide additional help where needed, including via a 'Holiday Hunger' programme of activities away from term time.
Whilst vulnerable families are able to access government support for food vouchers covering lunch when pupils are not in school, Feed Our Pack aims to work in conjunction with that by adding in additional and personalised packages at a local level to those needing support.
The Foundation paved the way for what will now be a far more substantial community project by delivering over 50 food parcels before Christmas as well as holding a Premier League Kicks Holiday Hunger course at The Way Youth Zone in the City Centre.
Families from Fallings Park Primary School in Low Hill were among the beneficiaries of the delivered food parcels, and Year 6 leader and PE Lead Sam Holmes said they were greatly appreciated.
"We haven't been working with Wolves Foundation for all that long, but I have been really impressed with the standard of the delivery from their staff," said Sam.
"They are all really engaging and it's always good to see that Wolves badge in the school.
"Before Christmas they gave out some Wolves-related goodies for pupils, and also delivered food to two families who were struggling and had been identified by our safeguarding team.
"We are situated in one of the more deprived areas of the city, and a lot of our families struggle through personal circumstance and no fault of their own.
"We have children that may come to school hungry, and both the government, and ourselves do as much as we can during school hours but sometimes it can only go so far.
"I know the families really appreciate the additional support, and it is fantastic to hear that the Foundation are now launching this new project to help reduce food poverty.
"The holiday activities will also be really important, as well as offering advice about food and nutrition, and we are really looking forward to being involved however we can and strengthening our partnership."
One parent who has already benefitted from support from the Foundation is Tammy Rubine.
"It was really good, and they came twice to deliver food parcels," said Tammy.
"I have three kids, and each of them got a goodie bag with loads of stuff in.
"The food really came in handy because I'm on Universal Credit and it gave us a boost over Christmas."
Fallings Park is one of many partner schools in the city the Foundation work with in delivering its range of activities, which have been adapted during the pandemic to stay in line with regulations.
Another is the Nishkam Primary School in Great Brickkiln Street, who have been putting together their own food parcels for pupils during lockdowns.
Foundation staff have been delighted to be able to help them deliver the parcels.
"Another national lockdown has propelled food insecurity for our vulnerable families once again," explains assistant headteacher Nina Kaur Sangha.
"At Nishkam Primary School, virtues such as love, compassion and helpfulness are interwoven through our school ethos.
"Nishkam means selfless, and we are delighted that Wolves Foundation selflessly stepped in for the second time to help distribute food parcels to our families.
"A huge thank you must go to Wolves Foundation for their compassion and dedication during these hard times."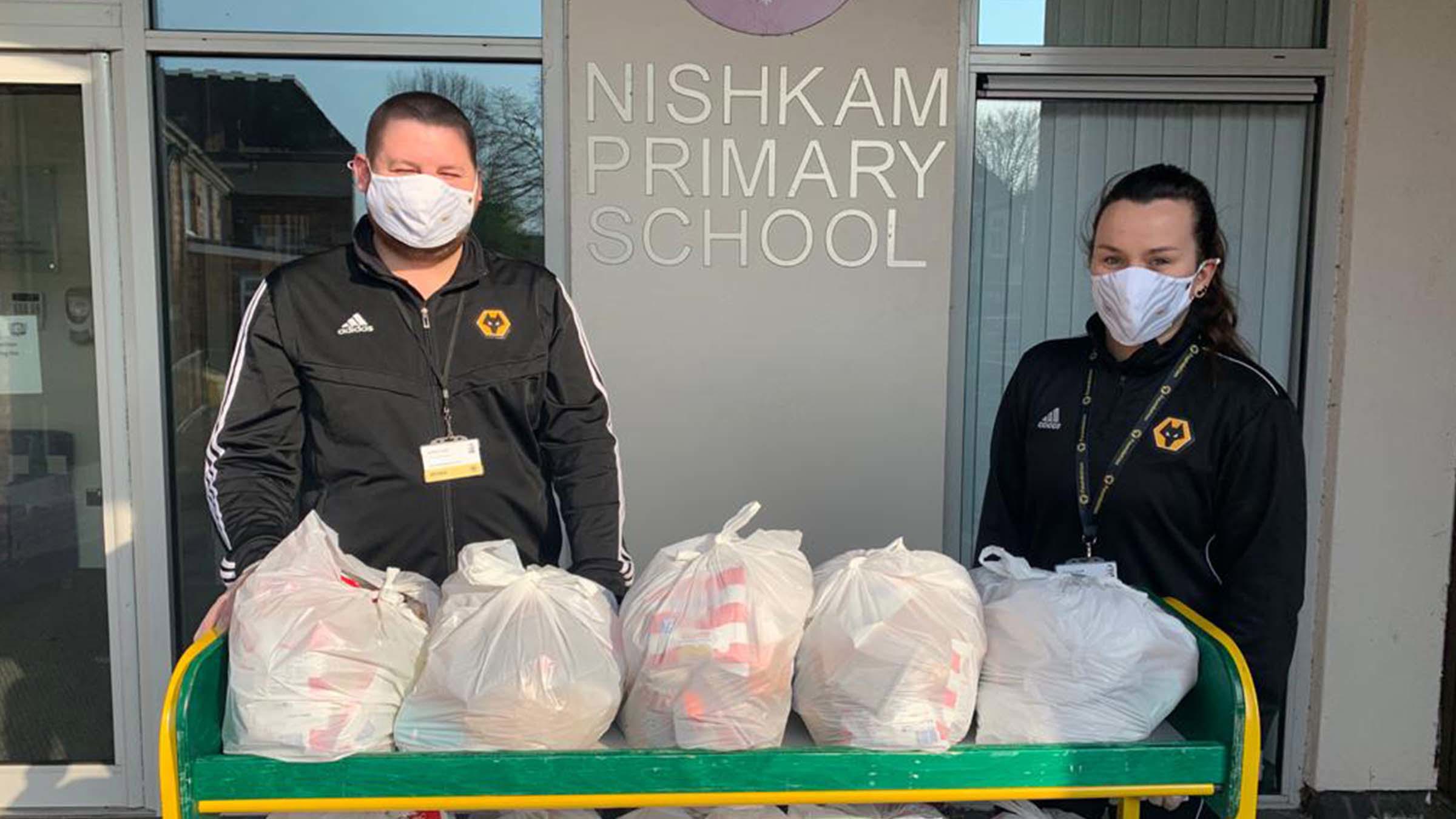 Feed Our Pack is an initial three-year project backed by £500,000 worth of investment following a grant from the Premier League PFA Community Fund, which was then matched by Wolves head coach Nuno Espirito Santo.
While the Foundation are leading the initiative and will be appointing a Food Poverty Project Manager to oversee it, teamwork across the community will be crucial.
Feed Our Pack will see the Foundation work closely not just with food banks and schools, but also other key partners, such as the Police.
The charity has an excellent working relationship with the Wolverhampton Police & Secondary Schools Panel, who also offered invaluable advice on the distribution of the food parcels before Christmas.
Aimee Huntington, Vice-Chair of the Panel, said: "More and more people in Wolverhampton are needing help due to the ongoing impact of Covid-19.
"The food packages delivered by the Wolves Foundation made a significant difference to families across our city.
"Several families have been in touch to express their appreciation and this show of community support has been greatly received.
"On behalf of the Wolverhampton Police and Schools Panel I would like to thank the Wolves Foundation for working with local schools to deliver this much needed provision at a very challenging time."
Another key driver for the project has been Wolves' own catering partners, leading food and hospitality provider Levy UK, whose general manager Kirpal Mehta and chef Luke Hitchins were also very much involved in the pre-Christmas deliveries.
"It gives me great pleasure partnering with Wolves FC in demonstrating the importance of giving back to the children of our great city," said Kirpal.
"Wolverhampton Wanderers FC has always been the heart of the West Midlands and epitomises the values that are key in today's society, and giving back to the community is at the forefront of what we do.
"As the catering general manager and a child of this great city, I believe the food industry has a responsibility to do more for the planet, the teams we work with and the communities we work in.
"We know that our actions have the ability to impact positively on the environment and the community around us.
"Our aim is to continue creating a great company culture that embraces and focuses on the five pillars of corporate responsibility, of which making a positive contribution to the communities in which we live and work is a fundamental part, whilst collaborating with our partners to enrich local communities through charity and employment."
Teamwork also extends to Wolves supporters and the residents of the city, who will be asked to play a part in the project to help the more vulnerable members of the community.
More financial support will be needed and, when regulations allow, donations of food will be encouraged which can then be distributed where needed by the Foundation, as well as future fundraising events.
Tom Warren, Foundation senior manager (Projects), who oversees the charity's delivery in schools, believes that Feed Our Pack has the potential to play a key role in the city's efforts to reduce the risks of food poverty, working closely with the local authority.
"The City of Wolverhampton Council were incredibly supportive of us early on in the process in helping us gather the necessary data on the areas of the city that need us most," he explains.
"That support, along with our existing relationships with the city's schools through our other funded Premier League programmes – Inspires, Kicks and Primary Stars – give us a fantastic platform to build from.
 "We're in a great position of already having the existing networks of key personnel within the schools, who have already been incredibly receptive to supporting the project with the identification of common trends across the city and the distribution of parcels to those in need over the Christmas period.
 "Feed Our Pack is going to be vitally important in providing additional support to children and families and wraparound packages on top of the services they already receive."
Everyone hopes that life will start returning to some form of normality over the coming months, but even when it does, the economic effects of the pandemic across Wolverhampton are expected to linger on.
In launching Feed Our Pack, and working with schools, charities, businesses and agencies across the city, the Wolves Foundation are hoping to play a key role in helping to tackle food poverty together, and provide food and support to people in the community right when they need it most.
*Fans can support Feed Our Pack in several different ways, including purchasing a Virtual Ticket for the home fixture with Liverpool, on the Just Giving site or an annual donation via Direct Debit. Click here to view all the options.

#FeedOurPack