21st February 2021
Wolves Foundation ambassador and club captain Conor Coady was leading from the front to help with the charity's campaign to 'Feed Our Pack' during February half term.
Conor joined a group of Academy players and Foundation staff and degree students to put together over 250 food parcels which were then distributed to families in need across the Wolverhampton area.
This was the first major project delivered as part of Feed Our Pack, an initial three-year project recently launched by the Foundation to support local foodbanks and address holiday hunger, alongside an overall aim of reducing food poverty which has increased during the pandemic.
Filming was also carried out by the BBC which was featured of their flagship Match of the Day show today.
Tom Warren, Senior Manager (Projects) with Wolves Foundation, said:  "We launched Feed our Pack by distributing a number of food parcels to local families before Christmas, but this was a far bigger operation and needed a real 'pack' effort from everyone involved.
"We had about 40 people, all socially-distanced, involved in the packing and distribution, made up of Foundation staff, Wolves' catering partners Levy, Conor Coady, and four Under-18 players.
"It was great to have Conor's involvement while one of the Under-18s, Harry Birtwistle, had actually approached us about wanting to help and brought along three of his team-mates which was fantastic.
"Eventually we delivered 255 food parcels, and it probably wasn't until we started preparing all the boxes that you could see how much work was involved.
"But it was definitely worth it to ensure we were able to help people in the community who have been struggling and put food on the table for those who need it most."
"This goes to show how important this football club is in the city and how important the city is to the football club," added Conor.
"We are lucky to get to play football during the pandemic when other people can't go to work and can't do things that they want to do.
"We understand the privileges that we have got so if there is anything that we can do to give back, like with Wolves Foundation and this project, then we will always do our best to help."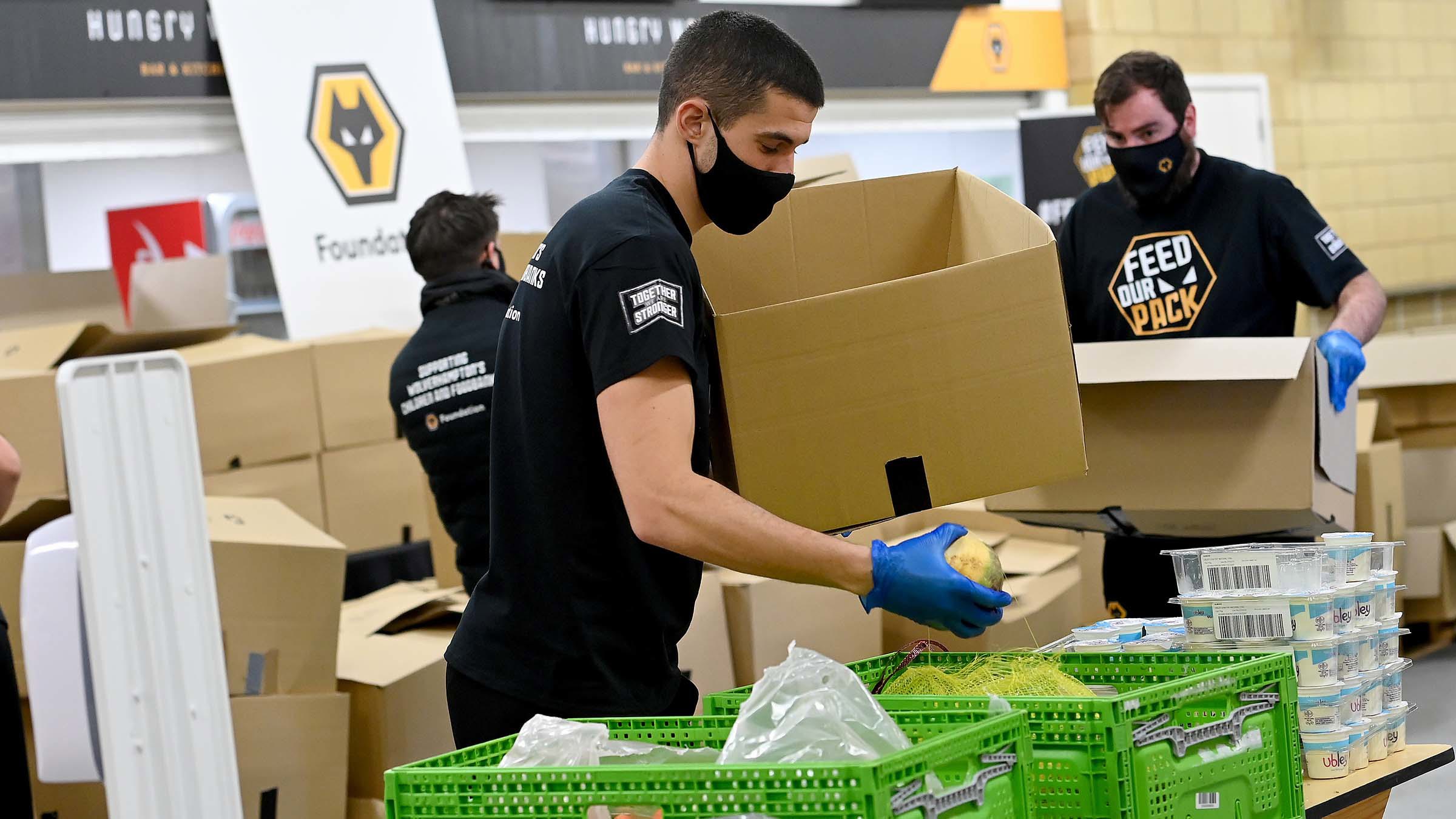 That was the same sort of philosophy as from Academy defender Harry and the three other young players who came along – fellow defenders Oliver Tipton and Kamran Kandola, and wing back/midfielder Dexter Lembikisa.
"This is something I have wanted to do for quite some time and similar to something I have done in the past," said Harry.
"We have a lot of spare time after training and some people like to spend that on their PlayStations but I feel I can maybe make more use out of my time to try and help people."
Feed Our Pack was launched thanks to an initial £500,000 investment when Wolves Head Coach Nuno Espirito Santo matched a great from the Premier League and PFA Community Fund.
Deliveries such as those carried out during half term – to pupils identified by the Foundation's partner schools -  will form a major part of the project which has been designed to try and help those suffering from food poverty across the city.
Thanks must also go to Levy and Bell Flavours for their help in accessing the food.
Wolves fans have also been encouraged to support Feed Our Pack with many already kindly contributing to the fund, and the opportunity to donate food will follow in the future when regulations allow.
"We are delighted to have made the first major delivery of food packages since Feed Our Pack was launched, and it was a real team effort with so many people giving their support," said Demi Grundy, communications and fundraising manager with Wolves Foundation.
"At Wolves Foundation we are extremely keen to help those who have been affected by the pandemic within Wolverhampton, and are tackling food poverty with the support of our staff, volunteers, fans and local partners.
"Supporters have already been fantastic in supporting the campaign and playing their part to help people across the City, and with everyone continuing to work together hopefully we can make sure that help is there for those who need it."
Fans can currently support Feed Our Pack in several ways, whether via making a one-off donation via Just Giving, or a regular donation via direct debit.
A 'virtual' ticket for next month's fixture against Liverpool is also available by clicking here.
#FeedOurPack