30th January 2021
Nuno Espirito Santo didn't think twice about getting involved in the Feed Our Pack initiative, courtesy of the Wolves Foundation, as he deemed it vital that we look after one another now more than ever.
Since arriving in Wolverhampton in 2017, Nuno has emersed himself in the local community, and on the pitch his football has brought an enormous amount of joy to the area. However, in the midst of a pandemic, times are tough for so many people, so the head coach has intervened, joining forces with the Foundation and offering a huge donation to ensure the people of Wolverhampton come through the pandemic and reunite thanks to the "bond that can't be broken" between Nuno's group and the supporters.
On the Feed Our Pack project
"It's a project that is really concerned about the needs of the community, especially the community around the area of Wolverhampton. The pandemic has affected a big amount of people and it's a project that looks to provide food for those who need more.
"At the same time, trying to engage as many people as possible; people who want to help, people who want to provide a sense of hope for those who are struggling in these tough moments."
On his donation
"Individually, you realise that people need help. At the same time, you look at the pandemic and the effects of the pandemic, aside from the number of deaths and the huge health problems that we have, we look a little bit in front and you see that this problem is going to be with us for some time because what the pandemic takes away from people is the source and their ability to provide for their families. What they need the most – that is food.
"At the same time, try to realise the danger that we have as a society, besides all the problems that we have with food, with health, with deaths, and those ones who have troubled moments, what we have in front of us is a danger of segregation. This project is a call, it's trying to get everybody involved and not allowing one of us to be selfish, not one of us to realise that it's only about us, it's about everybody that we have.
"Then, when this will be over, we have to go back to normal, we have to go back to socialising, to be close to each other, and if we help now, those who are in problems will survive, and return healthier and stronger, and this is what this project is all about; to try to provide to those who need a big, big help."
On showing football cares
"I believe that a football manager, or whatever profession you are, you are a member of the community. You are inside society, you are not different to any other person, you just have different privileges that unfortunately others don't have.
"I think those who are in football realise we are privileged. We live in a bubble, we struggle, because everybody has close ones who have been affected, but we still are privileged compared to those who are in trouble.
"Football has shown through time and through enormous actions of really nice people and big, big people, have really showed that football cares about the community and football cares about the society, because we need the community and the society to come back and enjoy with us – hopefully – a brighter future in football.
"Many people involved in football have been providing help. Sometimes with publicity, sometimes without publicity. In this case, I think it's about trying to pass the message to as many as possible. The Fosun group, since the beginning, Jeff [Shi] and Chairman Gou, they made a big effort in the first impact of the pandemic with the PPE over the community and other countries.
"Now we are desperate for the vaccine, but the problem of poverty is going to stay. This has to be a continuation and I'm going to be involved."
On his closeness with Wolverhampton
"We always felt like one pack. The bonds that were created, the players, the team, with our fans, that cannot ever be broken. This is a bond and it's going to stay in time. We are in problems, but we still are one pack, we still are one family.
"I think everybody's aware of what's going on and the struggle we've been facing. It's simple, those that are closer to you, you help, I think it's the first gesture you can make. You cannot help everybody, let's try to help each other.
"We are in a bubble, but we're affected hugely by what's happening. I go around Wolverhampton as many times as I can and I feel the problems of poverty, the struggle of the people, and for me it's simple, I'll try to help those close to me, where I can really impact. It's in the community."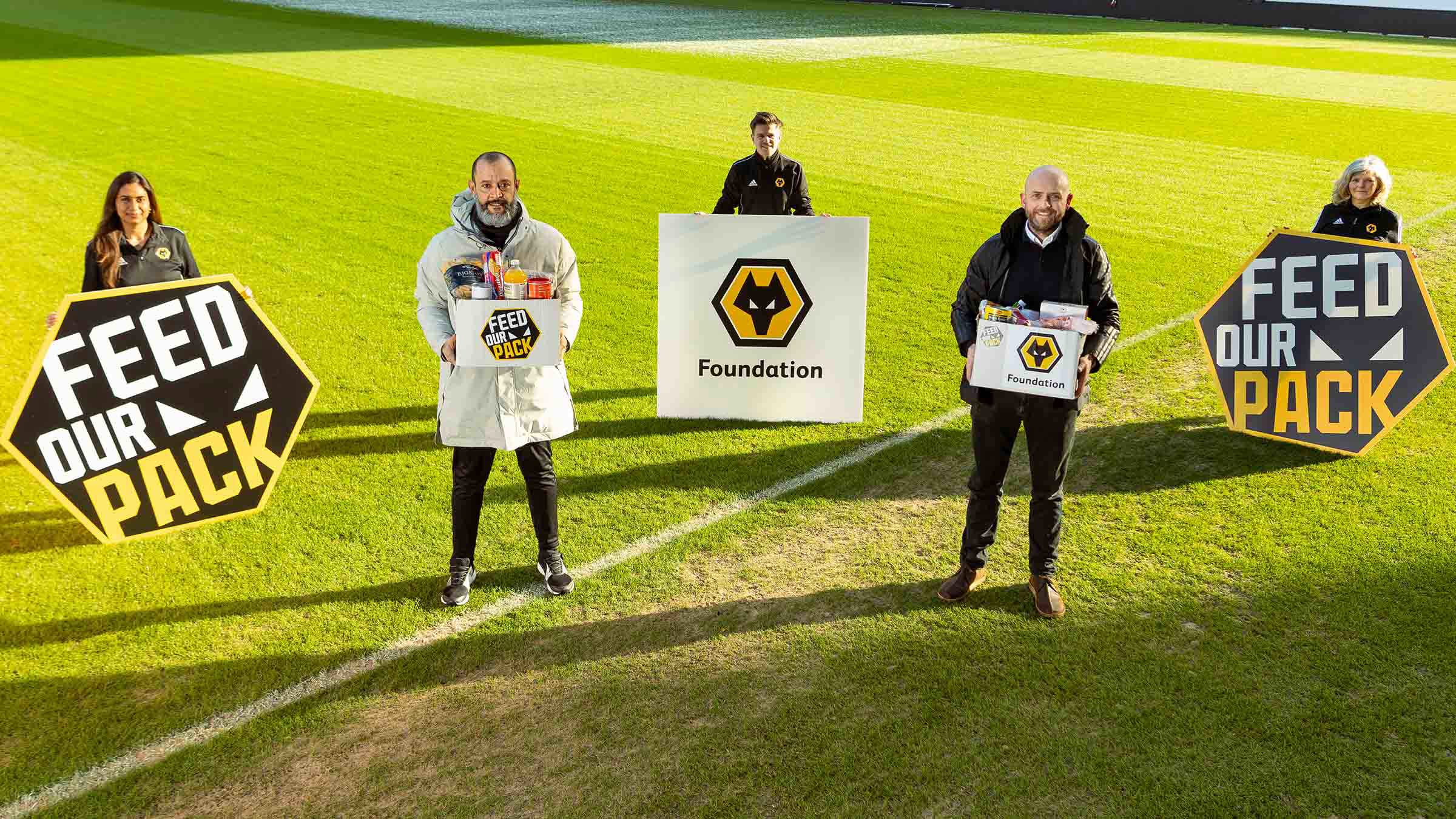 On hoping others get involved
"When we spoke with the Foundation, we said it was to engage the community, the people that can help. It's not about financial support, it's about getting engaged, volunteers, we don't even know how many people on a daily basis are volunteering themselves to go and distribute food, making bags, transporting, behind the scenes, these are the true heroes in this moment.
"I'm just one more. The main idea is to engage as many people as possible, inside the club, outside in the community, people who feel, and it comes from the heart, so if you can, please do it."
On football bringing a distraction
"We are privileged to be working and we want to continue because we know what football means for our community, our society. People need football, so we've been asked to proceed and make an effort, so I wish I could help more, but at the same time, we have to protect the players.
"Thank God the distribution of the vaccine is increasing, we've started seeing more people getting better, the numbers are coming down. People are starting to believe after the effort of lockdown, protecting each other, we're going back to normality, but that will be the moment that we will be close again to the people. Let's wait patiently for the time. Now it's another kind of help and after the moment will come to be together."

#FeedOurPack