15th June 2020
"The work they do within our community is different class….I can't speak highly enough of what they do for our football club."
As Wolves prepare to make their long-awaited return to Premier League action under very different circumstances at West Ham on Saturday evening, chances are that skipper Conor Coady will display his usual leadership and influence.
Those words however, are not connected with anything to do with events on the football pitch, but are instead related to Wolves Foundation, the club's official charity.
"They play a huge role in bringing the supporters, particularly the younger generation, closer to the players," the captain continues.
Coady is one of the many members of Wolves playing and management staff past and present to have supported the club's activities in the local community for a period officially stretching back almost three decades, and no doubt many more years before that.
And never, certainly up until the time of lockdown caused by the Covid-19 pandemic back in March, has the charity been doing so much, so often, and of such a variety.
Yes Coady mentions the younger generation, but the Wolves Foundation now offers a programme for all ages and abilities, under the overall ambition of motivating, educating and inspiring local people and communities across Wolverhampton to change their lives for the better.
With thanks to the Express & Star, the Wolves Foundation is now planning to provide more commentary on its activities, thanks to a new weekly column.
There are stories to be told about people and about projects which fall under one of the three guiding principles which shape the Foundation's objectives:  Supporting healthier and more active people, lifelong learning and skills and creating safe, strong and active communities.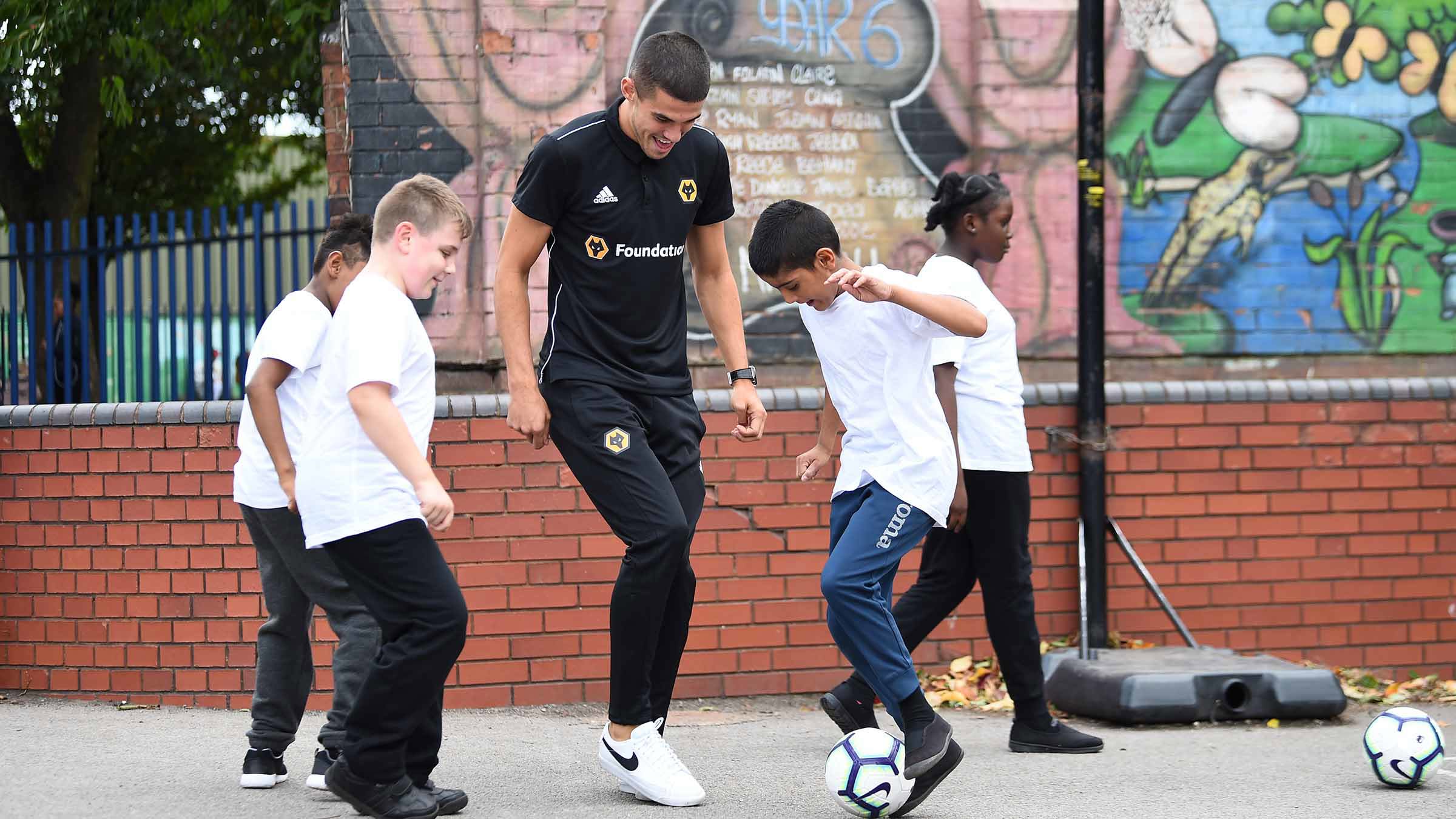 Encouraging people to improve their lives,  both mentally and physically, has been the cornerstone of the charity's existence since its formation as Wolves in the Community in 1991, becoming registered as Wolves Community Trust in 2008, and then a change of name to Wolves Foundation in 2018.
The late Baroness Rachael Heyhoe Flint was heavily involved in supporting the charity in its formative years – her constant cajoling of players to get them involved in the community was the stuff of legend – and the charity has continued to develop to its current status in delivering 213,792 contact hours during the 2018/19 football season, engaging with almost 22,000 participants including over 100 schools.
There was often a commonly-held perception that the club's official charity just carried out school holiday activities and player appearances – which it does – but there is also more. So much more.
In areas such as health, education, inclusion – as well as sport – Wolves Foundation now has so many bases covered.
Take for example ten-year-old Scarlett, who has cerebral palsy, able to participate in the activity of 'Frame Football' in which she scored Wolves' first ever goal in a competitive fixture at St George's Park.
Or maybe middle-aged Darren, suffering from depression and anxiety after being made redundant, who joined the Head 4 Health project which later prompted him to get involved in the Foundation's Friday Night Football.
Or how about Corey, who emerged as a participant in the PL Kicks programme for young people to progress to becoming a volunteer and take FA coaching qualifications.
And that is just a brief snapshot.
'Wolves is not just about the football – the club has a big role in the community which makes us extremely proud,' Wolves chairman Jeff Shi wrote in the most recent Foundation annual report.
'What the Foundation offers is a unique opportunity to children, young people and adults within our local area, and they have never provided a more diverse range of community activities within our city and beyond.'
Will Clowes, head of the Foundation, has been working for the charity for 18 years.
"It has been a real privilege for me to be involved with the Foundation for such a long period of time, and I am very proud of all our staff and volunteers for everything that they do for the people of the city," he says.
"Our continued growth, through creative new projects and funding partnerships, has allowed us to deliver a wider and more diverse range of activities than ever before.
"I am also proud to see how the staff have responded to the Covid-19 pandemic, taking a lot of our initiatives online, making sure we are still there for those people who need our support as well as getting involved in fundraising initiatives and volunteering in the local community.
"We are also grateful for the support of the Express and Star in helping us to tell our story with this new weekly column, and look forward to informing readers about all of the work which the Foundation carries out in Wolverhampton and beyond."
In addition to the staff and volunteers, the Foundation boasts two Wolverhampton-born ambassadors in former Wolves promotion-winning captain Karl Henry and rising music star Producer S-X, with plans to add more, and a highly-skilled and experienced board of trustees.
As Wolves' official charity, there is a strong and interlinked relationship with the football club exemplified once again during the pandemic with the Foundation helping owners Fosun distribute vital medical supplies to local hospitals and care homes.
That powerful alliance is vital in helping the Foundation deliver and expand its services.
And while the charity might not be able to emulate Coady by making a well-timed tackle or spraying a perfect crossfield pass, or even Raul Jimenez or Diogo Jota by thumping the ball into the back of the net, their enthusiasm and commitment to doing Wolves proud is just as keen as those talented players who will once again be returning to action this weekend.